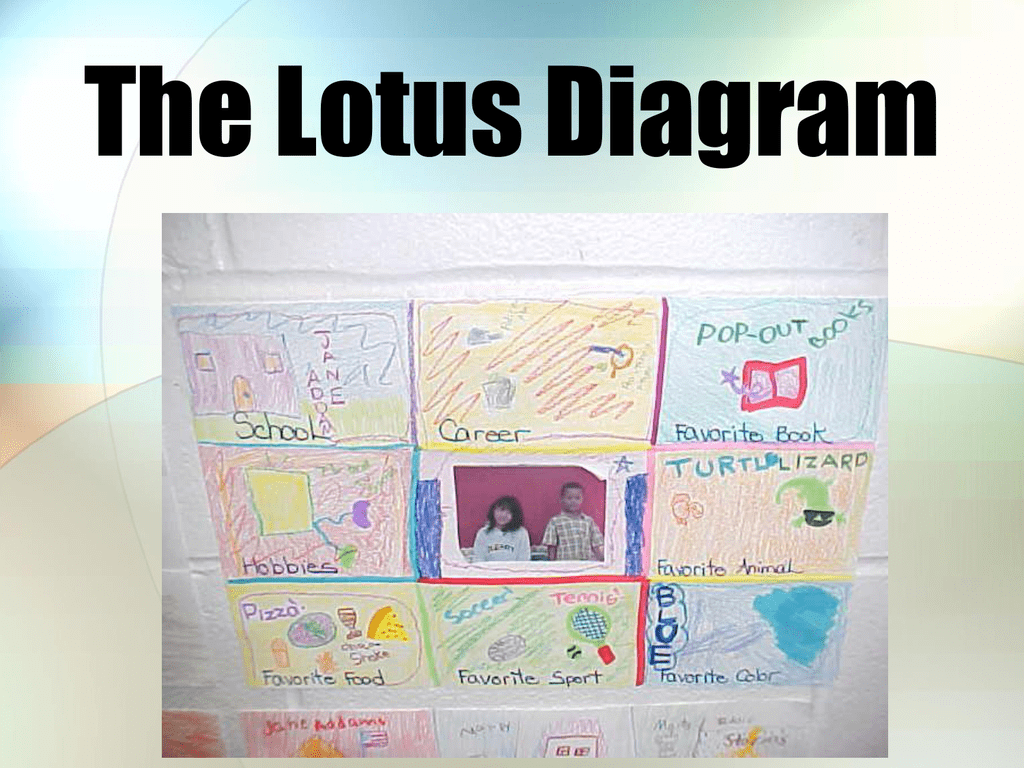 The Lotus Diagram
Ground Rules
Classroom Mission
created by students
Statements
Quality tools and
PDSA used
regularly
Classroom
Meetings facilitated
by students
The
Continuous
Improvement
Classroom
Student-led
conferences
Classroom and
Student
Measurable Goals
Classroom Data
Centers
Student Data
Folders
Lotus Diagram Overview
• A lotus diagram is an analytical,
organizational tool for breaking broad
topics into components, which can then
be further organized, analyzed or
prioritized.
• It is a picture of the
separate components of
a topic. It provides a common
understanding of the
components of the topic.
What is a Lotus Diagram
• A visual of the components of a
whole
• Organizational tool for: foster
thinking, analyzing, prioritizing,
categorizing
When?
• Teams or individuals need a
process for organizing and
prioritizing components of a larger
whole
• Examine complex
systems
• Organize thoughts
• Organize brainstorming
around a theme or topic
Why?
• Defines the topic being
studied
• Fosters thinking skills
• Organize ideas
• Identify
relationships
Quality Tools
Lotus
Diagram
Brainstorming
Affinity
Diagram
Pareto
Diagram
Quality tools
Nominal
Group
Technique
Cause &
Effect
Fishbone
Flow Chart
Run Chart
Student Project Example
Topic: Civil War
• creative thought and critical
analysis as students explore new
ideas.
• lotus allows students to examine
a variety of related areas,
enriching a class's
understanding of the
war in the context
of its time.
Some of the outcomes of the war
Lotus as a Planning Tool
The lotus was used to gather
information for a research
project. It was colored
coded to differentiate
between topics.
Lotus in a Kindergarten
Classroom
Other Uses of the Lotus Diagram?
Uses of
the Lotus
Diagram?