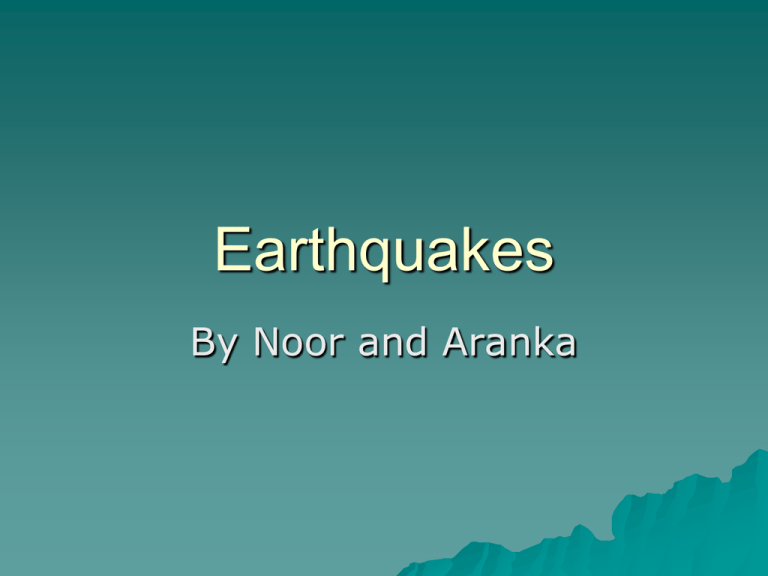 Earthquakes
By Noor and Aranka
Characteristics
 An
earthquake is a trembling if the
ground that result from the sudden
shifting of rock beneath the earth's
crust.
Spatial distribution
 Earthquakes
happen at the edges of
tectonic plates as they are the
effects if the plates moving against
or past each other.
Spatial extent
 The
spatial extent of an earthquake
depends on the magnitude. When
the ground shaking affects areas 100
km or more from the epicentre, it is
considered a hazard.
Predictability
 It
is very difficult to predict when an
earthquake will happen. Areas that
have experienced earthquakes
before are more likely to experience
another as this indicates active faults
Frequency & magnitude
Magnitude
8 and
higher
7 - 7.9
6 - 6.9
5 - 5.9
4 - 4.9
3 - 3.9
2 - 2.9
Average
Annually
1¹
15 ¹
134 ²
1319 ²
13,000
(estimated)
130,000
(estimated)
1,300,000
(estimated)
Duration
 The
duration of an earthquake is
usually about a few minutes.
 The duration of the effect can last
much longer though, varying on the
magnitude and destructing caused
by the earthquake.
Thank you for watching!