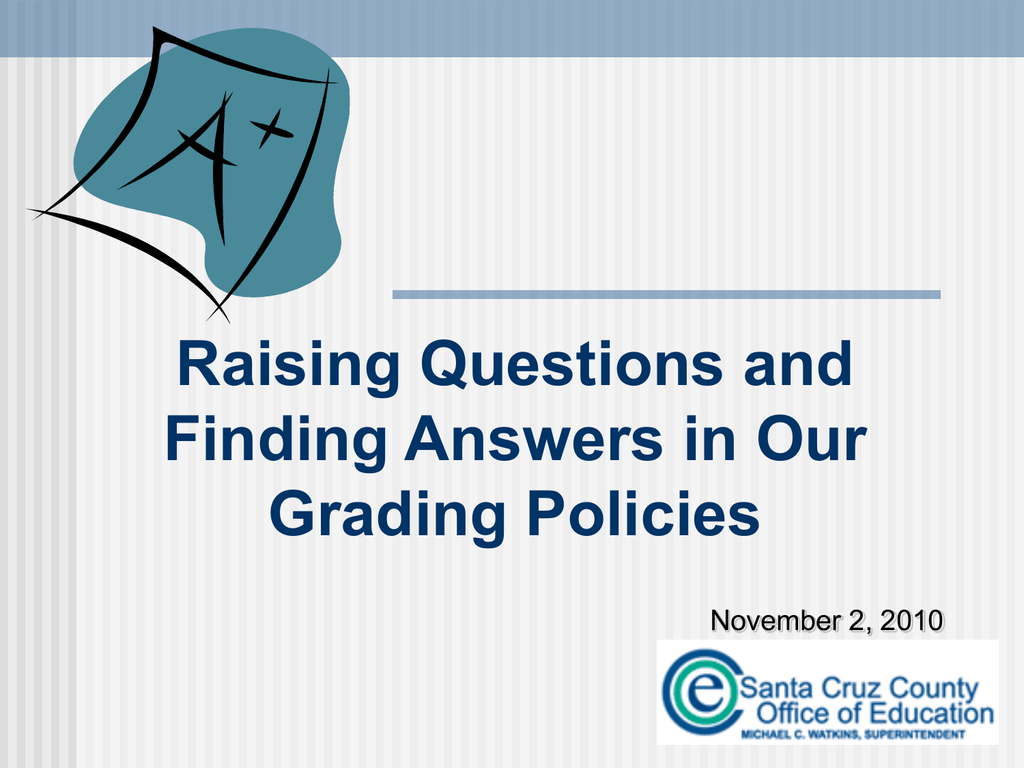 Raising Questions and
Finding Answers in Our
Grading Policies
November 2, 2010
Outcomes




Examine our beliefs about the purpose of
grading
Revisit Fixes #1 and #2
Investigate what factors should determine
a student's grade
Explore research based findings on
motivation
Reflection
Jot down the questions and
insights you have about grading.
Discussion
 What
"fix" did you discuss with
your peers or try to implement
since we last we met?
 Use
the Reflecting on Grading
Practices document to guide
your conversation.
Grading Fieldwork
 Lakeview
 San
Middle School
Lorenzo Valley High School
Tim Brown's
"Five Essential Questions"
1.
2.
3.
4.
5.
Should grading practices be left up to the
discretion of individual teachers?
What factors should determine a student's
grade?
What grading guidelines can schools adopt?
What helpful resources exist?
What steps or strategies would move grading
guidelines forward?
5 Essential Questions Activity
 Sit
in cross-school teams
 Discuss the following question:
What factors should determine
a student's grade?
Scenario Activity
 In
the same cross-school teams,
play out the following scenario.
•What's in a "B"?
Hearing from our Peers…
Lunchtime!!!
What's in a "B"?
Revisited
 Back
in your school teams
review the columns from the
activity, What's in a "B"?.
 What
things listed in the two
columns bother you and why?
Drive:
The Surprising Truth About What Motivates Us
By: Daniel Pink
 What
in this video clip is
relevant to our conversation
around the purpose of grading
and motivating students?
Motivation 1.0 - the
ancient drive to survive
Motivation 2.0 rewarding good work with
pay / benefits / promotions
The "Seven Deadly Flaws"
of Motivation 2.0
Carrots and sticks can…
1)
2)
3)
4)
5)
extinguish motivation
diminish performance
crush creativity
crowd out good behavior
encourage cheating, shortcuts
and unethical behavior
6) become addictive
7) foster short-term thinking
The Keys To Motivation 3.0
Autonomy
Mastery
Purpose
Intrinsic Motivation

"Intrinsically motivated people usually
achieve more than their reward –seeking
counterparts. Alas, that is not always true
in the short term. An intense focus on
extrinsic can deliver fast results. The
trouble is, the approach is difficult to
sustain. And it doesn't assist in masterywhich is the source of achievement over
the long haul." – Daniel Pink
As educators, what should we
be striving towards for our
students?
Extrinsic – Motivation 2.0
OR
Intrinsic – Motivation 3.0
Keys to Creating a
Learning Community
P – Am I sending POSITIVE messages?
C – Am I offering CHOICES ?
R – Am I encouraging REFLECTION ?
From:- www.MarvinMarshall.com
Effective Ways
to Change Behaviors
1. using non-coercion
2. prompting the person to self-assess
3. having the student own the consequence
When a consequence is imposed the student
feels the victim. When the consequence is
elicited, the student owns it and grows from
the decision."
Marvin Marshall, Promoting Responsibility Newsletter, Vol. 1, No. 4, Nov. 2001, 9
Fostering Intrinsic Motivation
From a list of 8…..
1. Provide meaningful choices
2. Provide frequent, specific, non-judgmental
feedback focused on progress and growth.
3. Protect each student from embarrassment
Rogers, Ludington and Graham, Motivation and Learning, Peak Learning Systems, Evergreen, CO, 1998
Avoid Classic De-motivators
From a list of 16…
1.Competitive situations in which lack
of success is probable or feared.
2.Exclusion from decisions about
goals, means, and standards.
3.Insincere listening, recognition and
praise.
Rogers, Ludington and Graham, Motivation and
Learning, Peak Learning Systems, Evergreen, CO, 1998
Reflection
What are your beliefs
about motivation and how
do you implement them in
your classroom/school?
Group Work Time

Select one of the activities provided
to work on with your school team.

We will reconvene at 2:45 to share
out some of our plans.