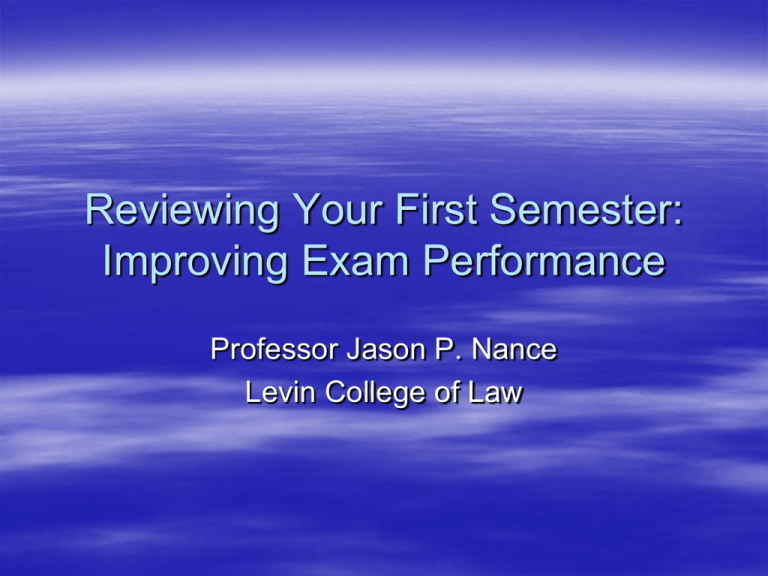 Reviewing Your First Semester:
Improving Exam Performance
Professor Jason P. Nance
Levin College of Law
Some Hard Truths
 Few law students do as well as they had
hoped coming in. This a time of
readjustment for many, as we take a group
of extremely bright people and "reorder
them" from top to bottom.
 This is not the mythical Lake Wobegon. All
of you cannot be "above average."
More Hard truths . . .
 In law school, we
violate nearly every
good practice when it
comes to use of
examinations to teach:
– Too few exams
– Too little feedback
– Too little chance to
learn from mistakes
So, What to Do?
 DON'T GIVE UP!! MANY STUDENTS DO
IMPROVE GRADES AND RISE IN RANK
AFTER FIRST SEMESTER.
 See Your First Year Professors, If Possible
– Key: Disarm professor by stating upfront that
you are not interested in challenging your
grade, but only interested in learning from exam
– Why?
Understand Professor's
Perspective
 He/she has worked
very hard grading, and
has tried to be very
fair. Grading is worst
part of job. Must be
done in context. When
you challenge grade, it
brings out worst in
professor.
 Also, many professors
curve UP to the mandatory
3.25 GPA. That means
that some of them feel that
they have already been
TOO generous with their
grades. They think that
you should be happy with
your grade – w/out curve,
it likely would have been
much worse!
So, Try to See Your Exam
 With Answer Key, to honestly assess what
you could have done better. Do Not use it
as subterfuge to fight over the grade.
 Ask for explanations of what you did wrong.
 Do not be surprised if your professor's
answers to your questions are relatively
vague, as the difference between a B+ and
an A or A- exam may be difficult to explain,
especially after the fact. Grading occurs in
context.
Here's a Summary of What Some
Professors Had to Say
 Students often FAIL TO ANSWER THE
SPECIFIC QUESTION ASKED ON THE
EXAM. They want to prove how much
doctrine they know rather than attack the
question as a problem to be solved.
 Some students fail to follow directions.
 "I wish I could find some way to convince
students that displaying some degree of
informed intellectual curiosity is the best way
to perform well on exams. You have to
sound like you're interested in engaging the
problem."
 "I have found that poor performance rests
primarily on superficial analysis of the
problem statements rather than simple lack
of knowledge of doctrine . . . ."
Take Away Message?
 Now, more than ever,
hard work will pay off
because you have a
better idea of what is
expected of you and
what will work.
 Don't necessarily do
just more of the same;
adjust study habits.
 Keep things in
perspective; remember
that you're at a great
law school. There is
more to good
lawyering that law
school grades.
Questions?