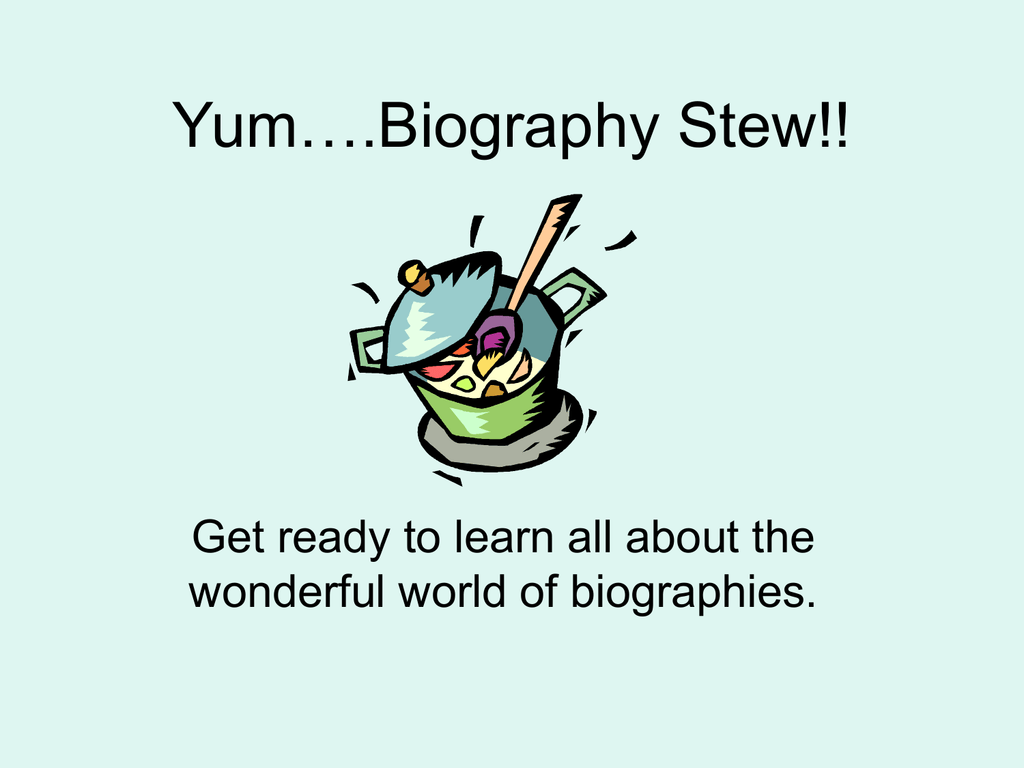 Yum….Biography Stew!!
Get ready to learn all about the
wonderful world of biographies.
Biography
• Let's break it down……
BIO = Life
GRAPHY = Writing
Therefore…..
A Biography is
the written story
of someone's
life.
Just What Is A Biography?
The story of someone's life?
A tale of accomplishment? A tale of woe?
Or is it a boring list of facts that nobody cares about?
A good biography brings the person to life….makes
us care about what she or he did with time and
opportunity.
Who wants to read another boring biography? Who
wants to write one?
Certainly NOT YOU!!
Biography Stew….
What details make up
a person's life? Let's
make our stew to find
out!
Ingredients
Yellow Raisins: Birth Date and Place
We come out wrinkled and
we see the sun
Peanuts: Family Members
Some family members
can be a bit nutty
sometimes.
Goldfish: Childhood and School Life
Fish gather in schools.
Bugles: Hobbies, Interests,
Activities
Sometimes we blow our own
horns. We also do things for
fun such as play a musical
instrument.
Pretzels: Anecdotes (stories)
All lives have interesting
stories, with twists and
turns, just like a
pretzel.
Chocolate Chips: Career
When a person makes lots
of money or has good
fortune, we say he or she
is "in the chips".
Cheerios: Reasons for Fame
We cheer a
famous person's
success.
M&Ms: Later Life/Old Age
This stands for
More Mature
What happened in life as
the person became older?
Any important events?
Dark Raisins: Death
We become shriveled and
the lights go out.
When did your person die
or are they still living?
Mix it all together and….
VOILA!!
YOU HAVE THE STORY OF
SOMEONE'S LIFE….YOU
HAVE…..
A BIOGRAPHY!!!