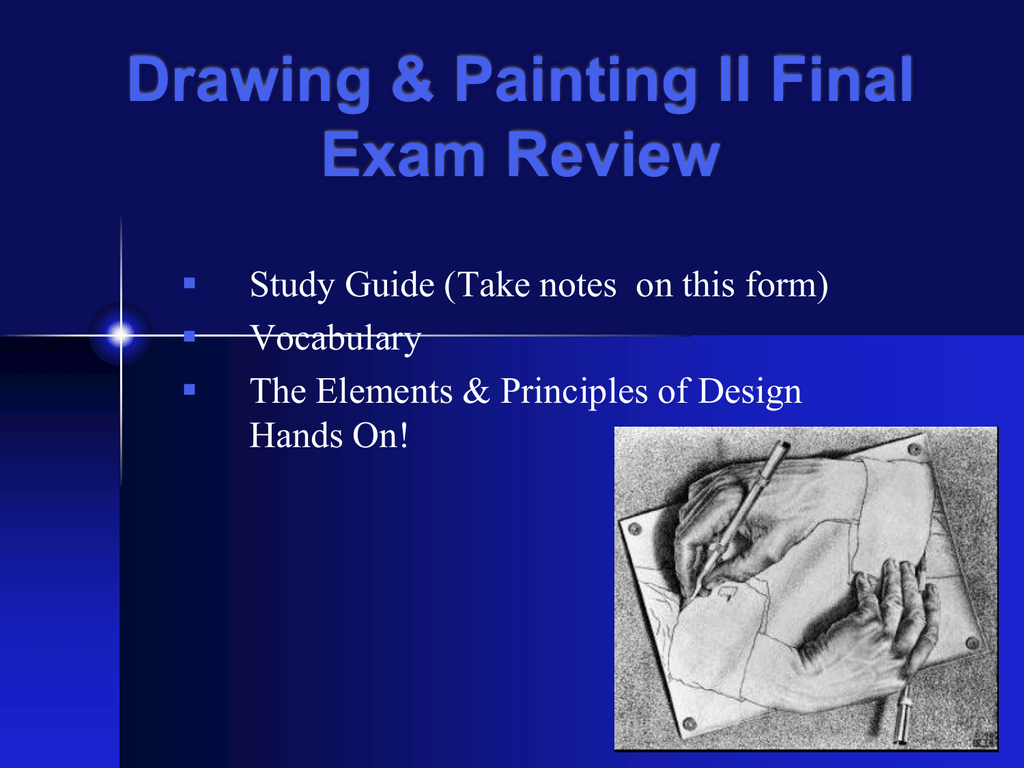 Drawing & Painting II Final
Exam Review



Study Guide (Take notes on this form)
Vocabulary
The Elements & Principles of Design
Hands On!
Study Guide
 Understand light sources and shading values
 Shading creates form.
 4 Points of light:
The Color Wheel
Basic Color Schemes
 Compliments
opposite colors
Y/V R/G B/O
• Triads
R/Y/B G/O/V
• Analogous
3 - 5 colors next to
each other
• Warm & Cool colors
• Split Compliments
opposite colors
Y/RV/BV
• Monochromatic
tints & shades of
one color
• Double Compliment
O/B & Y/V
Tools
• Pencils (HB lightest, 4B mid tone, 6B
darkest
• Stump: Blending tool
Vocabulary
• Acrylic Paint: (plastic resin based)
• Chiaroscuro:
modeling of volume by
depicting light and shade
• Fixative:
a chemical that is sprayed
on to a drawing to prevent it
from smearing
• Local Color:
the natural color of an object
• Composition: organization of a drawing
• Negative Space: the background or empty
area
• Critique:
an analysis of a work of art
in which suggestions are
made as well as noting
strengths
• Value:
the gradations in shading.
Know the following:
• Care of paint brushes
• Drawing what you see NOT what you know
• Painting local color, then shadows, and then
highlights
Elements & Principles of
Design…
•
•
•
•
Color
Form (3D)
Line
Shape (2D)
geometric/organic
• Space
• Texture
• Value
•
•
•
•
•
•
•
Balance
Contrast
Emphasis
Movement
Pattern
Rhythm
Unity
Hands On!