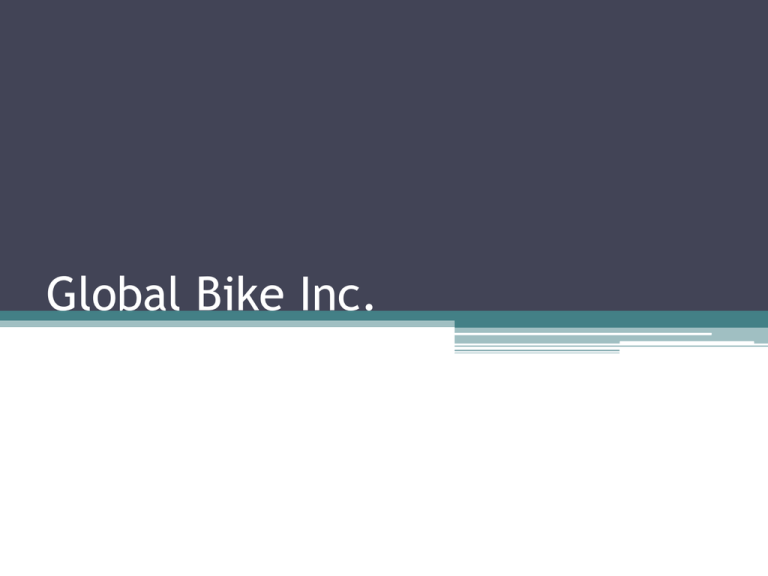 Global Bike Inc.
Global Bike Group
• Background:
▫ Consists of two companies located in the US and in Germany
• History:
▫ John Davis won numerous mountain bike championships in
the US
▫ In 1990, started his own mountain bike company (Frankenstein
Bikes)
▫ Peter Schwarz grew up on road bikes in the Black Forest,
Germany
▫ As a student, he engineered ultra-light composite frames
▫ In 1993, started his own bike frame company (Heidelberg
Composites)
▫ Both met in 2000
▫ In 2001, merged to form Global Bike Inc.
Global Bike Group
• Strategy:
▫ World-class bicycle company serving both the professional and
"prosumer" in touring and off-road racing.
▫ Focus on:
 Quality
 Toughness
 Performance
GBI Organizational Structure
4
Magal and Word | Integrated Business
Processes with ERP Systems | © 2011
Products
• Trading Goods
▫ Accessories
 Safety Gear
 Other
 Raw Materials
Products
• Semi-Finished Goods
• Finished Goods
▫ Touring Bikes (Deluxe, Professional) in three
colors
▫ Off-Road Bikes (Men, Women)
Business Partners
• Customers (US and Germany)
Business Partners
• Vendors (US and Germany)
Key Business Processes
9
Magal and Word | Integrated Business
Processes with ERP Systems | © 2011
10
SAP Assignment
The Fulfillment Process
Sales Order Process
Pre-sales
Activities
Sales Order
Entry
Check
Availability
Pick
Materials
Receipt of
Customer Payment
Invoice
Customer
Pack
Materials
Post Goods
Issue
Pre-Sales Activities
• Sales Support is a component of SD that assists
in the sales, distribution, and marketing of a
companies products and services to its
customers. It contains the following
functionality:
▫ Creating and tracking customer contacts and
communications (sales activity)




Phone call records
On-site meeting
Letters
Campaign communication
Inquiry
• An inquiry is a
customer's request to a
company for
information or
quotation in respect to
their products or
services without
obligation to purchase.
▫ How much will it cost
▫ Material/Service
availability
▫ May contain specific
quantities and dates
Sales Order
• The sales order contains all of the information
needed to process your customers request, the
following information is determined for each
sales order:
▫
▫
▫
▫
▫
▫
Delivering Schedule
Shipping point and route determination
Availability Check
Transfer of requirements to MRP
Pricing
Credit limit check
Delivery Creation
• Checks order and materials to determine if a
delivery is possible — delivery block (hold),
completeness
• Confirms availability
• Confirms export/foreign trade requirements
• Determines total weight & volume
Delivery Document
• The Delivery Document initiates the delivery
process and is the control mechanism for this
process
▫ Picking
▫ Packing/Loading
▫ Posting Goods Issue
Goods issue
• Event that indicates the legal change in
ownership of the products
• Reduces inventory and enters Cost of Goods
Sold
• Automatically updates the General Ledger (G/L)
accounts
Billing
• The billing document is created by coping data
from the sales order and/or delivery document.
• The billing process is used to generate the
customer invoice.
• It will update the customer's credit status.
Payment
• Payment is the final step in the sales order
process, this step is managed by the Financial
Accounting department.
• Final payment includes:
▫ Posting payments against invoices.
▫ Reconciling differences between payment and
invoice.
Document Flow
• The document flow and order status feature allows you to find the status
of an order at any point in time. The SAP updates the order status every
time a change is made to any document created in the customer order
management cycle (Order-to-Cash).