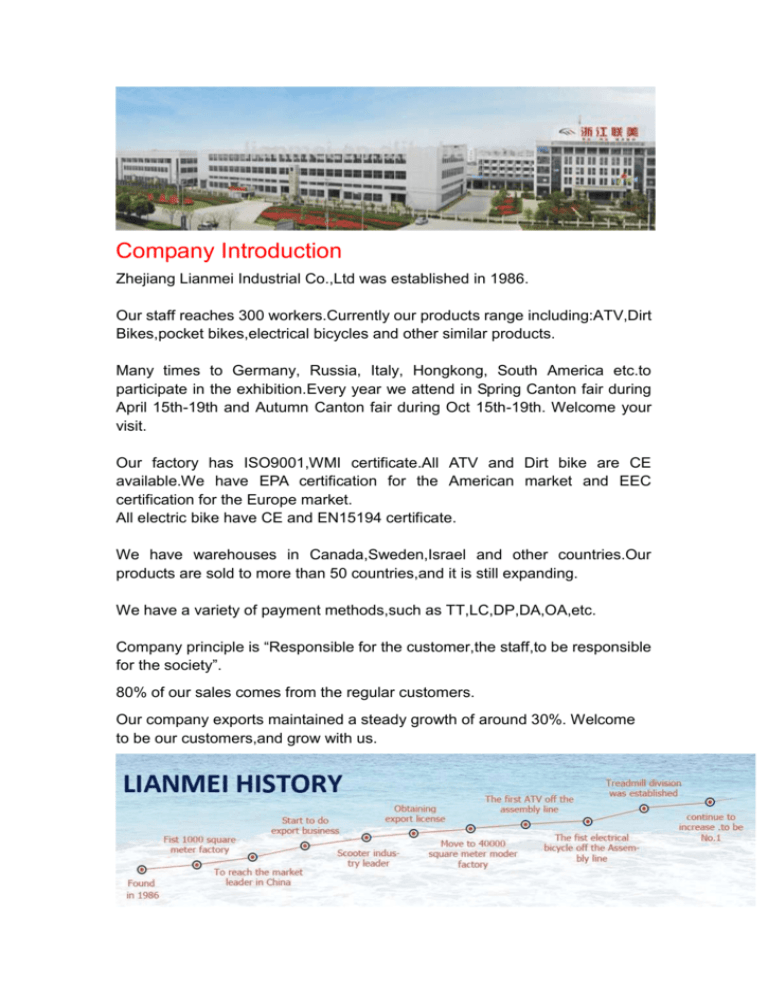 Company Introduction
Zhejiang Lianmei Industrial Co.,Ltd was established in 1986.
Our staff reaches 300 workers.Currently our products range including:ATV,Dirt
Bikes,pocket bikes,electrical bicycles and other similar products.
Many times to Germany, Russia, Italy, Hongkong, South America etc.to
participate in the exhibition.Every year we attend in Spring Canton fair during
April 15th-19th and Autumn Canton fair during Oct 15th-19th. Welcome your
visit.
Our factory has ISO9001,WMI certificate.All ATV and Dirt bike are CE
available.We have EPA certification for the American market and EEC
certification for the Europe market.
All electric bike have CE and EN15194 certificate.
We have warehouses in Canada,Sweden,Israel and other countries.Our
products are sold to more than 50 countries,and it is still expanding.
We have a variety of payment methods,such as TT,LC,DP,DA,OA,etc.
Company principle is "Responsible for the customer,the staff,to be responsible
for the society".
80% of our sales comes from the regular customers.
Our company exports maintained a steady growth of around 30%. Welcome
to be our customers,and grow with us.
About our service
Pre-sales service: We offer you a thorough introduction about our product
s, and we can replace some of parts according to your demands. We could
also offer you our samples.
Sales-service: we will keep you updated about our production process
About our quality control:
1 Our product parts will have a specific test before used.
2 Our products are made by assembly line. The division of labour is clear-cut.
3 We always keep an eye on producing products, and it will take random tests.
4 All the off-line products would be put on a trial run, debugged, then we will
write a test report.
5 salesmen will check the test report, take a random trial run.
After-sales service: The important parts of products have a warranty
period, such as engine and so on. We would like to communicate to customer
s actively, if customers have any problems, we will reply soon. Also, we conce
rn about your sales conditions. We do our best service to you.