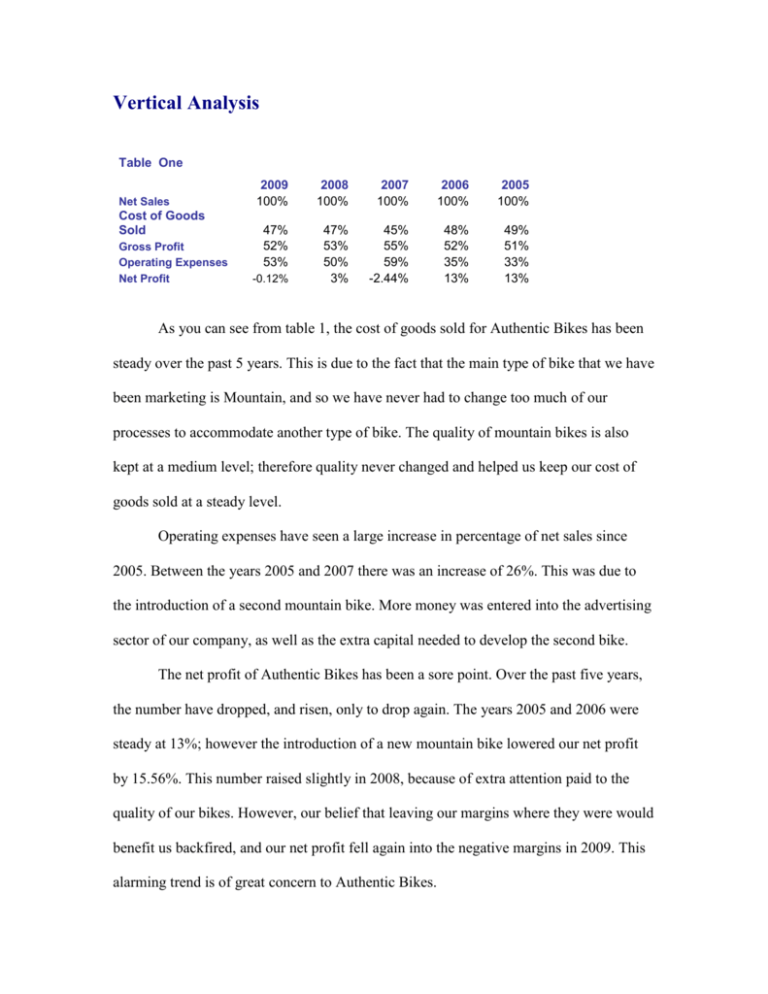 Vertical Analysis
Table One
Net Sales
Cost of Goods
Sold
Gross Profit
Operating Expenses
Net Profit
2009
100%
2008
100%
2007
100%
2006
100%
2005
100%
47%
52%
53%
47%
53%
50%
3%
45%
55%
59%
-2.44%
48%
52%
35%
13%
49%
51%
33%
13%
-0.12%
As you can see from table 1, the cost of goods sold for Authentic Bikes has been
steady over the past 5 years. This is due to the fact that the main type of bike that we have
been marketing is Mountain, and so we have never had to change too much of our
processes to accommodate another type of bike. The quality of mountain bikes is also
kept at a medium level; therefore quality never changed and helped us keep our cost of
goods sold at a steady level.
Operating expenses have seen a large increase in percentage of net sales since
2005. Between the years 2005 and 2007 there was an increase of 26%. This was due to
the introduction of a second mountain bike. More money was entered into the advertising
sector of our company, as well as the extra capital needed to develop the second bike.
The net profit of Authentic Bikes has been a sore point. Over the past five years,
the number have dropped, and risen, only to drop again. The years 2005 and 2006 were
steady at 13%; however the introduction of a new mountain bike lowered our net profit
by 15.56%. This number raised slightly in 2008, because of extra attention paid to the
quality of our bikes. However, our belief that leaving our margins where they were would
benefit us backfired, and our net profit fell again into the negative margins in 2009. This
alarming trend is of great concern to Authentic Bikes.