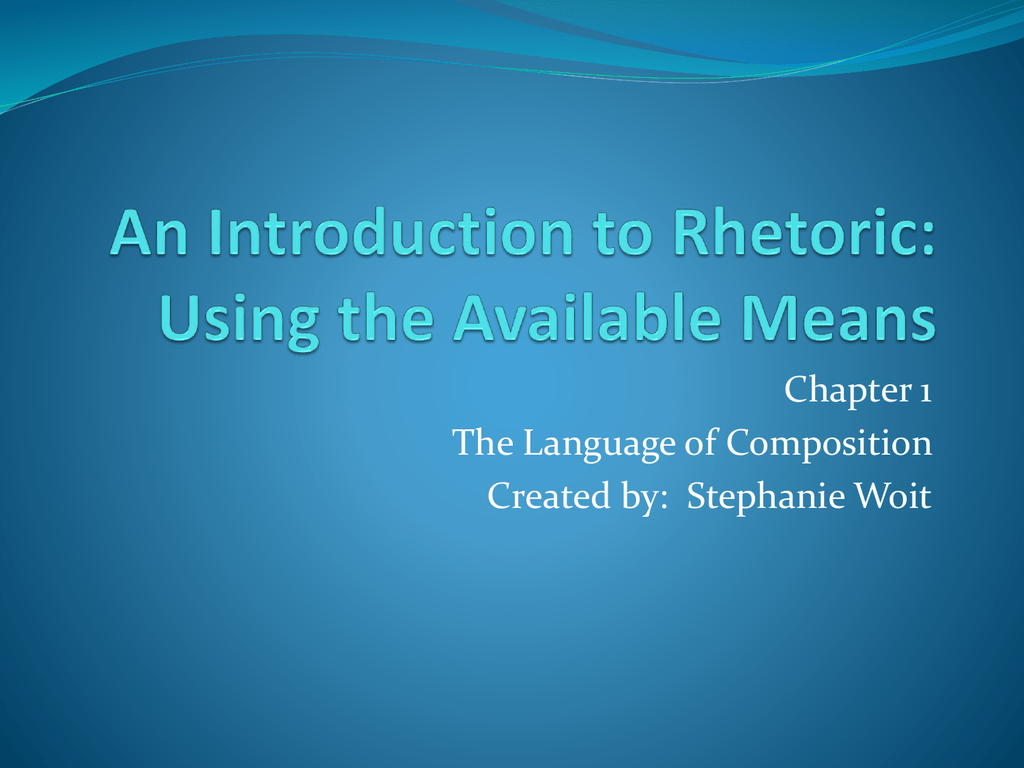 Chapter 1
The Language of Composition
Created by: Stephanie Woit
Definition
 "the faculty of
observing in any
given case the
available means of
persuasion" ~
Aristotle
Key Elements of Rhetoric
 context- the occasion or time and place of
writing
 purpose- the goal that the speaker wants to
achieve
 thesis/claim/assertion – clear focused
statement (main idea)
 subject – topic
 speaker – the persona
 audience
 "After analyzing
relationship of
speaker to subject,
audience to speaker,
and audience to
subject the writer is
ready to strategize.
One way is to make
appeals." (4)
Ethos/ Pathos/Logos
Ethos
Logos
 Character
 Reason
 Speakers are trustworthy and
 Clear main ideas, specific
credible
 Reputation is important
 The speakers expertise,
knowledge, training and
sincerity give a reason for
listening
details, facts, and data
 Counterargumentsanticipate the other side or
opposing views
 Concede when you have to
 Refute when necessary
Cont'd
Pathos
 Emotion
 Appeals to the emotional
perspective
 Engages the emotions of the
audience
 Figurative language and
personal anecdotes
 If pathos is only used the
argument is weak
Arrangement
 Arrangement is how a piece is organized
 Writers structure their essays to their purpose and
effect
 There will always be a beginning/middle/end
The Classic Model
Intro
Narration
Confirmation
Refutation
The Classical Model
Intro – introduces the reader to the subject
Narration- provides factual information and
background material
Confirmation- major part of the text/details
Refutation- addresses the counterargument
Conclusion – brings the essay to a satisfying
close
Patterns of Development
 Another way to consider
arrangement is
according to purpose .
These patterns suggest a
method of organization
or arrangement. They
include logical ways to
organize an entire text.
 Narration
 Description
 Process Analysis
 Exemplification
 Comparison Contrast
 Classification and
Division
 Definition
 Cause and Effect
Patterns of Development
Narration
Description
 Refers to telling a story or
 Includes specific details




recounting a series of events
Based on personal experience
or observation
Chronology
Concrete details
Crafting a story that supports
your thesis
 Emphasizes painting a
picture
 Establishes mood or
atmosphere
 Asking readers to see what
you see and feel
Patterns of Development
Process Analysis
Exemplification
 Explains how something
 Provides a series of examples-
works or how to do
something
 The key here is clarity
 It must be logical and
sequential
 Done in steps or stages
facts, specific cases or
instances
 A series of examples are used
to illustrate a point
 Examples leads to a general
conclusion
Patterns of Development
Comparison and Contrast
Classification and Division
 Juxtaposing two things to
 Answers the questions of
highlight their similarities
and differences
 Used to analyze information
carefully, which often reveals
insight into the nature of
what is being analyzed
 Organized subject by subject
or point by point
what goes together and why
 Connections between things
that might otherwise seem
unrelated
Patterns of Development
Definition
Cause of Effect
 Defining a term is often the
 Analyzes the causes that lead
first step in a debate or
agreement
 Clarifies terms and defines
to a certain effect or,
conversely, the effects that
result from a cause is a
powerful foundation for
argument
 Since casual analysis depends
upon crystal clear logic it is
important to trace the train of
cause and effect
What Happens when Rhetoric
Misses the Mark?
 Not every attempt at
rhetoric hits the mark
 Sometimes the writer
does not understand the
audience
 Consider all the
components and make
sure to hit 'em!