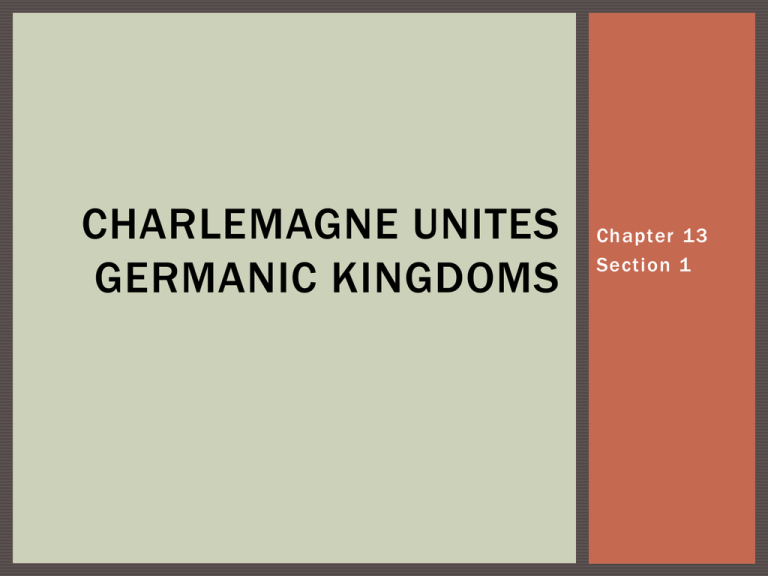 CHARLEMAGNE UNITES
GERMANIC KINGDOMS
Chapter 13
Section 1
VOCAB






Middle Ages
Franks
Monastery
Secular
Carolingian Dynasty
Charlemagne
INVASIONS OF WESTERN EUROPE
 Disruption of trade:
 Constant invasion collapsed merchant businesses; destroyed
Europe's cities as economic centers; money was scarce
 Downfall of Cities:
 Fall of the Roman Empire cities were abandoned as places of
administration
 Population Shifts:
 As cities were in decline people moved to the country to grow their
own food. Europe's population became mostly rural
INVASIONS OF WESTERN EUROPE
Decline of Learning
Loss of Common Lang.
 German invaders were
illiterate
 Only priest and church
officials could read and
write
 Knowledge of Greek
and Roman literature,
science, and philosophy
almost lost completely
 German speaking
people mixed with the
Romans Latin changed
 800's French and
Spanish had emerged
 Continued the break-up
of a once unified
empire
GERMANIC KINGDOMS EMERGE
 The concept of Government Changes:
 Germanic society held together by family ties and loyalty; not written
law or public government
 German citizens would fight along their kings
 Seen as a disgrace to outlive their king \
 Felt no obligation to a king or emperor they have never met
 Impossible to govern large areas of land
GERMANIC KINGDOMS EMERGE
 Clovis Rules the Franks:
 A people called the Franks were in control of the land of Gaul
(France)
 Clovis was their leader
 In 496 out of fear of defeat Clovis prayed to the Christian God for aid.
 He won the battle and he and his 3,000 men were baptized
(converted to Christianity)
 511 Clovis united all the Franks
 The church in Rome supported Clovis and his military campaign
GERMANS ADOPT CHRISTIANIT Y
 Politics play a large role in the spread of Christianity
 600 the church with help of the Frankish rulers converted
many Germanic people to Christianity
 Missionaries (religious travelers) help to spread as well
 Constant fear of Muslim attacks in Southern Europe also spur
many converts
GERMANS ADOPT CHRISTIANIT Y
 Monasteries, Convents, Manuscripts:
 Monastery: religious community where monks gave up private
possessions and devoted life to serving God
 Convent: Monastery for women called nuns
 Monasteries become best educated communities in Europe;
responsible for preserving Rome's intellectual heritage
GERMANS ADOPT CHRISTIANIT Y
 Papal Power Extends Under Gregory I:
 590 C.E. Greg becomes Pope and turns the papacy into a secular
power (worldly power involved in politics)
 Greg will use the church revenues to raise armies, fix roads, and help
the poor, and negotiate treaties
 Considered Italy-England; and Spain to Germany his responsibility
 Creating a kingdom of the church ruled by the pope.
AN EMPIRE EVOLVES
 Charles Martel and Pepin the Short
 719 Frankish Kingdom falls into the hands of Charles Martel (Charles
the Hammer)
 Expands Frankish Kingdom
 Defeats Muslims from Spain at Battle of Tours; preserve Christianity
in Western Europe
 Martel dies power goes to his son Pepin the Short
 Pepin negotiates with the pope; he will fight the Lombards if the
pope will grace him "king by the grace of God"
 Pope agrees and the Carolingian Dynasty is born
CHARLEMAGNE BECOMES EMPEROR
 When Pepin died in 768 he left the kingdom to his two sons
Carloman and Charles
 Carloman dies in 771 leaving Charles in charge of the entire
kingdom
 Charles becomes known as Charlemagne; Charles the Great.
CHARLEMAGNE BECOMES EMPEROR
 Charlemagne Extends Frankish Rule:
 Builds empire greater than any other since ancient Rome
 Through conquests he extends Christianity and reunites Western
Europe for the first time since the Roman Empire
 800 Charlemagne goes to defend the pope from an angry mob; in
return Pope Leo III gives him the title "Roman Emperor"
 Symbolizing the joining of Germanic, Church, and Roman heritage
CHARLEMAGNE BECOMES EMPEROR
 Charlemagne's Heirs:
 814 Charlemagne makes his son Louis the Pious Emperor; he is
ineffective ruler
 Louis leaves the empire to his 3 sons, Lothair, Charles the Bald, Louis
the German
 They fight over control and sign the Treaty of Verdun
 Divides the empire into 3 kingdoms
 Carolingian kings lose power and central authority over Western
Europe
 Loss of strong leadership will lead to new kind of governing and
landholding------feudalism
POP QUIZ
 What were Pepin the Short's two sons names?
 How many kingdoms did the Treaty of Verdun create?
 Who was the first Christian King of the Franks?
 Who extend the authority of the papacy?
 What important battle did Charles Martel win against the
Muslims?