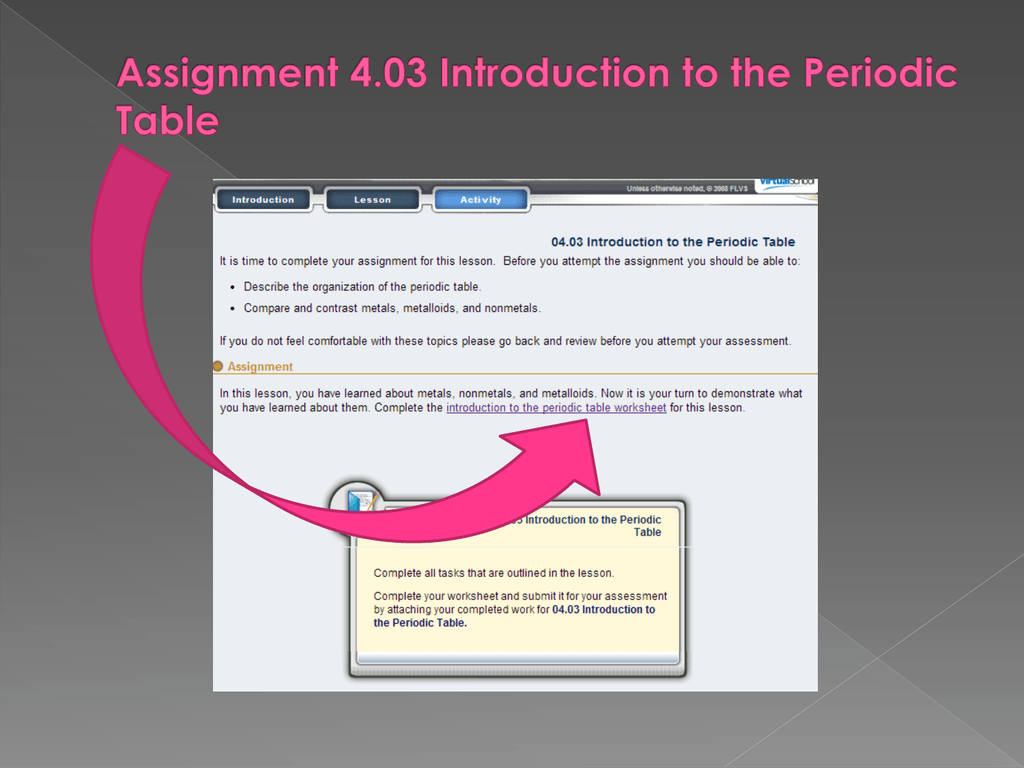 Directions: Use what you have learned in the lesson to answer each of the questions below. Be
sure to use complete sentences. You will need to refer to the periodic table to help you with
some of the questions.
1. Describe how the periodic table differentiates between metals and
nonmetals.
2. What type of element is most abundant: metals, nonmetals, or
metalloids?
3. Give the names and symbols of three metalloids from the periodic
table.
4. Identify items in your life that are made of each type of element: metal, nonmetal, and
metalloid. For each item, explain why the properties of that type of element are
necessary for the function of that item.
Example: Metal: My curling iron has metal in its wires and on the barrel of the
iron. The metal wires are necessary to conduct electricity and the metal on
the barrel is necessary to conduct the heat that causes my hair to curl.
Metal:
Nonmetal:
Metalloid:
5. Complete the following table by comparing and contrasting the
properties of metals, nonmetals, and metalloids. Properties may
include appearance, conductivity, phase, location on the periodic
table, or abundance.
Properties and
Characteristics
of Metals
Properties
Shared by
Metals and
Metalloids
Properties and
Characteristics
of Metalloids
Properties
Shared by
Metalloids and
Nonmetals
Properties and
Characteristics
of Nonmetals
1.
1.
1.
1.
1.
2.
2.
2.
2.
2.
3.
3.
3.
4.
4.
4.