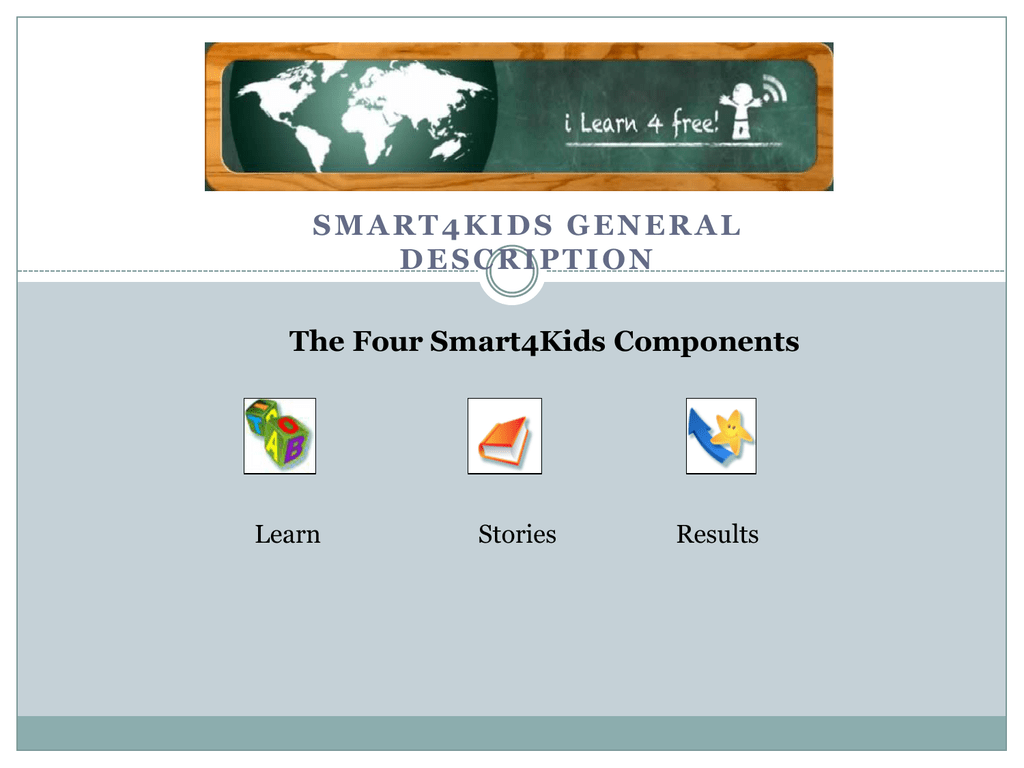 SMART4KIDS GENERAL
DESCRIPTION
The Four Smart4Kids Components
Learn
Stories
Results
Overview
 The iLearn4Free reading application, Smart4Kids, is designed to be fun and
exciting, and can be used to instill confidence in children around the world as
they learn to read. The program is comprised of 30 to 35 units, depending on
the language, with each unit focusing on a specific phonemic skill. Each unit
consists of a sound introduction, three games and a story. Units will be easy for
children to navigate independently, but are not intended as a surrogate for the
teacher.
Research and Learning Methods
 Our scientific, research-based reading materials and activities are modeled
after the "Big Five" focus areas recommended by the National Institute of Child
Health and Human Development: phonemic awareness, systematic phonics,
vocabulary, fluency, and comprehension. We aim to motivate children to tackle
the challenges of learning new sounds and recognize new words as they play
interactive games and stories. M4read contains four key components: Learn,
Reward, Stories and Results.
Learn
 Each smart4kids unit begins with a short introduction to the phonic
that is being taught, such as short a, short u, etc. A short mini-story is
also featured, which implement phonemics learned in that unit and
reviews components and vocabulary from previous units.
Learn
 Each unit includes 3 of the 18 smart4kids learning games, specially tailored to
teach and review the unit skills and helper words. These games include word
completion, word sorting, word matching, sound matching, memory tests and
more. In each unit, two games will focus on teaching new skills and vocabulary,
and one game will focus on helper words, or sight words. These are words that
do not necessarily implement the phonic being used but are important for
fluency and competency, such as "and," "but," "he" and "she."
Reward
 In each game, the user will win a point for each
correct answer made. A certain number of points
is required to move on to the next unit, and the
points can be spent on fun reward activities that
act as motivators. These reward activities include
decorating and adding fish to Chico's fish tank,
decorating Kikou's bedroom, collecting fruit to
feed Akilah's monkey, buying insects for Kikou's
bug collection, buying new clothes for Nirali,
running an obstacle course with Karim's horse,
and taking care of Manuel's coati.
Stories
 There are six stories that provide the context for Smart4Kids. These
stories take place in six different cultures with six different characters,
or heroes, that the user can relate to. These stories provide the
characters and settings for the different learning games in each unit, as
well as the reward activities.
Stories
Nirali and the Pariah
On her way to dance class, Nirali befriends a
stray dog and brings him home to meet her
family. Although her family is
unenthusiastic about their new houseguest,
they allow him to stay. When the new dog
becomes an unexpected hero, Nirali's family
learns the value of acceptance and
generosity.
Manuel and the Coati
When Manuel rescues a small injured
coati, his teacher and classmates decide
to keep the tiny animal in the classroom
while it recovers. Just when the class
thinks they know all there is to know
about coatis, their furry new friend
teaches them the biggest lesson of all:
some animals are better left in the wild.
Stories
Akilah and Her New
Friend
Akilah lives in a small, happy village in
equatorial Africa. Her brothers and father
have left for the day and Akilah is feeling
lonely. While running an errand at the
local market for her mother, Akilah makes
a new and unexpected friend.
Kikou and the Cycle of
Life
While helping out at her grandparent's
farm in rural China, Kikou gets to learn
about a variety of wildlife, and the way in
which each animal is connected to one
another. Finding nature fascinating, Kikou
makes a big decision about what she wants
to be when she grows up.
Stories
Karim's Journey
Karim's father gives him a beautiful, brave
black horse named Sidi Lakdar. Together,
Karim and Sidi Lakdar go on an adventure
that takes them far outside the walls of the
city and deep into the Arabian desert,
where Karim learns a valuable lesson
about responsibility.
Chico to the Rescue
An adventurous day at the beach becomes
a lesson in friendship and caring, as
young Chico must use both his head and
his heart to help his new friend, a lovely
little mermaid. A wonderful story about
acceptance and kindness.
Results
Smart4Kids provides a summary of skills acquired, units completed and points
accrued to motivate the user to move forward and gain new skills. This
summary also allows both the users and parents to track progression. Each unit
is tracked through a color tracking system of white, light blue, dark blue and
gray units.
Unit Color Tracking System
•White Units — the user has already
collected enough points to reach
80%, the minimum percentage
required in order to move on to the
next unit.
•Light blue Units – Units in progress
• Dark blue Units – Units not started
•Gray Units – Units not yet loaded.
Need to be downloaded and installed.