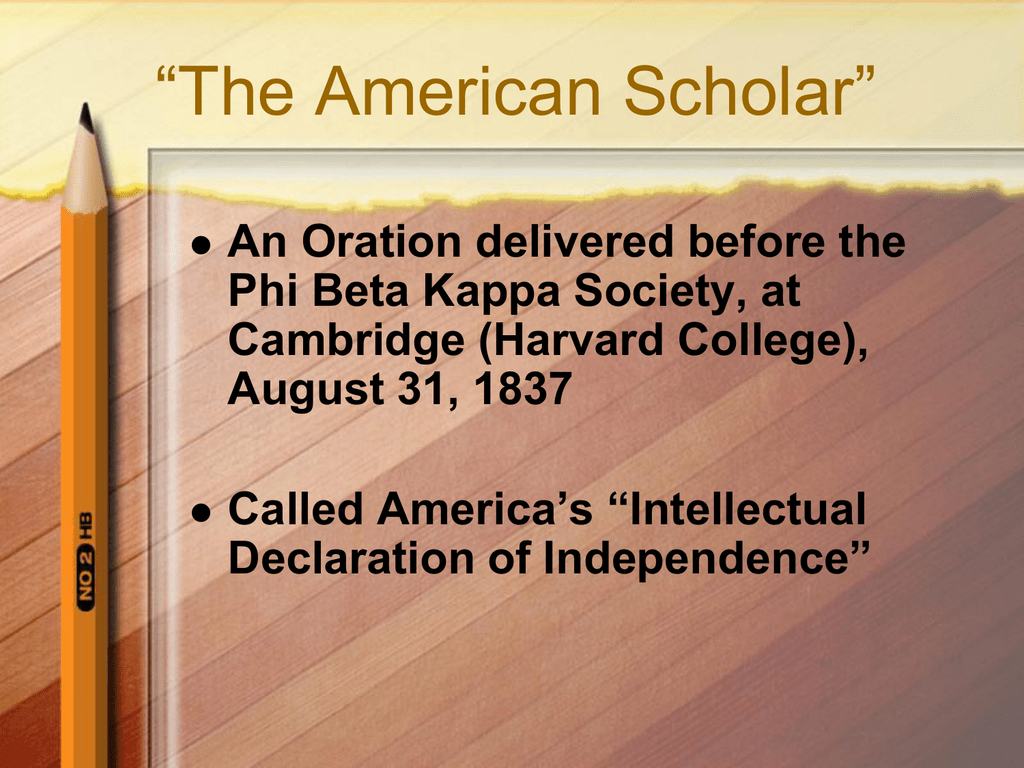 "The American Scholar"

An Oration delivered before the
Phi Beta Kappa Society, at
Cambridge (Harvard College),
August 31, 1837

Called America's "Intellectual
Declaration of Independence"
"The American Scholar"

Composed before "Self-Reliance,"
but APPLIES many of Emerson's
ideas in "Self Reliance" to the
occupation of being a student.
Scholar is delegated as the
intellect of society
In "the right state":
 Man Thinking
The scholar tended to become (in a
degenerate state):
 A mere thinker, or worse, the
parrot of other men's thinking.
What do we accomplish by
studying nature ?

Knowing ourselves — the law of
nature is also the law of the
human mind.
What is the "next great
influence" on the scholar?

Books, because they are the best
influence of (way of knowing
about and being inspired by) the
past
What must "each age" do?

Create its own books, literature,
etc.
The Purpose of and
the Problem with Books:
Purpose: To inspire
Problem:
The "grave mischief" of books
Because writing is a great act, we think
of the product as great, too, and start
worshipping it.
We think WE could never do any
BETTER and so we don't TRY
The BEST Books
We look at them and think,
"This is just what I have always
felt."
The scholar MUST NOT be a recluse!
The scholar needs to
ACT — "Only so much
do I know as I have
lived."
 Experience is the raw
material for any creation.

The most difficult times teach us the most
"Drudgery, calamity,
exasperation, want, are
instructors in eloquence
and wisdom."
Seize the Day!
Action — life— is the
raw material from which
the individual creates.
CARPE DIEM!
The scholar's duty

To be "free and brave"

The scholar must follow the dictates
of his own nature and be a nonconformist.

Free from outside constraints and
brave enough to withstand society's
disapproval
Fear springs from…
IGNORANCE
The things on which American
scholars should concentrate
 The
common American person,
the everyday incident —
"domestication of the idea of
culture"
 The private life of the single
person.
What about Europe?!
We should stop clinging
to it and start listening to
ourselves.