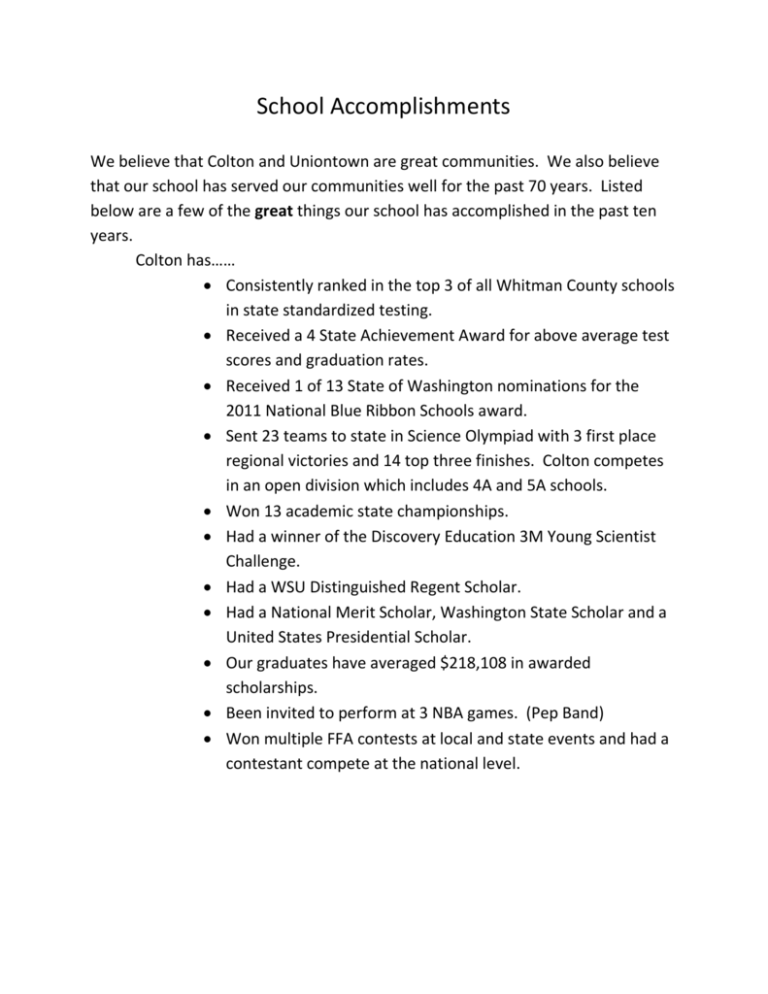 School Accomplishments
We believe that Colton and Uniontown are great communities. We also believe
that our school has served our communities well for the past 70 years. Listed
below are a few of the great things our school has accomplished in the past ten
years.
Colton has……
 Consistently ranked in the top 3 of all Whitman County schools
in state standardized testing.
 Received a 4 State Achievement Award for above average test
scores and graduation rates.
 Received 1 of 13 State of Washington nominations for the
2011 National Blue Ribbon Schools award.
 Sent 23 teams to state in Science Olympiad with 3 first place
regional victories and 14 top three finishes. Colton competes
in an open division which includes 4A and 5A schools.
 Won 13 academic state championships.
 Had a winner of the Discovery Education 3M Young Scientist
Challenge.
 Had a WSU Distinguished Regent Scholar.
 Had a National Merit Scholar, Washington State Scholar and a
United States Presidential Scholar.
 Our graduates have averaged $218,108 in awarded
scholarships.
 Been invited to perform at 3 NBA games. (Pep Band)
 Won multiple FFA contests at local and state events and had a
contestant compete at the national level.