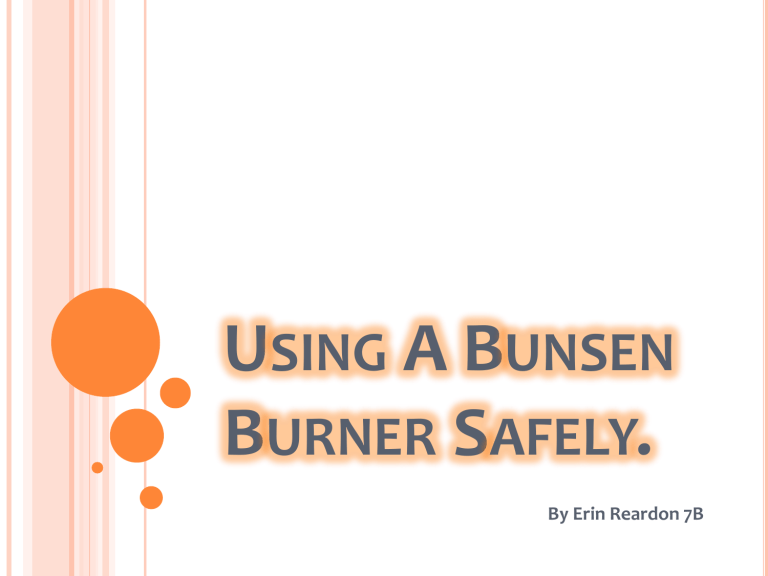 U
SING
A B
UNSEN
B
URNER
S
AFELY
.
By Erin Reardon 7B
W
HAT
A B
UNSEN
B
URNER
L
OOKS
L
IKE
1.
2.
There are 4 main parts of a Bunsen burner that you need to know about.
The collar. The collar is there to change the flames temperature. When the collar is covering the hole, it means what we call the 'safety flame' is on.
The burner tube. This is where the gas come through before it changes to a flame at the top.
3.
4.
The gas pipe. The gas pipe is connected on one end to the Bunsen burner and the other end to the gas outlet. You should always check your gas pipe before you turn the gas on. It shouldn't have any cracks or holes in it, if it does you should tell your teacher.
The flame. We recognise the flame in to forms.
Safe and unsafe. The safety flame is when the collar is covering the hole, as no oxygen is reaching the flame it id less strong. And the opposite for when the collar is off.
Your bunsen burner, the main piece of equipment.
Safety glasses to protect your eyes.
A bench mat to protect the surface your working on.
E
QUIPMENT
Matches to light your bunsen burner with.
Proper shoes to protect your feet from falling objects.