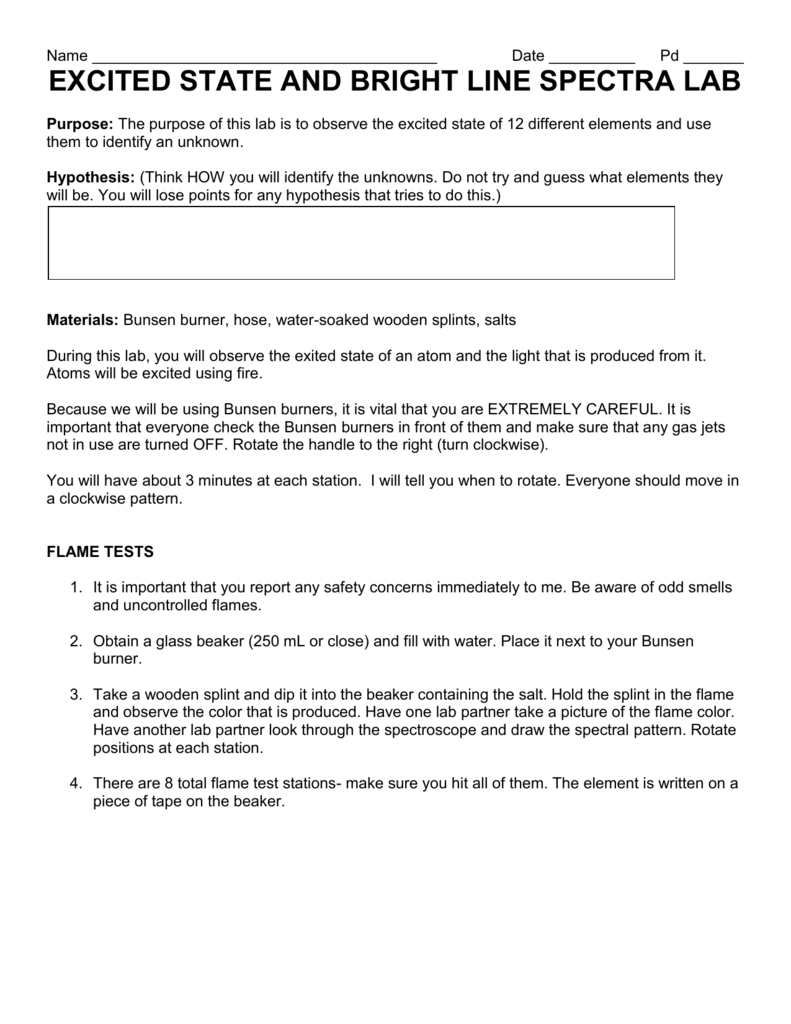 Name ________________________________________
Date __________
Pd _______
EXCITED STATE AND BRIGHT LINE SPECTRA LAB
Purpose: The purpose of this lab is to observe the excited state of 12 different elements and use
them to identify an unknown.
Hypothesis: (Think HOW you will identify the unknowns. Do not try and guess what elements they
will be. You will lose points for any hypothesis that tries to do this.)
Materials: Bunsen burner, hose, water-soaked wooden splints, salts
During this lab, you will observe the exited state of an atom and the light that is produced from it.
Atoms will be excited using fire.
Because we will be using Bunsen burners, it is vital that you are EXTREMELY CAREFUL. It is
important that everyone check the Bunsen burners in front of them and make sure that any gas jets
not in use are turned OFF. Rotate the handle to the right (turn clockwise).
You will have about 3 minutes at each station. I will tell you when to rotate. Everyone should move in
a clockwise pattern.
FLAME TESTS
1. It is important that you report any safety concerns immediately to me. Be aware of odd smells
and uncontrolled flames.
2. Obtain a glass beaker (250 mL or close) and fill with water. Place it next to your Bunsen
burner.
3. Take a wooden splint and dip it into the beaker containing the salt. Hold the splint in the flame
and observe the color that is produced. Have one lab partner take a picture of the flame color.
Have another lab partner look through the spectroscope and draw the spectral pattern. Rotate
positions at each station.
4. There are 8 total flame test stations- make sure you hit all of them. The element is written on a
piece of tape on the beaker.
RESULTS
In order to get the "Spectra," click on the element on the following website:
http://chemistry.bd.psu.edu/jircitano/periodic4.html Copy and paste the spectra into your data table.
You can shrink the images so that they fit into the box. You do not need to keep them as large as
they are.
FLAME TESTS
Element
Flame Color
Picture
Spectra
Strontium
Calcium
Copper
Barium
Potassium
Sodium
Lithium
Unknown
Lab Report: You will NOT write a full lab report for this lab. However, you will develop a hypothesis
(on this sheet), test it by conducting the experiment, record results (on this sheet), and compose a
typed discussion section, which analyzes the results, states whether the data support the
hypothesis, how you predicted the identity of the unknown substance, and a detailed explanation as
to why different salts exhibit flames of varying color.