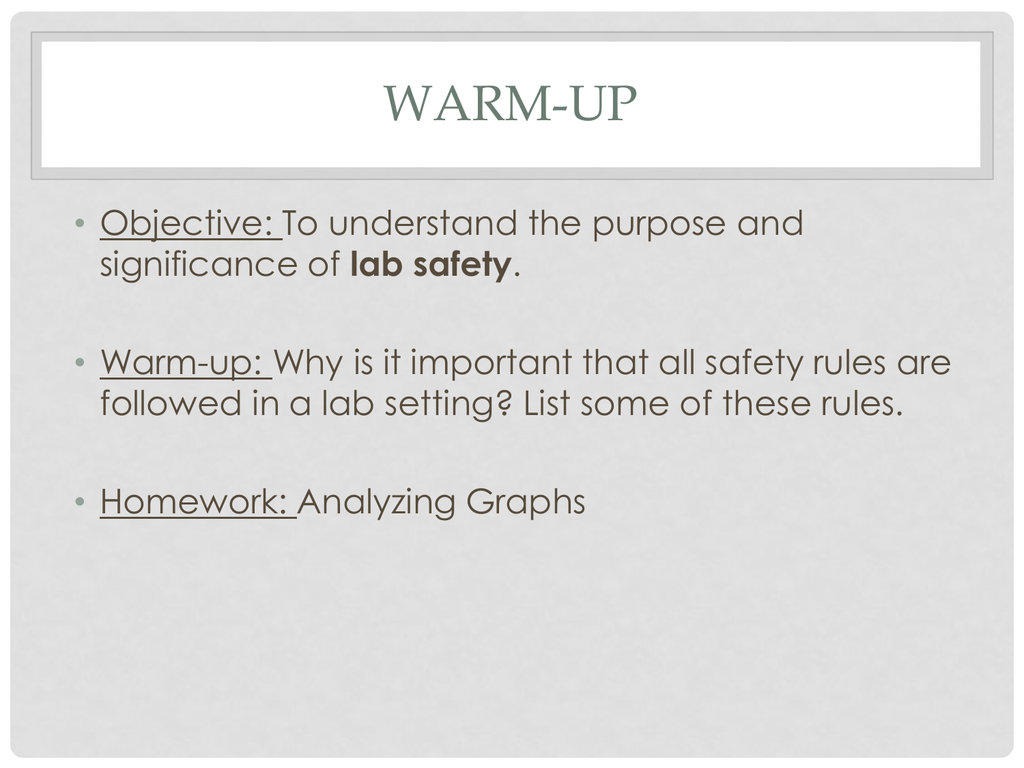 WARM-UP
• Objective: To understand the purpose and
significance of lab safety.
• Warm-up: Why is it important that all safety rules are
followed in a lab setting? List some of these rules.
• Homework: Analyzing Graphs
BINDERS
• MUST HAVE BINDERS IN THE CLASSROOM BY
FRIDAY!!!!
• Worksheets will be collected and kept together
in the classroom from now on! Keep all
worksheets in binder!
• There will be a notebook Quiz at the end of the
marking period!
LAB SAFETY!!!!!
http://jcscience.slss.ie/resources/c/148
0/13/what_not_to_do_600.pdf
LET'S BRAINSTORM!
• What are the most important safety rules?????
SAFETY RULES GAME
• DIRECTIONS:
• The class will be divided into four groups.
• Each group will receive a safety rules game board.
• The Game board will have a clear start and finish!
• An online die will be used to determine how many spaces
you can move ahead on the game board.
• Paperclips will be used as the game chips
• A chess pawn will be used to move from square to square.
SAFETY RULES GAME
• Here's the catch!
• At each spot you land on. You must explain to your group
what a possible consequence of the action would be.
• Ex: Running during lab
• You might fall over unto a hot plat and burn your hand
• WINNER IS THE PERSON WHO HAS THE MOST PAPER CLIPS at the end.
LAB SAFETY IN THE CLASSROOM
• Locate the given safety items located around the
classroom.
• Draw the items on the lab safety map!
LAB SAFETY CHARADES
• Lab safety charades !
• The class will be divided into two groups!
• Teams will compete, as individuals or partners come
up and act out a lab scenario that is not being
carried out properly!
LAB SAFETY SITUATION
• Complete the Lab Safety Situation Worksheet.
• You may work alone or with a partner
TRUE/FALSE
• LAB SAFETY!
• Answer either true or false
using the index cards.
ENDING ACTIVITY/HOMEWORK?
• How well can you analyze scientific data????
• Possible a review?????