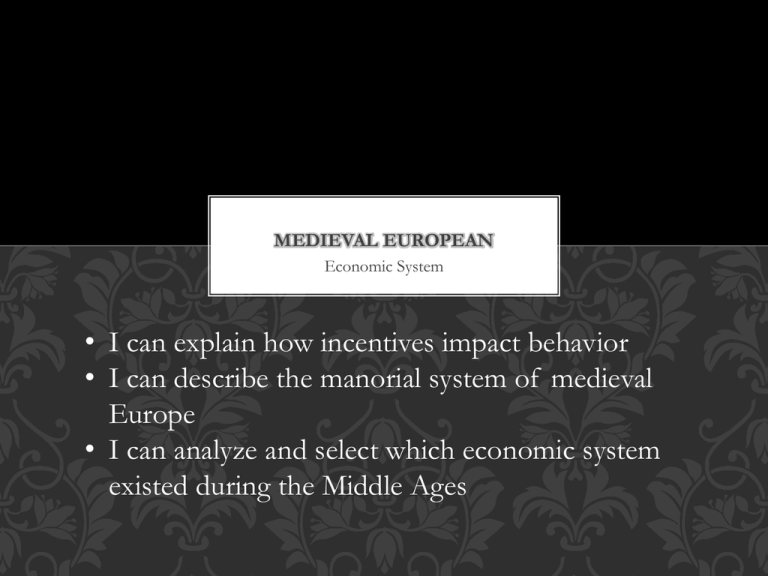 MEDIEVAL EUROPEAN
Economic System
• I can explain how incentives impact behavior
• I can describe the manorial system of medieval
Europe
• I can analyze and select which economic system
existed during the Middle Ages
MEDIEVAL?
WHAT IS FEUDALISM?
Feudalism:
• Medieval model of government
• The kings offered land or estates to knights
or lords in exchange for military service
• 40 + days of service
MANORIAL SYSTEM
WHAT WAS THE IMPACT OF THE
INVASIONS AND RAIDS IN EUROPE IN
THE LATE 700'S?
WHAT IS FEUDALISM?
WHY DID FEUDALISM EMERGE?
WHAT DID LORDS AND KNIGHTS
RECEIVE FOR THEIR MILITARY
SERVICE?
WHAT RESPONSIBILITIES DID
THE KNIGHTS/LORDS HAVE?
WHAT DID THE SERFS OWE THE
LORD?
WHAT DID THE MANOR LOOK LIKE?
PRODUCTION STEPS
1.
2.
3.
4.
5.
6.
7.
Stand and put your hands on your shoulders
Reach down to your desk and select a seed (crumpled piece of paper)
from an imaginary bag by bringing your elbows together
Reach down to the floor
Plant the seed gently by releasing your elbows.
Sit down at your desk
Write the word of your assigned product on the piece of scrap paper
Continue planting.
WELCOME TO NGUYEN MANOR!
Groups
Crops
Group 1
Barley
Group 2
Wheat
Group 3
Rye
Group 4
Oats
Group 5
Vegetables
You work for Me- the Lord of the manor, there is no reward other than feeling good
about trying your best.
Slow workers may be punished.
Prepare your seeds and record log
ROUND ONE
Group
1-Barley
2-Wheat
3-Rye
4-Oats
5-Vegetables
Round 1 Plantings
ROUND TWO
The rules have changed!
• Everything you put into the ground belongs to you.
• Everyone in your group must agree on what to produce
• Your goal is to plant as many seeds as possible so your family will have
food to eat.
What to produce?
How to produce it?
How to distribute goods/services?
ROUND TWO
Group
1-Barley
2-Wheat
3-Rye
4-Oats
5-Vegetables
Round 2 Plantings
ECONOMIC INCENTIVES
Incentives
Penalties
Factors that motivate and influence
behavior.
Used to deter (stop) behavior
Used for motivation
Penalties are negative
A reward is positive
HOW DOES TECHNOLOGY
CHANGE PRODUCTION
Group
Technology Tool
1-Barley
Heavy Wheeled Plow
2-Wheat
Draft Animals
3-Rye
Watermill
4-Oats
Three Field System
5-Vegetables
Lord/Peasant Coop
Round 3
HOW DOES TECHNOLOGY
CHANGE PRODUCTION
Why People Trade
1
2
3
4
5
126
25.2
Round 1 Total
Round 1 Average
181
36.2
Round 2 Total
Round 2 Average
239
47.8
Round 3 Totoal
Round 3 Average
Round 1
18
23
29
26
30
Round 2
33
34
38
39
37
Round 3
65
51
38
26
59
50
45
40
35
30
25
20
15
10
5
0
Round 1
Round 2
Round 3
Round 1
Round 2
Round 3
WHICH ECONOMIC SYSTEM WAS
FEUDALISM?
Traditional System
Command System
Market System
What, how and for
whom are decided
by tradition
What, how and for
whom are decided
by an individual
or group in
authority
What –
whatever is
profitable
How- least
costly method
For whomwhoever will
pay the highest
price
ASSESSMENT
What are three economic questions all societies must answer?
What type of economic system is the manorial system most like?
How do incentives change production?
How does technology impact output?