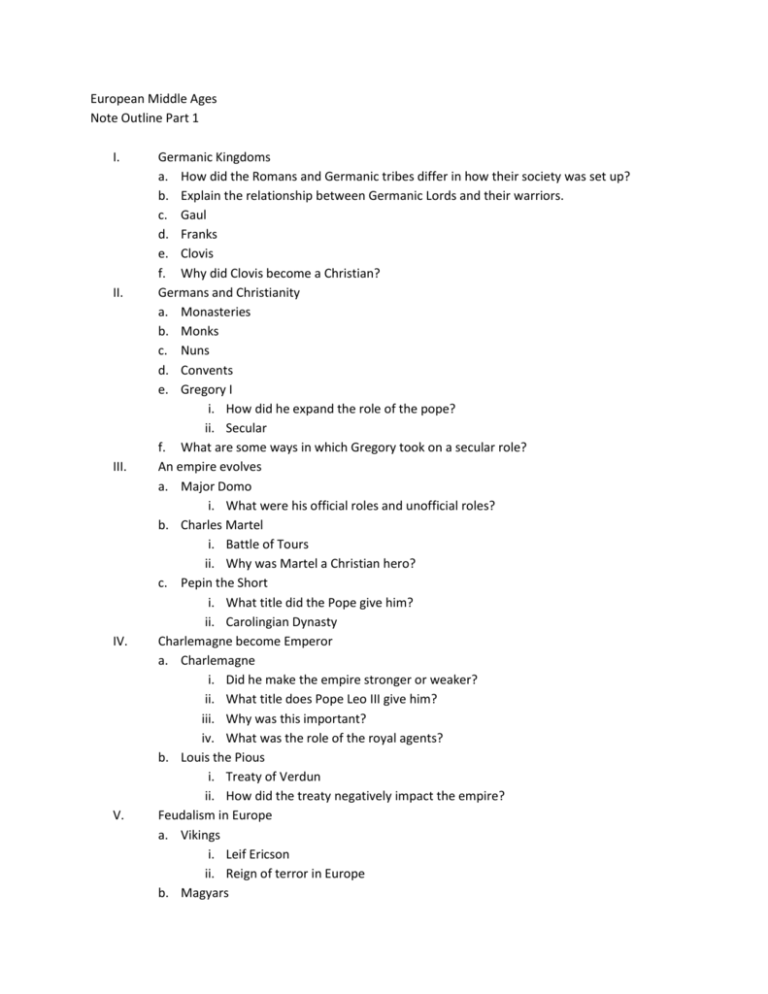 European Middle Ages
Note Outline Part 1
I.
II.
III.
IV.
V.
Germanic Kingdoms
a. How did the Romans and Germanic tribes differ in how their society was set up?
b. Explain the relationship between Germanic Lords and their warriors.
c. Gaul
d. Franks
e. Clovis
f. Why did Clovis become a Christian?
Germans and Christianity
a. Monasteries
b. Monks
c. Nuns
d. Convents
e. Gregory I
i. How did he expand the role of the pope?
ii. Secular
f. What are some ways in which Gregory took on a secular role?
An empire evolves
a. Major Domo
i. What were his official roles and unofficial roles?
b. Charles Martel
i. Battle of Tours
ii. Why was Martel a Christian hero?
c. Pepin the Short
i. What title did the Pope give him?
ii. Carolingian Dynasty
Charlemagne become Emperor
a. Charlemagne
i. Did he make the empire stronger or weaker?
ii. What title does Pope Leo III give him?
iii. Why was this important?
iv. What was the role of the royal agents?
b. Louis the Pious
i. Treaty of Verdun
ii. How did the treaty negatively impact the empire?
Feudalism in Europe
a. Vikings
i. Leif Ericson
ii. Reign of terror in Europe
b. Magyars
VI.
VII.
VIII.
IX.
c. Muslims
d. Why did the people in Europe stop looking to a central authority to protect them?
e. Who did they turn to for protection?
A New Social Order: Feudalism
a. Rollo and Charles the Simple
i. Normandy
b. Feudalism
i. How did feudalism work?
ii. Fief
iii. Lord
iv. Vassal
v. Explain the pyramid for the feudal system
vi. Knights
vii. How was someone's status determined in the feudal system?
viii. Serfs
Manors
a. Manor
b. What was a peasants life like on the manor?
c. Tithe
d. Why were the peasants satisfied with their position in society?
Knights
a. Chivalry
i. Who were their three masters?
ii. Why did most knights fail to meet the standards of the code of conduct?
Authority of the Church
a. Describe the organization of the church leadership.
b. Sacraments
c. Canon Law
i. Excommunication
ii. Interdict
iii. Why did these two forms of punishment give the pope power over the political
leaders?