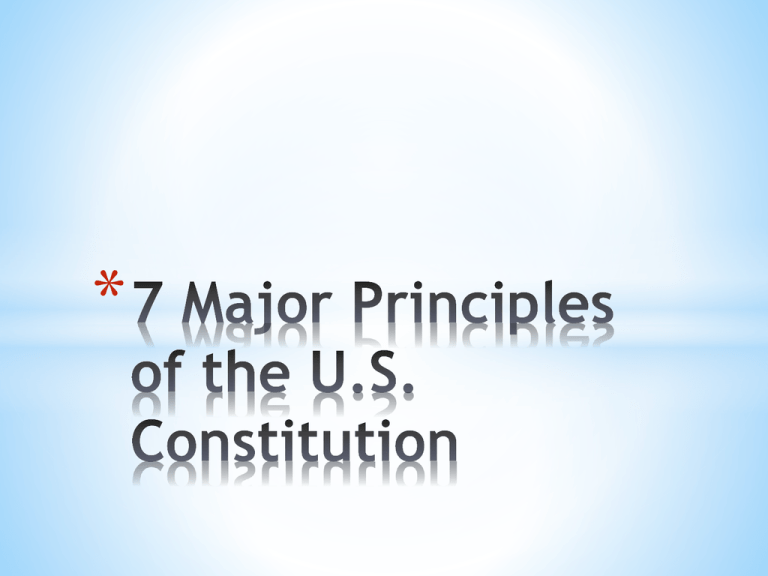 *
Chapter 4 Section 1
Seven Principles of the U. S. Constitution
Popular
Sovereignty
1.
The government 2.
gets its power
from the people
Republicanism
Limited
Government
Voters hold
sovereign power.
1. Government
People choose their
only has
representatives in
powers
government
granted by
Federalism
1.
Power to govern is
shared by nation and
states.
2.
people.
3.
2. Article I
states powers
4.
3. Bill of
Rights=rights
of the people. 5.
4. "Rule of
Law"=nobody
6.
is above the
law.
States deal with own
needs, and may act
together.
Enumerated
Powers=nation
Reserved
Powers=states
Concurrent
Powers=shared by
nation and state
Constitution is
supreme law of land.
Separation
of Powers
1. Three
branches:
A. Legislative
B. Executive
C. Judicial
Checks and
Balances
1. Each branch may
check, or limit, the
power of another
branch.
Individual
Rights
1. Bill of Rights
became a part of
the Constitution in
1791.
A. First 10
Amendments
B. Provide basic
liberties and
rights to
people
2. The 17
Amendments after
BoR expand our
rights and adjust
certain provisions
of Constitution.