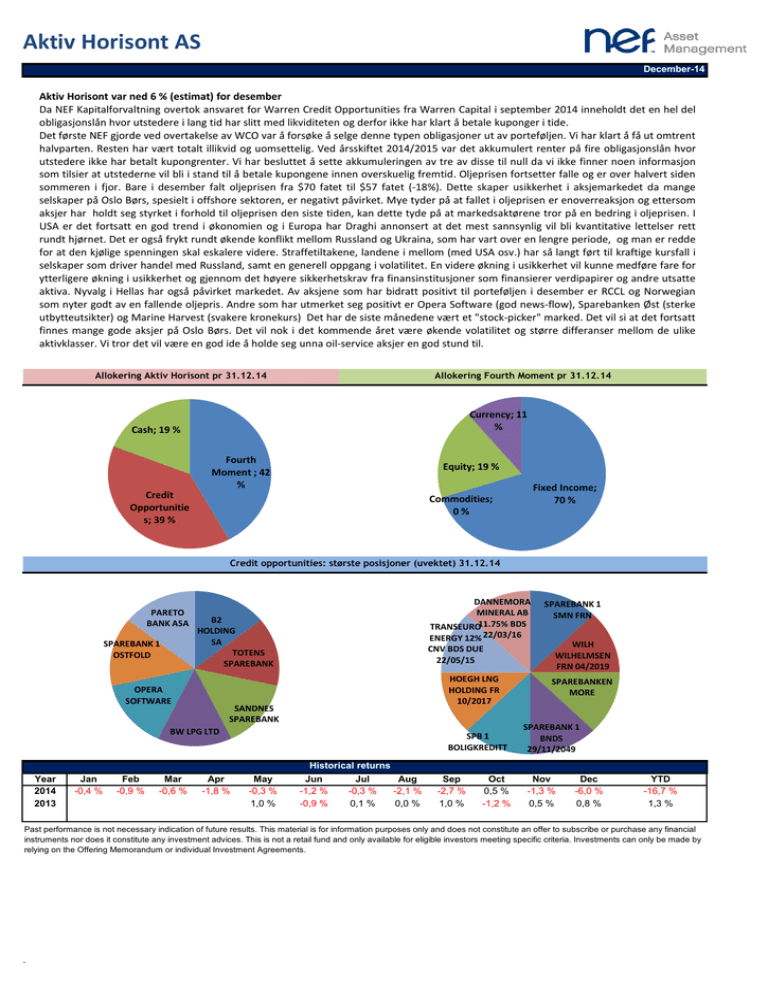 Aktiv Horisont AS
December-14
Aktiv Horisont var ned 6 % (estimat) for desember
Da NEF Kapitalforvaltning overtok ansvaret for Warren Credit Opportunities fra Warren Capital i september 2014 inneholdt det en hel del
obligasjonslån hvor utstedere i lang tid har slitt med likviditeten og derfor ikke har klart å betale kuponger i tide.
Det første NEF gjorde ved overtakelse av WCO var å forsøke å selge denne typen obligasjoner ut av porteføljen. Vi har klart å få ut omtrent
halvparten. Resten har vært totalt illikvid og uomsettelig. Ved årsskiftet 2014/2015 var det akkumulert renter på fire obligasjonslån hvor
utstedere ikke har betalt kupongrenter. Vi har besluttet å sette akkumuleringen av tre av disse til null da vi ikke finner noen informasjon
som tilsier at utstederne vil bli i stand til å betale kupongene innen overskuelig fremtid. Oljeprisen fortsetter falle og er over halvert siden
sommeren i fjor. Bare i desember falt oljeprisen fra $70 fatet til $57 fatet (-18%). Dette skaper usikkerhet i aksjemarkedet da mange
selskaper på Oslo Børs, spesielt i offshore sektoren, er negativt påvirket. Mye tyder på at fallet i oljeprisen er enoverreaksjon og ettersom
aksjer har holdt seg styrket i forhold til oljeprisen den siste tiden, kan dette tyde på at markedsaktørene tror på en bedring i oljeprisen. I
USA er det fortsatt en god trend i økonomien og i Europa har Draghi annonsert at det mest sannsynlig vil bli kvantitative lettelser rett
rundt hjørnet. Det er også frykt rundt økende konflikt mellom Russland og Ukraina, som har vart over en lengre periode, og man er redde
for at den kjølige spenningen skal eskalere videre. Straffetiltakene, landene i mellom (med USA osv.) har så langt ført til kraftige kursfall i
selskaper som driver handel med Russland, samt en generell oppgang i volatilitet. En videre økning i usikkerhet vil kunne medføre fare for
ytterligere økning i usikkerhet og gjennom det høyere sikkerhetskrav fra finansinstitusjoner som finansierer verdipapirer og andre utsatte
aktiva. Nyvalg i Hellas har også påvirket markedet. Av aksjene som har bidratt positivt til porteføljen i desember er RCCL og Norwegian
som nyter godt av en fallende oljepris. Andre som har utmerket seg positivt er Opera Software (god news-flow), Sparebanken Øst (sterke
utbytteutsikter) og Marine Harvest (svakere kronekurs) Det har de siste månedene vært et "stock-picker" marked. Det vil si at det fortsatt
finnes mange gode aksjer på Oslo Børs. Det vil nok i det kommende året være økende volatilitet og større differanser mellom de ulike
aktivklasser. Vi tror det vil være en god ide å holde seg unna oil-service aksjer en god stund til.
Allokering Aktiv Horisont pr 31.12.14
Allokering Fourth Moment pr 31.12.14
Currency; 11
%
Cash; 19 %
Fourth
Moment ; 42
%
Equity; 19 %
Credit
Opportunitie
s; 39 %
Fixed Income;
70 %
Commodities;
0%
Credit opportunities: største posisjoner (uvektet) 31.12.14
PARETO
BANK ASA
SPAREBANK 1
OSTFOLD
DANNEMORA
MINERAL AB
TRANSEURO11.75% BDS
ENERGY 12% 22/03/16
B2
HOLDING
SA
TOTENS
SPAREBANK
OPERA
SOFTWARE
CNV BDS DUE
22/05/15
HOEGH LNG
HOLDING FR
10/2017
SANDNES
SPAREBANK
BW LPG LTD
Year
2014
2013
Jan
-0,4 %
Feb
-0,9 %
Mar
-0,6 %
Apr
-1,8 %
SPB 1
BOLIGKREDITT
May
-0,3 %
1,0 %
Historical returns
Jun
Jul
Aug
-1,2 %
-0,3 %
-2,1 %
-0,9 %
0,1 %
0,0 %
Sep
-2,7 %
1,0 %
Oct
0,5 %
-1,2 %
SPAREBANK 1
SMN FRN
WILH
WILHELMSEN
FRN 04/2019
SPAREBANKEN
MORE
SPAREBANK 1
BNDS
29/11/2049
Nov
-1,3 %
0,5 %
Dec
-6,0 %
0,8 %
YTD
-16,7 %
1,3 %
Past performance is not necessary indication of future results. This material is for information purposes only and does not constitute an offer to subscribe or purchase any financial
instruments nor does it constitute any investment advices. This is not a retail fund and only available for eligible investors meeting specific criteria. Investments can only be made by
relying on the Offering Memorandum or individual Investment Agreements.
.