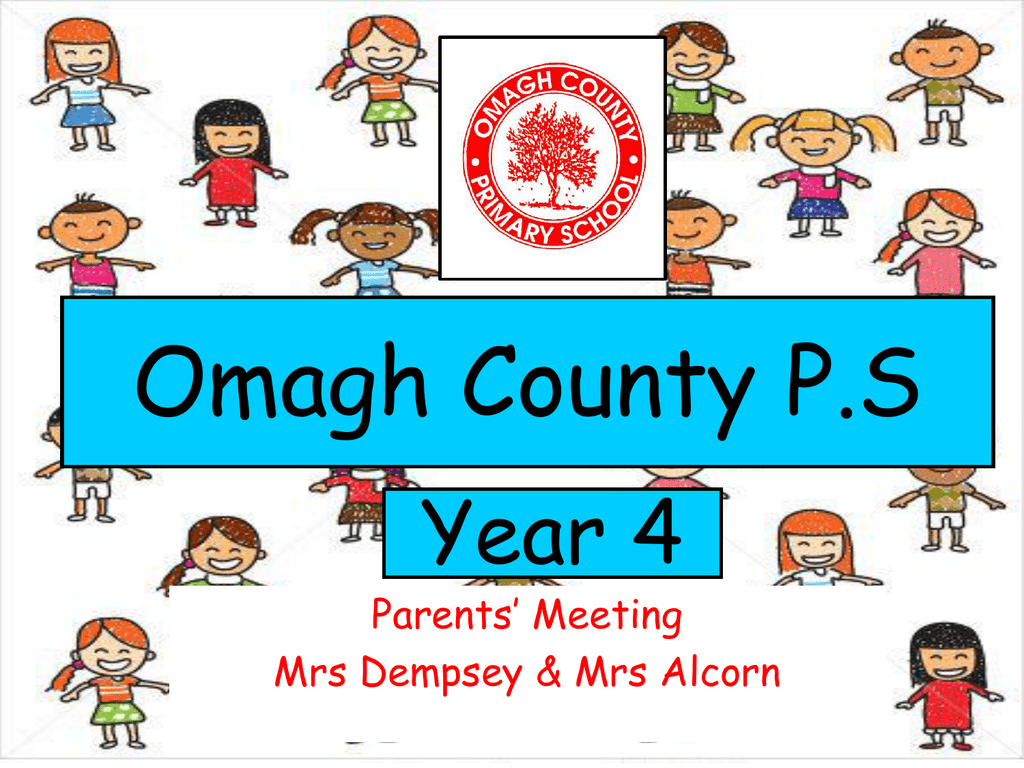 Omagh County P.S
Year 4
Parents' Meeting
Mrs Dempsey & Mrs Alcorn
Year Four Daily Routine
Break time & Lunch time
• Healthy Snacks
–
–
–
–
No kiwi fruit
No nuts
Healthy Lunch Box Challenge
Bottle of water (no juice)
• School Dinners- £2.40/day
Apparatus Days
Mrs Dempsey – Tues lunchtime &
Friday break time
Mrs Alcorn – Mon lunchtime &
Thursday break time
Absence Notes
Please send in on the first day of school
or a proforma will be sent home.
What Every Child
Should Have
pencils
PE
Kit
colouring
pencils
glue stick
highlighter
30 cm ruler
painting
shirt
rubber
sharpener
Areas of Learning
AREAS OF LEARNING
• Language and
Literacy
• Maths and Numeracy
• The World Around
Us
• The Arts
• Personal
Development and
Mutual
Understanding
• Physical Education
• Religious Education
•
CROSS
CURRICULAR
SKILLS
• Communication
• Using Maths
• Using ICT
•
•
•
•
TS & PC
Thinking,
Problem-Solving
and Decision
Making
Self
Management
Working With
Others
Managing
Information
Being Creative
Literacy
• Talking and Listening
• Reading
–
–
–
–
Guided and Independent Reading
Library Books
Paired Reading
Silent Reading
• Writing
– Writing Units
– Handwriting
• Phonics
Numeracy
•
•
•
•
•
Number
Measures
Data Handling
Shape and Space.
Processes
Encourage Mental Maths – 10/15mins daily
Home support with Mathematical facts eg. helping your
child to learn their tables, time and money.
Homework
•Reading (Mon to Thurs evening)
•Spellings and tables
•Written Homework
•Evaluate homework
•Parental Check & Sign
Traffic Light
Evaluation
It is important that you spend time with your child to support them
completing their homework- don't be tempted to do it for them!
Please let us know if they experience any difficulty.
Assessment & Reporting
•
•
•
•
•
•
•
Teacher Observation
Effective Questioning
Self Assessment – Traffic Lights
End of Key Stage Assessment
Standardised Tests (May)
Parent Interviews – Term 1 & 2
Annual Report - Term 3
Other things worth a mention!
•
•
•
•
•
•
Citizen of the Week – Award and Certificate
Golden Time – Friday afternoon
Inhalers
Parent Volunteers
Please check school bag for forms etc
School Website – up-to- date news and photos!
(www.omaghcounty.com)
Questions ????