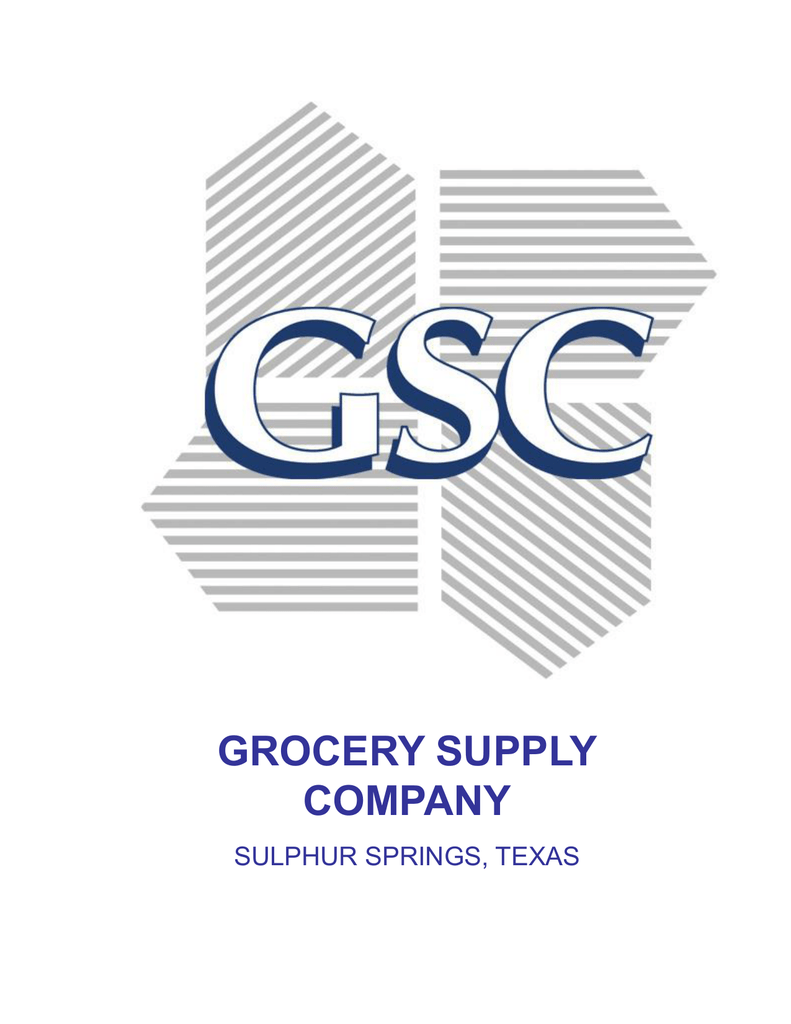 Store Name Here!
GROCERY SUPPLY
COMPANY
SULPHUR SPRINGS, TEXAS
Thomas
StoreC.L.
Name
Here!
Petroleum Co-op
Coverage Area
GSC Enterprises, Inc.
Grocery Supply Company
Performance & Reputation
History
Deliveries
Founded in 1947 in Mt. Vernon, Texas.
Privately held by the McKenzie family.
Continuously profitable.
Full service, triple compartment trucks
(frozen, dry, refrigerated). Delivery
within two days of receiving orders.
Specializing in value-added services
and programs.
Growth
Sales in excess of 1 billion.
Service Level
98% plus. Outs summary with invoice.
Goals
Long term solutions, not quick fixes.
Responsive to your needs.
Strengths In Product Mix
400
1,400
300
400
300
300
1,000
1,000
12,000
Cigarettes
Candy, Gum and Mints
Salty Snacks
Refrigerated
Parade & Good Sense Private Label Products
Foodservice
Single Pack Grocery Items
HBC Items in Singles
Total Items
Plan-o-grams
•
Spaceman
•
Gladson Image Tags
®
Plan-o-grams and schematics
Quality Foodservice Programs
•
•
•
•
•
•
•
•
•
Deli-Fast Foods Branded Concept:
No franchise fees, royalties, or advertising fees
60% profit
Manufacturer's rebate program
On site training and operational manual
Logo POS material, shirts, caps, cups, bags, etc.
Top quality ingredients and consistent product offering
Customized menu, turn-key operation
Equipment, signage and kiosk quantity priced from Marci
Systems Creative Sign and Corsair Display System.
Special Programs
Folgers Coffee Program
Mother Parker's Coffee Program
Roller Grill Hot Dog Program
Bryan, Jimmy Dean, Oscar Mayer, Bahama Mama
Parrott Ice, Alligator Ice
Uncle Ray's, TGI Friday, On The Border Chips
Chiquita "TO GO" Banana Program
Gehl's Nachos - Sheriff Blalock Chili/Cheese Dispensers
MarketPulse Bulletin
Your Weekly Bulletin & Sales Booster
•
•
•
•
•
•
New Items
Allowances
Price Advances/Declines
Market Information
Special Offers
Customer Bulletin Board
The Advantage
A Quarterly Publication for Maximizing Profits and
Achieving a Competitive Advantage
•
•
•
•
•
Shippers.
Special Promotions.
Over 100 promotional opportunities each quarter.
Quarterly meetings are held in Sulphur Springs.
Advantage Meeting: Advantage Table Top Show,
feature all new items for previous quarter, and
special vendor deals.
EDI
GSC Website: http://www.grocerysupply.com
Internet E-Mail Using GSC's FTP Server
Store Systems Support
•
PDI
•
Northwest Microsystems
•
StoreMaster
•
AMCOM
•
Compu-Touch
•
Proprietary Systems
•
Electronic Invoicing
•
Service Station Computer Systems
•
•
•
Beacon
Compatible Software Systems
CMI
Retail Customer Incentive Program
Retailers earn chances to win a trip by purchasing Manufacturer/Broker sponsored
products. Three winners each week during designated period.
1985
1986
1987
1988
1989
1990
1991
1992
1992
1993
1994
1995
1996
1997
Acapulco
Bahamas
Caribbean
Maui
Rome
Bahamas
Rio de Janeiro
London
Lake Tahoe
Dominican Republic
Switzerland
Ireland
Kauai
Alaska
1998
1999
2000
2001
2002
2003
2004
2005
2006
2007
2008
2009
2010
Cancun
Scotland
Caribbean Cruise
Montreal
Portugal
Alaska
Austria
Hawaiian Cruise
Whistler, B.C., Canada
Athens, Greece
Rome
Panama
Banff Springs
Marketplace Trade Show
•
•
•
Grocery Supply Company's Buying Trade Show
200 Manufacturers and Brokers
Arlington Convention Center, Arlington, Texas –
•
April 28, 2010
Entertainment
GSC eCare
Internet Next Day Live Information by Date Requested
•
•
•
•
Movement Information
Price Look-up
Invoice Inquiry
Customer Log-On at Grocery
Supply Company Web Site
Trade Associations
GSC is a strong supporter of state organizations as
well as NACS.
GSC supports issues affecting the c-store industry in
government and legislative action.
NACS
TPCA
LOMA
OPMA
AOMA
ARGA
TGCA
Armadillo Stores (7), Clarksville, TX
Aramark (66) Downers Grove, IL (TX, LA, AR, OK)
Arguindegui Pump-N-Shop (12), Laredo, TX
Berkly's (5), Brady, TX
Big Red Stores (21), Bryant, AR
Breaktime (5), Harligen, TX
Buc-ees (22), Lake Jackson, TX
Centennial Liquor (38), Dallas, TX
Crackerbox Food (27), Hot Springs, AR
Day & Night (8), Texarkana, TX
E-Z Go (23), Lawton, OK
E-Z Mart (297), Texarkana, TX
East Texas Fuels (5), Marshall, TX
El Tigre (23), Edinburgh, TX
Food∙N∙Fun (18), New Iberia, LA
Quik-Way (60), Dallas, TX
Food Fast (69), Tyler, TX
Rattler's Country Stores (8), Navasota, TX
Gas-N-Go (5), Pauls Valley, OK
Regal Oil (14), San Angelo, TX
Gas Go Stores (10), San Antonio, TX
Royal Buying Group (4), Temple, TX
Get N Go (9), Carrizo Springs, TX
Ruby's Food Marts (6), Groesbeck, TX
Git 'N Galup (3), Stillwater, OK
Shop-N-Go (9), Tulsa, OK
GHRA (169), Houston, TX
Signature (19), Austin, TX
Hop-N-Sak (6), Chattanooga, OK
Smart Stops of Texas (6), Midlothian, TX
Hurry Back (5), El Dorado, AR
Speedy Stops (103), Victoria, TX
Joe Bob's (5), Sulphur Springs, TX
Sprint Petroleum (4), Sulphur Springs, TX
Jr. Food Mart (6), Blytheville, AR
Stephenson Oil (7), Tulsa, OK
Knox Oil (3), Dallas, TX
Super Handy (6), Sulphur Springs, TX
Kwik Check (57), Bonham, TX
Super Stop Coop (215), Little Rock, AR
Max-E-Mart (8), Uvalde, TX
Susser (64), Houston, TX
Max Food Marts (6) College Station, TX
Tex Best (4), McAllen, TX
Mickey's (17), Killeen, TX
Texas Star (17), Laredo, TX
Midtex Oil (26), New Braunfels, TX
Tiger Tote (24), Gonzales, TX
Mini Mart Stores (17), Kerrville, TX
Valley Mart (11), Castroville, TX
Neal One Stops (11), San Antonio, TX
Victron Energy (110), Waxahachie, TX
N.T.T.A. (78), Dallas, TX
Wag-A-Bag (17), Round Rock, TX
P.F. & E. Oil (Food Plaza) (9), Brownwood, TX
Westex Capital (29), Del Rio, TX
Quick Check Drive-In (5), Whitewright, TX
Willtex Co-op (22), San Antonio, TX
Wonder Food Stores (8), McAllen, TX
Wuest Pic & Pac (15), Seguin, TX
Co-op Advantage
•GSC pricing is based on the
Advantage of Speedy Stop Company
Stores buying power.
•The co-op builds a stronger
partnership with Broker,
Manufacturers and C.L. Thomas.
•Speedy Stop Trade Show provides
additional promotion opportunities.
•Largest variety of products from a
wholesaler for additional profits in
your store(s).