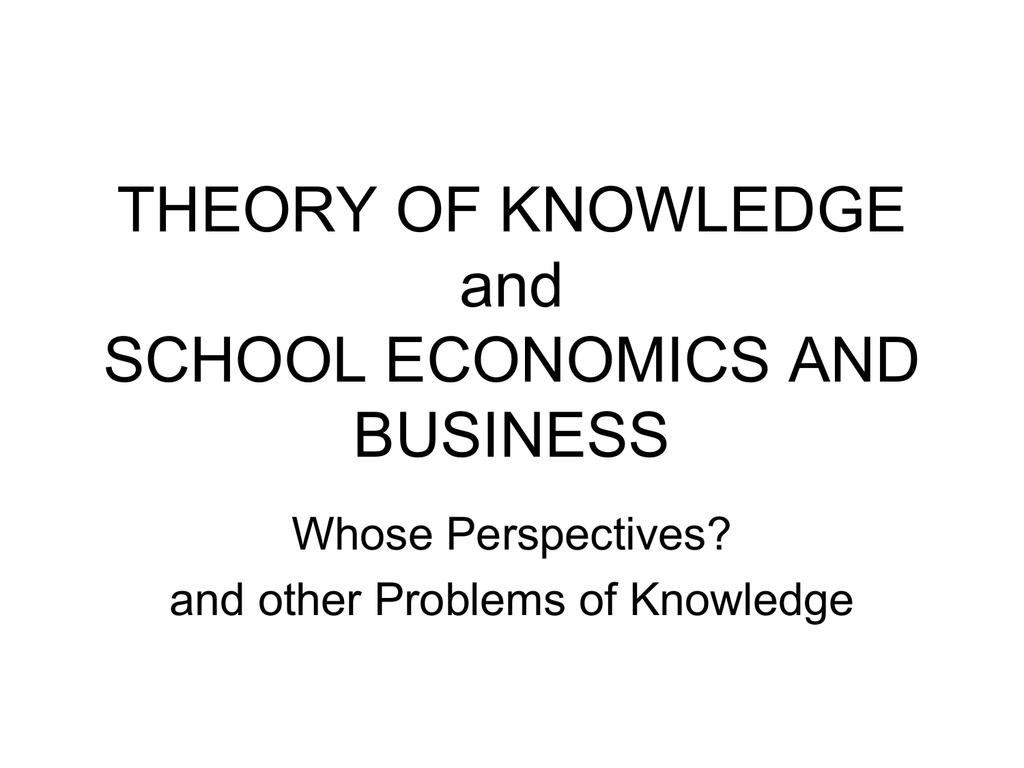 THEORY OF KNOWLEDGE
and
SCHOOL ECONOMICS AND
BUSINESS
Whose Perspectives?
and other Problems of Knowledge
The Theory of Knowledge Diagram
Where is Business and Management?
WAYS OF KNOWING
•
•
•
•
•
Perception
Emotion
Reason
Language
HOW DO THEY PLAY A ROLE IN THE
CONSTRUCTION OF ECONOMIC AND
BUSINESS KNOWLEDGE?
PROBLEMS OF KNOWLEDGE
•
•
•
•
•
•
Sources - bias and subjectivity
Evidence - reliability
Degree of Certainty
Methods and standards of Justification
Whose knowledge?
History of knowledge
PERCEPTION
What we PERCEIVE of the real world is a
product of a FILTERING PROCESS
involving:
a BIOLOGICAL filter
a COGNITIVE filter which includes
a PSYCHOLOGICAL and LINGUISTIC filter
a CULTURAL and VALUES filter
PERCEPTIONS AND KNOWLEDGE
CONSTRUCTION
The COGNITIVE FILTER can itself be
broken down further into
• a rational filter ("head") – psychological,
linguistic
• an axiological filter ("heart") – cultural,
moral, aesthetic
These filters may take the forms of models,
theories, paradigms and value
judgements.
Knowledge, paradigms, and the world
**"Head" - LANGUAGE, THOUGHT PROCESSES,
"Heart" - CULTURE, VALUES, PARADIGMS and IDEOLOGIES
Biological Filter
"Head" and "heart" filters**
Knowledge
The world
Knowledge re-shaping the world through human action
NATURE OF BUSINESS
KNOWLEDGE
•
•
•
•
•
•
What is the role of intuitions and tacit knowledge in
business decisions?
Can management be taught from a book? Do
successful managers know more than they can tell?
Whose perspective does B&M adopt?
Is the management of organizations an art or a
science?
What roles do emotions and creativity play in
business, and how are they manifested?
Changing assumptions about human beings and
culture in business.
SPECIFIC ISSUES IN B&M THAT
CONNECT WITH TOK
• Measuring what we value vs. valuing what we
measure. Can quality be reliably captured in
quantitative measures?
• Cost-benefit reasoning vs. ethical reasoning in
business decisions and strategy
• The reliability of business accounts
• Sources of bias in business knowledge
• Whose knowledge – management's or
employee's?
• Others?
ETHICAL ISSUES IN BUSINESS
AND ORGANIZATIONAL LIFE
•
•
•
Can ethical judgments be applied to the
behaviour of corporations (as distinct from its
managers or other agents)?
Is it ethical for businesses to develop ethical
objectives as a marketing strategy?
Is it possible to be humane and successful in
business at the same time?
WHAT WE CAN DO AS
TEACHERS
• Pay special attention to the distinction between
technical and non-technical uses of words
• Encourage students to look for the limitations of
economic and strategic analysis
• Encourage focus on institutional, behavioural,
moral and political assumptions of any analysis
• Encourage students to identify, wherever
possible, the gainers and losers from policies.