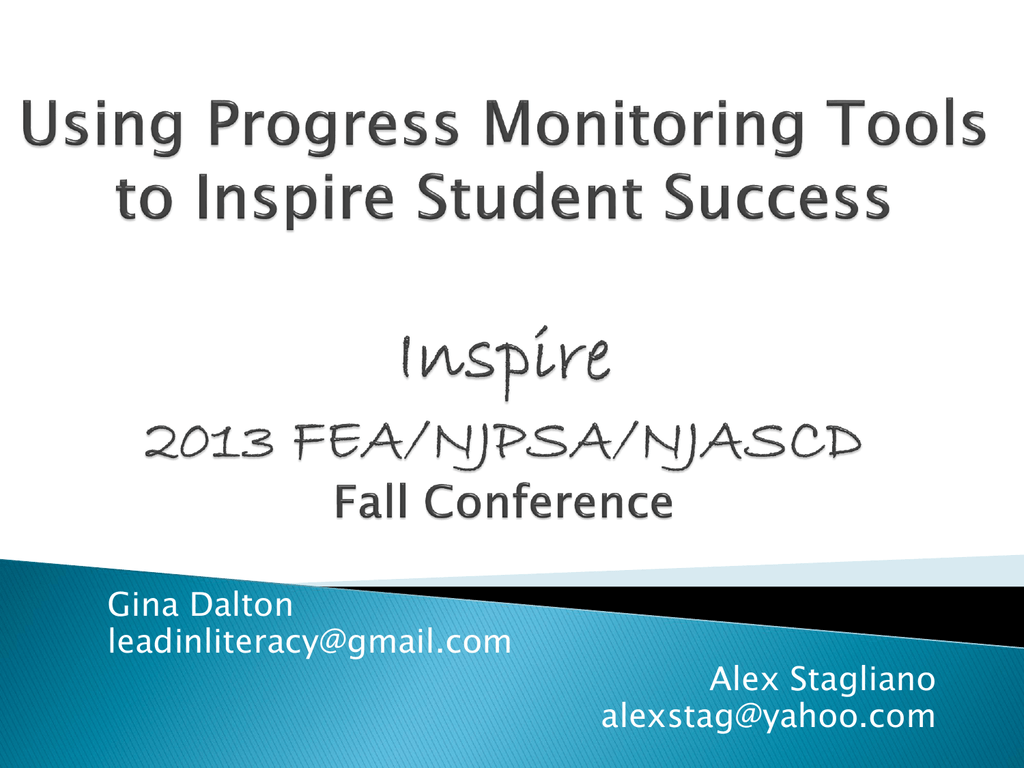 Gina Dalton
[email protected]
Alex Stagliano
[email protected]






Introductions
Objectives of the Presentation
Materials Used
Format
Demonstrations with "Live" Forms
Question/Comment Opportunities

To set goals and objectives for individual students

To identify who can be grouped together while providing
interventions and challenges

To make the most out of working with individual students
during small group time

To progress monitor students and make sure they are on a
trajectory to meet their goals and objectives

To monitor student growth towards meeting SGOs

To identify and create plans of action for class, grade level,
school and district

To align professional development to identified needs
Data
Driven
Instruction
Progress
Monitoring
Tools
SGO
RTI
I&RS
1.
To determine objectives and strategies while creating
progress monitoring forms
2.
To examine objectives, strategies and mini-lessons for
meeting goals in a given subject/common core standard
3.
To address the objectives identified within: subject area
blocks, intervention periods and across the curriculum
4.
Creating tools for progress monitoring will develop an
understanding of class, grade, school and district level
needs
Objectives
1
2
3
Objectives
# of Students
Filter groups
Mini-lesson

Within the core subject by the subject area teacher
◦ Portfolio artifacts
◦ RTI and I&RS
◦ Progress reporting

Shared with interventionists
◦ Development of action planning for interventions

Resource Teachers
◦ Progress reports
◦ PLAAFP writing and goal setting

For use across the curriculum in special area classes

Class/Grade Data: Filter by score-range,
objectives to provide intervention or
challenge, determine mini-lessons, determine
whole-group lessons
Progress monitoring allows for each student's response
to strategies that are implemented to be tracked, with
their outcomes. The dates, duration and response can be
recorded.

School Data: Filter by score, identify school
objectives, align professional development,
create improvement plans
PLCs/Grade Level Teams to develop collections of minilessons that are yielding positive results
School Objectives
Grade level totals

District Data: District professional
development and support areas, curricular
adjustments, planning benchmarks, etc…
School summaries
Please feel free to contact us with any
questions or for any additional information.