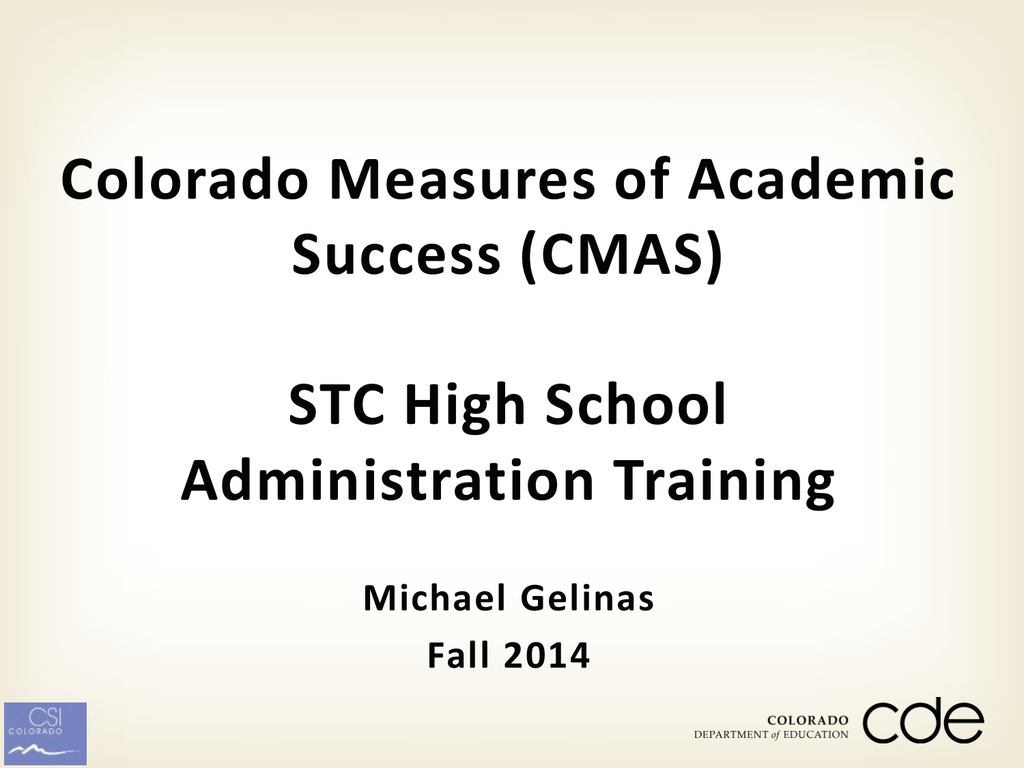 Colorado Measures of Academic
Success (CMAS)
STC High School
Administration Training
Michael Gelinas
Fall 2014
Agenda





Testing Window
Roles and Responsibilities of the STC
CSI Assurance Document
PearsonAccess Accounts (Live and Training sites)
Key Tasks
 Administrative Network Activities
 Proctor Caching
 Testing Device Readiness
 TestNav Configuration
 Tasks during Test Administration
 Q&A
Spring 2014 CMAS
Assessment Window
CMAS: Science and Social Studies
Assessment
Testing Dates
High School Social Studies
November 3– 21, 2014
High School Science
Technology Coordinator (DTC)
 All STCs must complete site readiness training (see PPT)
 Proctor cache
 Identify local device availability
 Identify local bandwidth needs
 Ensure devices/network meet requirements for testing
 Manage updates (Java, Browser, OS, etc.)
 Provide support to SAC and TAs before, during and after testing
 Assist in developing school testing schedules (particularly in
estimating needed setup time)
 Work with SAC on PearsonAccess setup
CSI STC Assurance: Due 10/24
 Includes training requirements
 Includes a high level checklist to
ensure schools are
technologically prepared for
testing
 Signed STC Assurance due to
Michael Gelinas by 10/24
 Download on webinar or at:
www.csi.state.co.us/school_res
ources/assessments/CMAS
PearsonAccess Accounts
 All STCs and SACs should now have a PearsonAccess account
for the LIVE site
 Review the Instructions for accessing PearsonAccess (see File
Share in webinar) for more information, including help with
resetting account information
 Accounts for PearsonAccess TRAINING site are forthcoming
 We anticipate that all STCs and SACs will have accounts prior to
the 10/3 PearsonAccess training
Administrative Network Activities
 Configure Network
Permissions (firewall,
content/spam filters)
 Test Wireless Connection
 Use System Check to verify
Network User Capacity and
Testing Volume for every
testing environment
(desktop computer lab,
wireless devices lab, etc.)
Proctor Caching
 Proctor Caching is Pearson-supplied
software that is used in conjunction
with TestNav to reduce bandwidth
requirements and accelerate the
delivery of test content.
• Allows you to pre-cache test content
to your local network before a test.
• Reduces the burden on your ISP by
eliminating redundancy in requests
for test content.
• Stores an encrypted local copy of all
pre-cached tests
Proctor Caching (continued)
 Identify a Proctor Caching machine that meets all requirements
 Download/Install Proctor Caching software
 Use System Check (add Proctor Caching device) to verify Network
User Capacity and Testing Volume for every testing environment
(desktop computer lab, wireless devices lab, etc.)
Testing Device Readiness
 Ensure all testing devices meet minimum requirements
 Environment Security
 Ensure students have permissions to SAVE the student response
files (SRFs) to the designated directories
 Ensure any applications on testing devices, which may take over the
computer and cause TestNav to close, are disabled
 Device Verification
 Complete the SystemCheck for TestNav
 Ensure all device operating systems meet the minimum
requirements
TestNav Configuration
 Configure Proctor Caching in PearsonAccess
 Verify Environment in PearsonAccess Training Center (10/3
training)
 Configure TestNav in Training Center
 Create Test Session in Training center
 Pre-cache ePAT
 Execute ePAT and verify SRFs are saved to the appropriate save
locations
Test Administration
 Troubleshooting Process during Testing
 Review Error Message on screen
 Check TestNav8 User Guide for message screen shot, explanation of
error, and action steps to resolve the error
 If unable to resolve, contact Pearson directly
System Check
 Tool for validating that TestNav software could run on their
computers.
 Support can also use System Check to validate the computer for any
technical problems.
 To gather realistic results System Check must be run from a student
testing machine on the same day of week/time of day when you
anticipate performing online testing.
Infrastructure Trial
 Setup the test environment and have students complete the
ePATS (practice tests) via the PearsonAccess Training Site
 CSI PearsonAccess 10/3 Training will go over this process
CMAS Communication Plan
CDE
School
DAC/DTC
School
Charter School
Pearson
If you contact Pearson directly, track
your SD # and brief description of issue
Contact CSI Staff For
CSI Contact
Contact for issues concerning
Janet Dinnen
• Assessment training and administration
Michael Gelinas
• Technology setup
Schools may contact Pearson directly
for
 Procedures pertaining to PearsonAccess
 SDU
 Student information updates and changes
 Additional orders
 PearsonAccess test session management
 Technical issues related to site readiness, including device
questions
 Technical issues related to TestNav 8
 Materials issues
[email protected]
Call Center: 888-687-4759
Thank You!