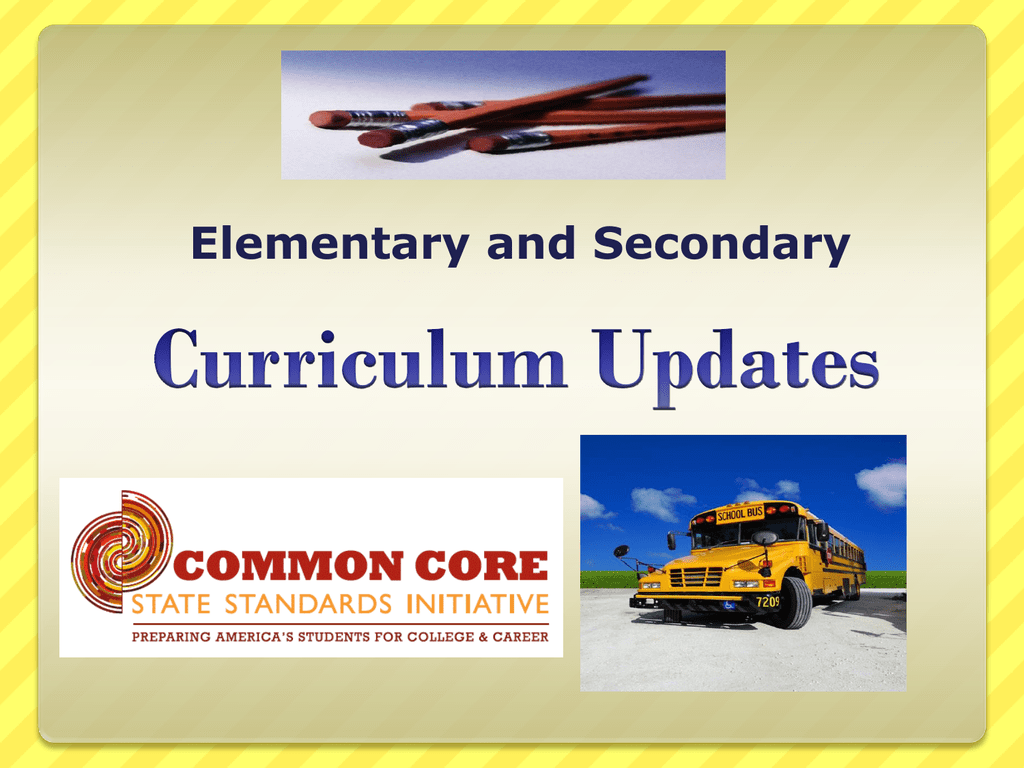 Elementary and Secondary
Elementary Literacy
Reading Wonders
 If you have damaged materials or are
missing materials from your original order,
this must be filed as a claim with the School
Book Depository.

Email Sherry Moser or Julie Noel if you have
materials needs (new students/classrooms).

Email Beth Wilkin if you have
general questions.
Elementary Literacy
Writing:

4th grade writing resources in
Moodle>Elementary Resources>4th
Grade>English/Language Arts.
Elementary Literacy

My Favorite Older Adult Essay Contest for
5th grade students. Contest information in
Moodle>Elementary Resources> 5th
Grade> English/Language Arts.
Elementary Math
*Think Central Use
- plethora of resources
*Moodle
-curriculum maps
(misconceptions, questions,
resources)
Elementary Math
GoMath! Common Core series
*Email Dottie Trapnell with
textbook needs
Elementary Science
Science Fair Dates – May 29th & 30th @
Lakeland Square Mall (Directors Meeting
Coming Soon). Information available on the
district Website and Moodle
Updates to Student FCAT Review Site –
Check it Out!
Unit Tests and Lesson Plans
Now Available
Elementary Social Studies
Curriculum map resources in:
Moodle>Elementary Resources>Grade
Level>Social Studies
 Americanism Elementary School Poster
Contest (5th grade) – Francis Marion: The
Swamp Fox – details to follow

World Languages
Elementary
 Elem. students participated at the Hispanic
Festival in Lakeland
 Spanish translation & revision of the new
learning schedules are being adapted to
Spanish Common Core and World Lang.
acquisition k-5
 Spanish Go Math! should have been delivered
at all dual language schools.
Websites:
 HTTP://moodle.polkfl.net/course/view.php?id=2105
 http://www.polkfl.net/staff/teachers/duallanguage.htm
Secondary Literacy
Reading Instructional Materials
-Middle School – delivery of Reading Advantage
kits is still incomplete across the district – revised date
from publisher is end of November
- High School - completed

MS Solution for right now – we are scanning student
text, teacher edition, and all other needed resources
and placing files in Moodle
ELA/Reading Adoption Process in beginning stages
– applicants for committees being submitted to
Elizabeth Warren, Mrs. Bowen's secretary.
Secondary Literacy (cont.)
College-Ready Scores
Accuplacer
(CPT)
P.E.R.T.
SAT-1
ACT
FCAT 2.0
Math
114
Elem.
Algebra
72
Math
440
Math
19
Reading
106
Reading
83
Verbal
440
Reading
19 Reading 262
Writing
103
Sentence
Skills
83
English
17
Reading 262
Secondary Literacy (cont.)
FCAT 2.0 Writes Training for Secondary
November 12 and 21, Jim Miles PDC
Each school (principal's choice) can send one
8th Grade Language Arts Teacher
and
10th Grade English Teacher for training in
•FCAT 2.0 Writes Scoring (using Anchor Sets)
•Differentiated Writing Instruction
•Integrating reading and writing
•Lesson Planning
Secondary Math
Common Core Assessments:
Grade levels 3-8 scheduled for 2014-15
school year
EOC Assessments in Algebra 1,
Geometry, and Algebra 2 scheduled for
the 2014-15 school year
District Secondary Math Textbook Adoption
Process underway
(timeline available here)
Secondary Math

Resources Available on the District Math
Website
 Curriculum Support for 2013-14
 Including the Secondary Math Update
site
 Support for Common Core Assessments
 Resources
Secondary Science

Middle School
New 8th Grade STUDENT FCAT Review Site Open for Business
8th Grade Review Labs (for 6th and 7th Grade
material) and Test Items
Secondary Science
Fair
2014 Secondary Science Fair!
Project Set-up: Jan, 30, 2014 (after 4:30pm)
Judging: Jan 31, 2014
Public Viewing: Feb. 2, 2014
Fair Location: Lake Alfred K. Addair Middle School
Awards Ceremony: February 2, 2014
Awards Location: TBA
April Blaze - Science Fair Director (863) 421-3281
Additional Information on the District Website
Keyword: Science
Secondary Social Studies
U.S. History EOC counts for
school grade this year
 Polk County History Fair is on February
28th
 Contests:
* Sons of the American Revolution Essay

Contest and Oration Contest – Due 12/20
*SAR Good Citizenship Award – Each 6th
grade class
Secondary Social Studies (cont.)

Upcoming Professional Development:
* Teaching About the Holocaust
* Incorporating Maps as informational Text
* Financial Literacy from Everfi

Curriculum maps are being revised to
incorporate CC Literacy Standards

Social Studies Moodle will soon be
operational
World Languages
Secondary: 6-12
All 2013-2014 AP Spanish Lang & Lit
materials should have been picked up from
our office.
Hispanic Heritage 1st Art Competition
High Schools
Middle Schools
1st BHS/IB
1st Daniel Jenkins Academy
2nd LHS
2nd Lawton Chiles Academy
BRAVO! Participation of DL & WL students
at the Hispanic Festival in Lakeland
FL DOE included Polk County in the STATE
WL EOC TRY-OUTS: LATIN AND GERMAN
World Languages
Secondary: 6-12
SAS Curriculum Pathways
• www.sascurriculumpathways.com Mr. Eplin
encouraged districts to review website and provide
feedback on the Spanish resources
Online curriculum aligned to Florida's standards
Public/private partnership between the Florida
Department of Education, the Governor's Office, and
SAS Curriculum Pathways Online curriculum aligned
to Florida's standards
•WL Course descriptions on CPALMS include ELA
standards.
World Languages
Secondary: 6-12
•2013 ACTFL Annual Convention and World
Languages Expo/FFLA Joint Conference
Please try to attend; over 400 have already
registered for this conference
November 22-24, 2013: Main Convention
November 21, 2013: Pre-Convention Workshops
ACTFL will host a pre-convention workshop on
Marzano's Approach and World Languages
•Location: Orange County Convention Center
9990 International Drive; Orlando, FL 32819
•Website: http://www.polkfl.net/staff/teachers/duallanguage.htm
Questions?