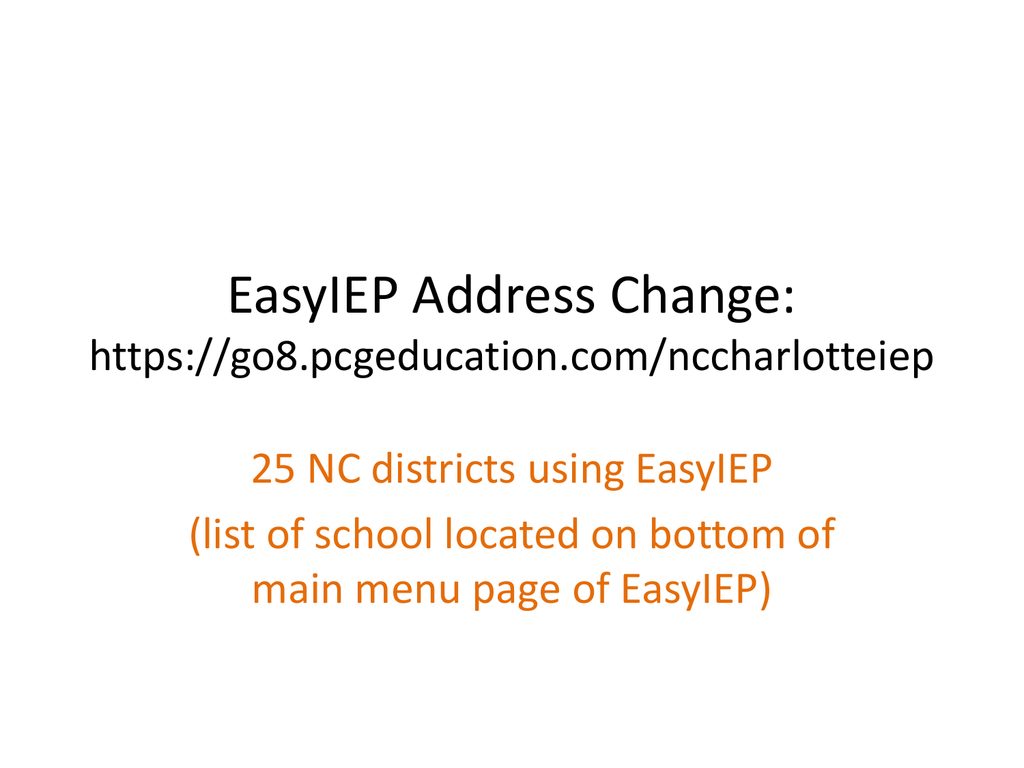 EasyIEP Address Change:
https://go8.pcgeducation.com/nccharlotteiep
25 NC districts using EasyIEP
(list of school located on bottom of
main menu page of EasyIEP)
Consultation
Outside LEA Required
• Adding an "other" Related Service
• Adding Sign Language Interpreter as a Related
Service
• Change of Placement (AU,SAC,SBS,Lincoln
Heights,Metro)
• A program support person will notify EC dept when school is ready
for outside LEA
• Exit from EC services at Parent Reques
• Extended School Year
• Homebound
•
•
•
•
Intensive HI
Intensive VI
SED Eligibility at time of Reevaluation
Transportation as a Related Service
Related Services that require an
outside LEA
•
•
•
•
•
•
•
•
Interpreting Services (sign language interpreter)
Medical services
Parent Counseling and Training
Psychological Services
Recreation
Rehabilitation Counseling Services
School Health Services and School Nurse Services
Social Work Services
• Outside LEA required for all current SED
students due for reevaluation or who will be
adding or deleting a related service this year
(outside LEA only required at eligibility
determination meeting)
Due dates
• Deadline to complete Dec.1 headcount will be
Oct. 31.
• If you have a missing folder please let me know
ASAP. We will try to locate the folder but if
unsuccessful a new one will have to be
generated.
• Please complete a Folder audit on all folders.
• If a component is missing out of the folder please
schedule to meeting ASAP so that we can replace
the item.
IEP meetings
• Please e-mail me with your calendar ASAP
with scheduled dates of IEP meetings.
• Please turn in to me you the draft of the IEP
10 days prior to the meeting for review.
Reminder that the information in the PLOP of
what the student can do has to change
annually.
New Assessments
• Green Brigance Comprehensive Inventory of Basic
Skills II (replaces Brigance Comprehensive
Inventory of Basic Skills)
• WIAT-III (replaces WIAT-II)
• TOWRE-2 (replaces TOWRE)
• Make sure WJ-III scoring program says NU
• Do not use older versions of these assessments.