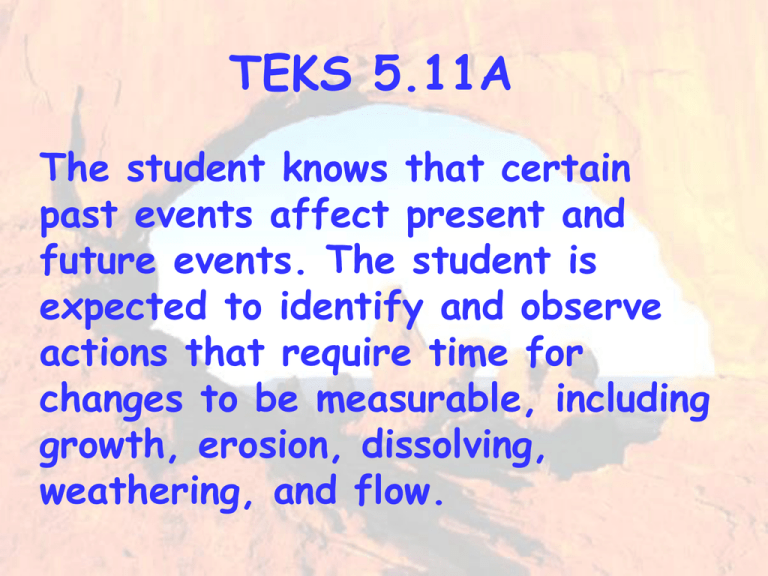 TEKS 5.11A
The student knows that certain
past events affect present and
future events. The student is
expected to identify and observe
actions that require time for
changes to be measurable, including
growth, erosion, dissolving,
weathering, and flow.
Which layer of the above soil
profile would be affected the most
by weathering and erosion?
A.
B.
C.
D.
1
2
3
4
The correct answer is A.
Layer 1 is the top layer of soil exposed
to the wind, rain, flooding and ice/snow.
It will be the layer most affected by the
physical environment around it.
The other answers are incorrect
because…
Layers 2-4 are all below the surface of
the Earth. They would not be the most
affected by weathering and erosion as
the top layer.
Wave Action against solid
rock can cause changes in
the rock structure. What is the
correct sequence of erosion
of the following rock surface?
A.
B.
C.
D.
A, B, C, D
D, B, C, A
B, C, D, A
C, D, B, A
The correct answer is B.
Wave action has changed the rock
structure by wearing away the softer
rock particles. The diagrams are
arranged in order from a solid rock
structure to the beginnings of a cave to
the development of an arch from the
cave and finally the wearing away of
the top of the arch.
The other answers are incorrect
because…
The pictures are out of sequence for
erosion by wave action.