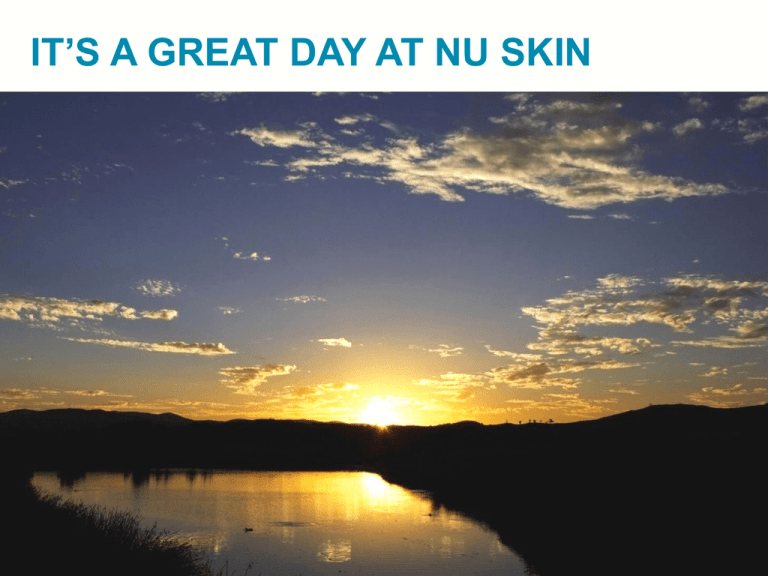 IT'S A GREAT DAY AT NU SKIN
TRUSTED PUBLIC COMPANY
Nu Skin has been publicly
traded on the New York Stock
Exchange since 1996 (15 yrs)
Market Cap of $3 Billion
Respected shareholder
base
Forbes Top 5 Most Trusted
Mid-Cap Company
NUS: Top Shareholders
Royce & Associates
Fidelity Management
BlackRock Institutional Trust
Vanguard Group
Wellington Management
Goldman Sachs
IN AN UNCERTAIN TIME WHEN THE ECONOMIC
FORECAST IS CLOUDY . . .
Global debt problems
Greece unrest
High unemployment
Volatile stock market
Uncertain retirement
. . . THE FUTURE AT NU SKIN HAS NEVER BEEN
SO BRIGHT AND THE VISION SO CLEAR.
NUS: STOCK PRICE PERFORMANCE
5
NUS vs. STOCK MARKET
6.0
S&P 500
5.0
Nu Skin
Nu Skin
outperformed the
stock market by
nearly 6 times!
4.0
3.0
2.0
1.0
0.0
6
IT'S GREAT TO HAVE WALL STREET
RECOGNIZE OUR VALUE, BUT . . .
Our mission is to BE A FORCE FOR GOOD throughout
the world by empowering people to improve lives with
rewarding business opportunities, innovative products,
and an enriching, uplifting culture.
NU SKIN IS A DIFFERENT COMPANY
We grow only through
helping others. At Nu
Skin, you become a
leader by helping
someone else succeed.
"I won't rest until
I have helped
someone else be
successful."
Congratulations on being part of the
Nu Skin family – have a great
convention!