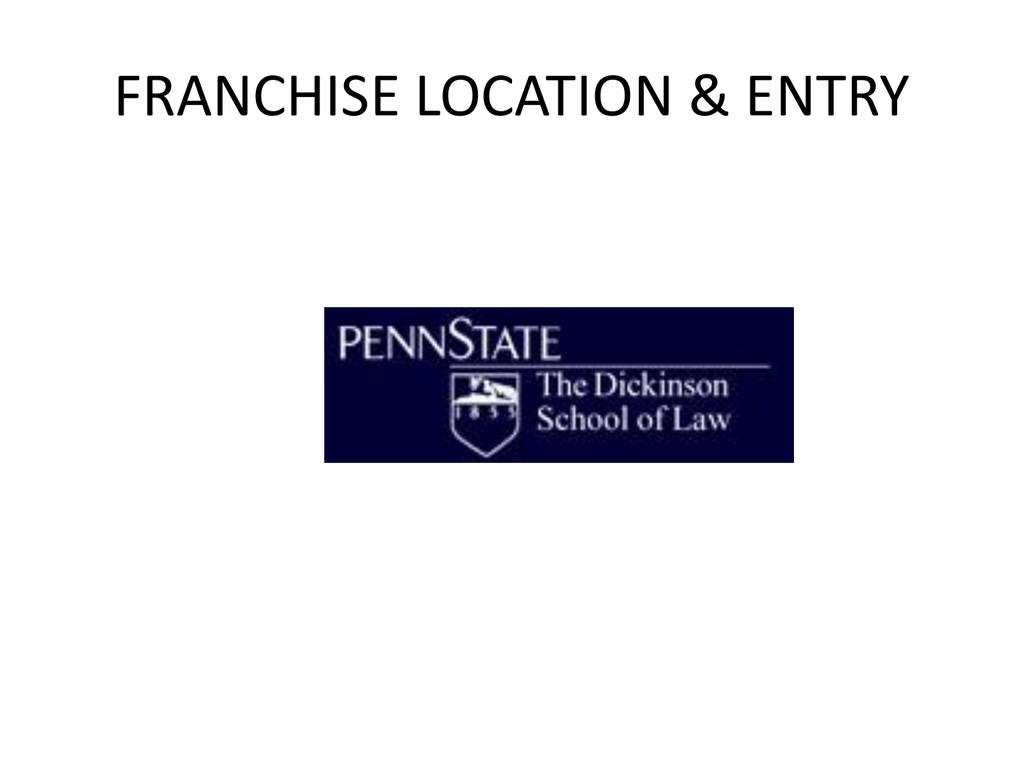 FRANCHISE LOCATION & ENTRY
"Horizontal" and "Vertical"
Restraints in Antitrust Law
• Addyston Pipe: bid-rigging agreement among competitors is a
"naked cartel" and is per se illegal
• Sylvania: TV manufacturer limit on where its brand can be
resold by dealers is "vertical" restraint and subject to Rule of
Reason
• US v General Motors: Car manufacturer limit is per se illegal
when acted under concerted pressure from rival car dealers
seeking to rid selves of rival
• Sealy: Mattress manufacturer limit on where its brand can be
resold is "horizontal" because defendant company was a joint
venture of all the rival sellers
Are Sports League Agreements
Horizontal or Vertical?
• Raiders finds NFL's structure "has both
horizontal and vertical attributes"
– vertical: impose best interests of whole league on
individual clubs
– horizontal: owners collude in own clubs' selfish
interests
• Current issue in Europe, with restraints
imposed by governing boards, not clubs
Raiders I rule of reason
• First look to see if NFL significantly restrained
trade
• Imagine if there were 4 rival leagues
– Any concern if AFL decides not to let Raiders
relocate to LA?
• In real life, who competes with NFL?
Raiders I justifications
• Promote investment and inhibit free riding
• Loss of TV Revenue or other harm to geographic scope
– Would geographic concerns balance concerns justify
blocking these relocations?
• Canucks, Flames and Oilers all move to US
• Pirates, Twins, Royals, and Brewers move to NJ,
Brooklyn, White Plains, and Stamford CT
/2 Raiders I justifications
• Maintain rivalries
– Could NL block Giants move to east coast?
• Operational concerns
– NHL block StL move to Saskatoon?
– NBA block Kings move to Tokyo?
/3 Raiders I justifications
• Stability, fan loyalty, and recouping local
investment
• Interleague competition
– Does this support Rule 4.3?
Is Raiders I special?
• NFL made no showing that transfer would
have any harmful effect on league
• If so, why did owners reject move 22-0?
Apply Raiders I to Seals
• Would the NHL's veto of the Seals' relocation
from be ok if purpose was...
– to promote strategy to maximize TV audience in
US?
– to allow NHL to expand by finding a more suitable
owner in Vancouver?
– to protect Toronto Maple Leafs' TV and marketing
monopoly in English Canada
Post-Raiders litigation
• Raiders II: offset damages with
gain from franchise relocation
• Clippers: clarifies that Raiders I is
fact-specific
• Rams: can charge fees to cover
league losses
• What is the social problem with
franchise relocation?
ANTITRUST ISSUES WITH THE
SELECTION OF A PARTICULAR OWNER
OF AN EXISTING FRANCHISE
• Levin: P wants to join Ds, not compete with them
• Reason for rejection matters (although means no
summary judgment)
REJECTION OF CLUB SEEKING NEW
ENTRY INTO THE LEAGUE
• How does the NFL's refusal to expand to
Memphis affect inter-league competition (i.e.
competition with another league)?
• How does the refusal affect intra-brand
competition (i.e. competition with other clubs
within the NFL?)
REFUSAL TO EXPAND
• Are there any reasons to question
a league's refusal to expand?
Why can't the NFL owners always
be relied upon to expand except
for legitimate business reasons?
• Does Art 37 of the NHL
Constitution offer meaningful
protection against unwarranted
refusals to expand?
UNLIMITED EXPANSION
• Is it desirable to force a monopoly sports
league to admit anyone who wants to join the
league?
ALTERNATIVE WAYS TO PREVENT
TAXPAYER SUBSIDIES
• Ban on "state aids"
– subsidies distort competition to unfairly help club
(e.g. US v Cdn NHL)
– exploit consumers
– EU bans while US Congress doesn't
• Judicial/Administrative regulation of entry
(Braves)
ALTERNATIVE OF PROMOTION &
RELEGATION: The Concept
• The "Patriot League"
– NJ, Connecticut, Columbus, Las Vegas, Portland,
Orlando, Indianapolis, San Antonio, Buffalo,
Sacramento
– Relegation playoff
• NBA2
P&R: Legal Arguments
• Restraint of trade in market for "competition organizing
services"
– leagues provide these services to clubs, who provide
"team services"
– Where clubs control league decisions, this is a "horizontal"
agreement, like Sealy
– Unlike Grizzlies, clubs ARE in competition with each other:
to stay in top league
• Resulting scarcity allows league to increase price
P&R: Policy Arguments
•
•
•
•
•
•
Entry by merit
Reduce taxpayer exploitation
Interesting relegation races
Prevent teams exploiting loyal fans (Bulls)
Induce small market investment
Better 2nd tier competition than AAA
P&R Conclusions
• Have I persuaded you that the FTC should
bring a case and issue and order requiring
P&R? Are there any better alternatives?