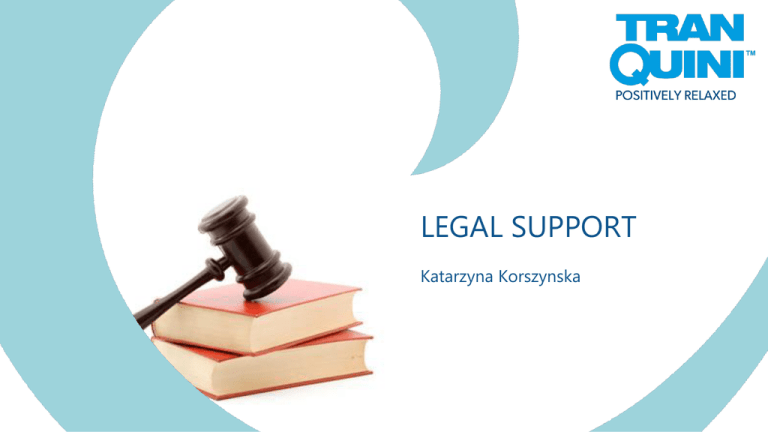 LEGAL SUPPORT
Katarzyna Korszynska
LEGAL SUPPORT
TRANQUINI GmbH
HQ Austria
BOARD MEMBERS
CONSULTANT
EMPLOYERS
Ahmed Elafifi GM
SHAREHOLDERS
MAJORITY
SHAREHOLDERS
1. Ahmed Elafifi
2. Hatem Elezawy
BUSINESS LEADERSHIP
1.
2.
3.
4.
5.
6.
Ahmed ElAzizi
Serkan Barutcu
Valentyn Grygoryshyn
Natalia Privalikhina
Ivan Darkov
Henry Low Kah Fook
FUNCTIONAL LEADERSHIP
1.
2.
3.
4.
5.
Tatiana Sabirova
Katarzyna Korszyńska
Sergii Lytvynenko
Romana Elabrashy
Marta Kosińska
LEGAL SUPPORT
TRANQUINI GmbH
TRANQUINI DMCC
TRANQUINI Poland SP. z o.o.
TRANQUINI GmbH
orgnizačna zlożka
DUBAI
(BRANCH IN BRATISLAVA/SLOVAKIA)
LEGAL SUPPORT
TRANQUINI POLAND Sp. z o.o.
HQ - LEGAL
CURRENT LEGAL ADVICE
CONRTACT LAW
CORPORATE LAW
CONSULTING
AGREEMENT
COMMERCIAL LAW
DISTRIBUTION
AGREEMENT
LABOUR LAW
OTHERS
TRADEMARK
PERSONAL DATA
PROTECTION
STRATEGIC
LEGAL ADVICE
COOPERATION WITH
EXTERNAL
LAW/PATENT/CONSUL
TING OFFICES
NATIONAL/
INTERNATIONAL
COOPERATION WITH
AUTHORITIES
THANK YOU
This material is for informational purposes and for internal use only. It is intended solely for the use of the private
individual to whom it is addressed. It is not intended for any Commercial purposes. Public distributing, copying,
modifying of this material is strictly prohibited. All intellectual property used in this material is publicly known and
protected by the owner of the respective intellectual property. Any public sharing must be cleared beforehand by the
intellectual property owner directly.