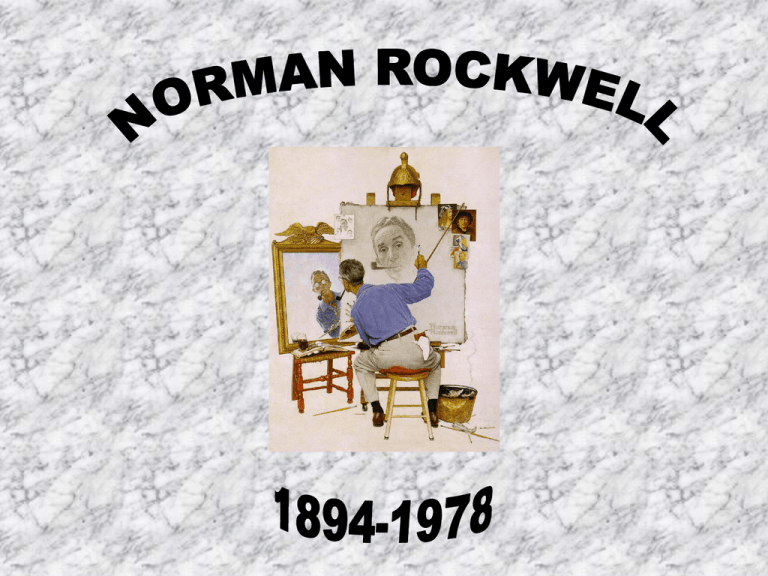 • Norman Rockwell was born February 3, 1894. He was
born in his parents Upper West Side Manhattan apartment.
• He died on November 8, 1978 at the age of 84. His
passing was marked as a major loss to the fine arts world.
• Rockwell dropped out of high school during his sophomore year
to attend the National Academy of Design.
• At the age of sixteen, Rockwell painted his first commission of
four Christmas cards.
• When he was 22 years old, he sold his first cover to the Saturday
Evening Post.
• A tour of his four paintings, the four freedoms from want, raised
an estimated 139.9 million dollars for the war effort.
• He died with an unfinished painting upon his easel.
FREEDOM
FROM FEAR
FREEDOM
FROM WANT
FREEDOM OF
RELIGION
FREEDOM OF
SPEECH
THE
ROADBLOCK
NORMAN ROCKWELL STUDIED IN HIGH
SCHOOL THROUGH HIS SOPHOMORE YEAR. AFTER
THAT HE DROPPED OUT TO ATTEND THE NATIONAL
SCHOOL OF DESIGN. AFTER ONE YEAR THERE HE
OPTED FOR THE ART STUDENTS LEAGUE. FROM
THERE, HE BEGAN HIS PROFESSIONAL CAREER.
Norman Rockwell can be said to part of the realism
movement. However his style does not really fit in with this
movement. A better description of his art style can be found in a
quote from him. He said, "I don't want to paint for the few who
can see a canvas in a museum, for I believe that in a democracy
art belongs to the people. I want my pictures to be published."
Rockwell's art had to be understandable to millions of people and
it had to conform to the limits of spaces and deadlines.
More than anyone else, Rockwell's influence
comes from his father. It was his father who, as a
Sunday painter, inspired his son to first start painting.
This was the spark that would ignite a legendary career.