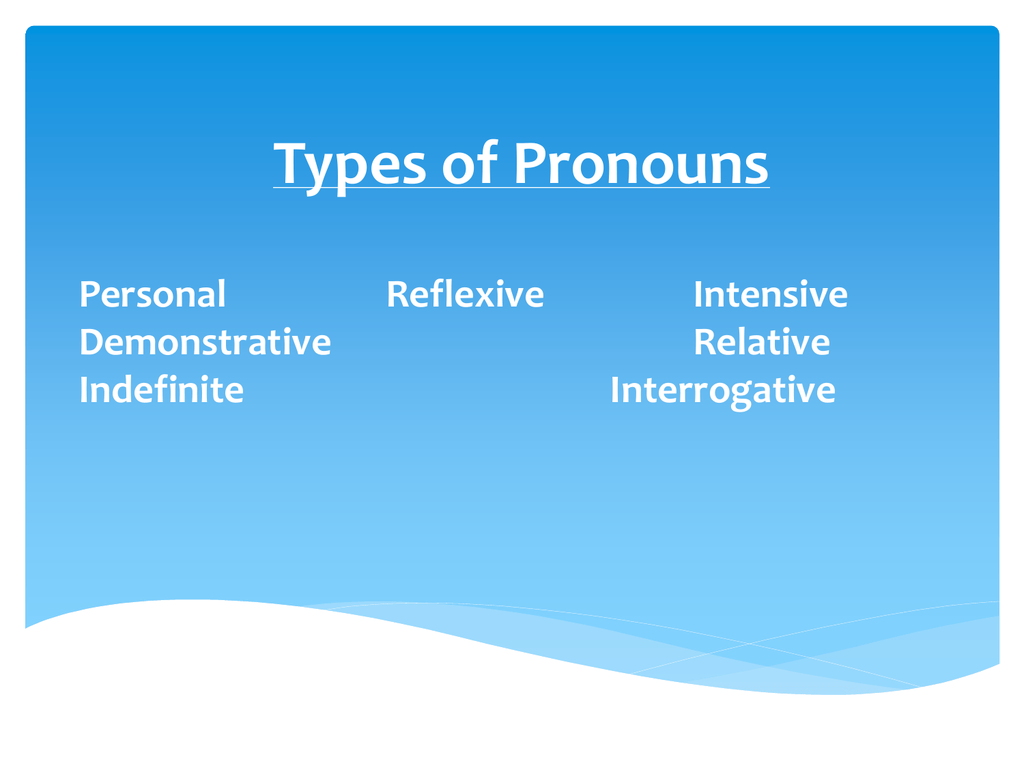 Types of Pronouns
Personal
Demonstrative
Indefinite
Reflexive
Intensive
Relative
Interrogative
1. Personal Pronouns
A personal pronoun refers to the
one speaking, the one spoken
to, or the one spoken about.
Karen ate pizza.
She was hungry.
The word "she" is a personal
pronoun that refers to "Karen."
Examples
Singular
Plural
First Person
I, me, my,
mine
We, us, our,
ours
Second
Person
You, your,
yours
You, your ,
yours
Third person He, him, his, They, them,
she, her, hers, their, theirs
it, its
2. Reflexive Pronouns
A reflexive pronoun is a pronoun
that refers to the subject and is
necessary to the meaning of the
sentence. It ends in "-self" or
"-selves"
Bob enjoyed himself at the gym.
"Himself" is a reflexive pronoun; it is
necessary for the sentence
to make sense.
3. Intensive Pronouns
 An intensive pronoun emphasizes a
noun or another pronoun.
 It is not necessary to the meaning of
the sentence.
Did you decorate the room yourself?
"yourself" is not necessary to include.
Reflexive and Intensive
Examples
Singular
Myself
Yourself
Himself
Herself
itself
Plural
Ourselves
Yourselves
Themselves
4. Indefinite Pronouns
An indefinite pronoun is a pronoun that
refers to persons, places, or things, in
general. It may or may not be specifically
named.
Someone stole my wallet!
The word "someone" is the
indefinite pronoun.
Indefinite Examples
Singular
Anybody, anyone,
Each, either,
Every, everybody,
Everyone,
Neither, nobody,
No one, nothing, one
Plural
Both
Many
Few
several
5. Demonstrative Pronouns
A demonstrative pronoun is a pronoun that
replaces and points out a person, place,
thing, or idea.
These lemons are sour.
These are sour.
The word "these" is a demonstrative
pronoun; it replaces the word lemons.
Demonstrative Pronoun
Examples
 This
That
 These
 Those
6. Interrogative Pronouns
An interrogative pronoun introduces a
question.
Who, whom, and which are interrogative
pronouns.
Who wrote Twilight?
The word "Who" is an interrogative
pronoun.
Relative Pronouns
Relative and interrogative pronouns are similar.
who
which
whom
that
whoever
whichever
whomever
whose
Who, Whom, Whose
Relate to people.
THAT
Relate to things and persons (only when a class or type of
person is meant).
Restricts the meaning of the sentence, making the words that
follow necessary to the meaning of the sentence.
The Internet service provider that installed our network
provides 24-hour online assistance.
We received an e-mail attachment that contained video files.
Which
Refers primarily to things.
Introduces nonessential clauses
Some e-mail services provide instant messaging
systems, which allow you to chat with your friends.
This e-mail software, which I downloaded from the
Internet, eliminates junk e-mail.