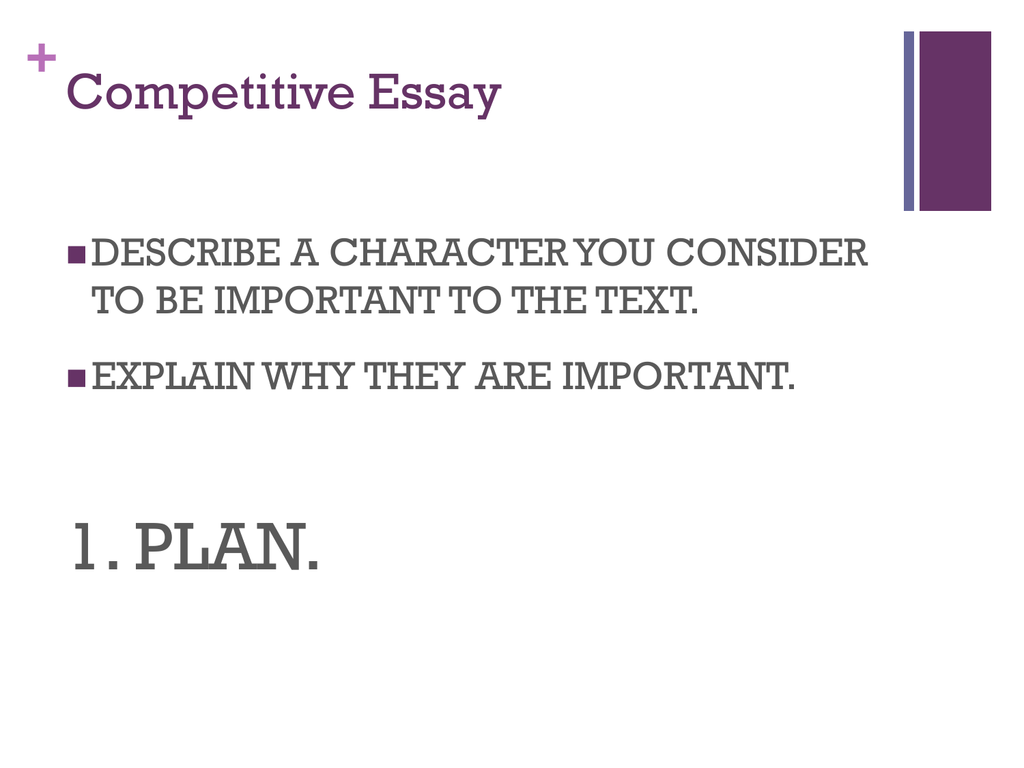 +
Competitive Essay
 DESCRIBE
A CHARACTER YOU CONSIDER
TO BE IMPORTANT TO THE TEXT.
 EXPLAIN WHY THEY
1. PLAN.
ARE IMPORTANT.
+
Write.
 Introduction
 What
is your text title and author? What is your
topic? How are you going to answer it?
 Use
key words from question. Below is a basic
outline.

Rocco by Sherryl Jordan is a book about….. One
of the most important characters is ……He/She is
important because ….
+
Body.
1. Describe
2. Explain
3. Explain
(4)
Explain
+
Describe Paragraphs
 What
do you know about the character?
 What
do they look like, their personal
circumstances, their relationships, what they are
like generally.
DO
NOT WRITE TOO MUCH AND
START ANSWERING THE 'EXPLAIN'
PART OF THE QUESTION!
+
Explain paragraphs need to be
SEXY!
Statement( about importance
usually – your topic
sentence)
Example from the text that supports your S
(preferably a quote)
eXplanation of the example and how it supports
Statement.
whY it is important.
To the text, to you, to society, WHY?????
Link
the paragraphs together.
See help sheet
+
Conclusion
Sum
Put
up your 'Explain' ideas.
in your personal opinion about the
text you have read, the character or
what you have learned from the text.
+
Check it!
 Capital
letters & full stops
 Spelling-
e.g.] Title of text, author,
 Frabjous
language – carefully chosen and
formal.
 SEXY
Explain paragraphs
 Evidence
 That
in every paragraph.
it makes sense
 Paragraphs
 That
are linked
it answers question – you have addressed
both parts.
+
Wednesday

1. Finish write up of essay. Proof read carefully.
 2.Put
question at the top and your names at the
bottom
 3. Static
image write up. Complete the questions if
you have not done so.
 4. Grammar
to Go Page 51 – will help as an
introduction to creative writing.
 5. Read.
If you need to go to the library see me.
 6. Homework.
Read.