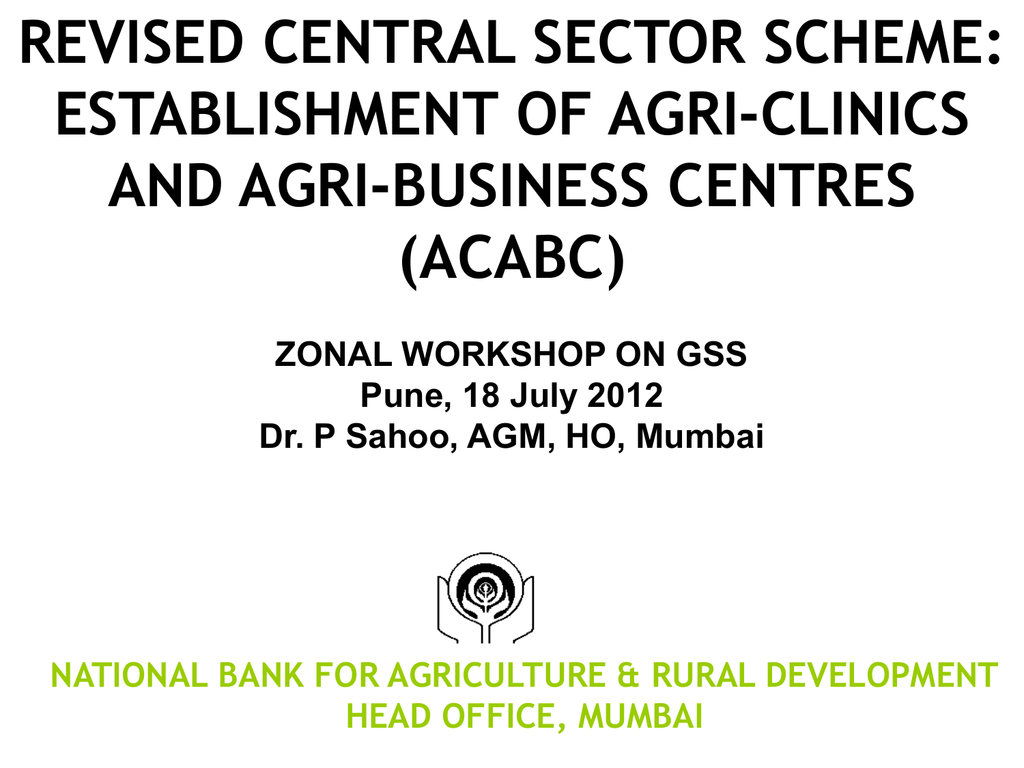 REVISED CENTRAL SECTOR SCHEME:
ESTABLISHMENT OF AGRI-CLINICS
AND AGRI-BUSINESS CENTRES
(ACABC)
ZONAL WORKSHOP ON GSS
Pune, 18 July 2012
Dr. P Sahoo, AGM, HO, Mumbai
NATIONAL BANK FOR AGRICULTURE & RURAL DEVELOPMENT
HEAD OFFICE, MUMBAI
OBJECTIVES
• TO PROVIDE EXTENSION AND
OTHER SERVICES TO THE FARMERS
• TO SUPPORT AGRICULTURAL
DEVELOPMENT
• TO CREATE GAINFUL SELFEMPLOYMENT OPPORTUNITEIS
CONCEPT / DEFINITION
• AGRI-CLINICS :
TO PROVIDE EXPERT ADVICE &
SERVICES WHICH WOULD ENHANCE
PRODUCTIVITY AND ENSURE
INCREASED INCOME TO FARMERS
• AGRI-BUSINESS CENTRES :
COMMERCIAL AGRI-VENTURES FOR
INCOME GENERATION &
ENTREPRENEURSHIP DEVELOPMENT
ELIGIBLE PERSONS




GRADUATES IN AGRICULTURE
SUBJECTS ALLIED SUBJECTS
&
ALLIED
DIPLOMA HOLDERS (WITH 50% MARKS)/PG
DIPLOMA HOLDERS IN AGRI AND ALLIED
SUBJECTS FROM SAU, STATE AGRI. & ALLIED
DEPTS. AND STATE DEPT OF TECHNICAL
EDUCATION.
BIOLOGICAL SCIENCE GRADUATES WITH PG IN
AGRI AND ALLIED SUBJECTS.
DEGREE HOLDERS IN COURSES RECOGNISED BY
UGC HAVING MORE THAN 60% OF THE CONTENT
IN AGRI. & ALLIED SUBJECTS.




ELIGIBLE PERSONS CONTD….
DIPLOMA/PG DIPLOMA HOLDERS IN COURSES WITH
>60% OF COURSE CONTENT IN AGRI & ALLIED
SUBJECTS, AFTER B.SC. IN BIOLOGICAL SCIENCES
FROM RECOGNISED COLLEGES AND UNIVERSITIES
AGRICULTURE RELATED COURSES AT INTERMEDIATE
(+2) LEVEL WITH AT LEAST 55% MARKS
DIPLOMA IN AGRICULTURE & ALLIED SUBJECTS
OFFERED BY OTHER AGENCIES ARE ALSO ELIGIBLE
SUBJECT TO APPROVAL OF DEPARTMENT OF
AGRICULTURE AND COOPERATION, GOI ON THE
RECOMMENDATION OF THE STATE GOVERNMENT
CANDIDATES SHOULD BE TRAINED
AREA OF OPERATION
• BOTH RURAL AND URBAN AREAS
• GEOGRAPHICAL LOCATION :
NO RESTRICTION
FULL FINANCIAL SUPPORT FOR



TRAINING/HAND HOLDING
(MANAGE)
CREDIT (BANKS)
CREDIT– LINKED BACK ENDED
SUBSIDY THROUGH NABARD
Eligible Financial Institutions
• CBs
• RRBs
• SCBs
• SCARDBs
• UCBs (Scheduled)
PROJECT COST




INDIVIDUAL CEILING : ` 20 LAKH (` 25 LAKH
IN CASE OF EXTREMELY SUCCESSFUL
PROJECTS)
GROUP CEILING : ` 100 LAKH (AT LEAST 5
TRAINED PERSONS OUT OF WHICH ONE
COULD BE FROM MANAGEMENT
BACKGROUND)
GROUP COULD BE 2 OR MORE TRAINED
PERSONS
PERSON WITH MANAGEMENT BACKGROUND
ONLY TO BE INCLUDED IN GROUP OF 5 OR
MORE
PROJECT COST CONTD….
•
COMPUTER /PRINTER/BROADBAND
CONNECTION (1 MBPS ATLEAST) –
AN INTEGRAL PART OF TFO
•
CREDIT SANCTIONED BY BANK COULD
BE HIGHER DEPENDING ON VIABILITY/
FEASIBILITY
•
AT LEAST 10% OF THE PROJECT COST
SHOULD BE IN CAPITAL FORM
•
INSURANCE COULD BE A PART OF TFO
EXTREMELY SUCCESSFUL PROJECTS



PROJECT COST LIMIT IS EXTENDED BY `
5 LAKH I.E. ` 20 LAKH + ` 5 LAKH = `
25 LAKH)
TO BE APPROVED BY EMPOWERED
STEERING COMMITTEE USING ABOVE
CRITERIA
BASED ON DEFINED CRITERIA AND
SCORING FOR THE SAME
TERM LOAN






SHOULD BE COMPOSITE
(FIXED CAPITAL + WC FOR 1 OPERATING
CYCLE)
REPAYMENT SCHEDULE IS TO BE DRAWN ON
THE TOTAL COMPOSITE LOAN INCLUDING
SUBSIDY
REPAYMENT PERIOD : 5-10 YEARS DEPENDING
ON ACTIVITY
MAX GRACE PERIOD : 2 YEARS
ROI ON LOAN : RBI GUIDELINES/POLICY OF
THE BANK
LOCK-IN PERIOD : 3 YEARS
MARGIN MONEY



AS PER RBI GUIDELINES
NO MARGIN FOR LOAN UPTO ` 5
LAKH
50% OF THE MARGIN MONEY AS
SOFT LOAN FROM NABARD
SECURITY


AS PER RBI GUIDELINES
LOANS UP TO ` 5 LAKH CAN BE
SECURED AGAINST HYPOTHECATION
OF ASSETS CREATED
CREDIT LINKED COMPOSITE SUBSIDY




44% FOR WOMEN, SC/ST AND ALL
CATEGORIES OF BORROWERS FROM
NER, HILLY STATES
36% FOR ALL OTHERS
RELEASED
UPFRONT
IN
ONE
INSTALMENT BY NABARD TO BANKS
AFTER SANCTION OF LOAN
ALL CANDIDATES TRAINED UNDER THE
SCHEME SHALL BE ELIGIBLE FOR
SUBSIDY IF LOAN IS SANCTIONED ON
OR AFTER 9.7.2006
CREDIT LINKED COMPOSITE SUBSIDY



BANK TO KEEP SUBSIDY IN 'SUBSIDY
RESERVE FUND ACCOUNT
(BORROWER WISE)'
BANKS NOT TO CHARGE INTEREST
ON SUBSIDY PORTION
BALANCE IN THE 'SUBSIDY RESERVE
FUND ACCOUNT' WILL NOT FORM
PART OF DTL
CREDIT LINKED COMPOSITE SUBSIDY


REVISED TFO CEILING APPLICABLE TO
CASES SANCTIONED AFTER 4.8.10
CASES SANCTIONED BUT NOT CLOSED
SHALL BE CONVERTED TO COMPOSITE
SUBSIDY- DIFFERENTIAL AMOUNT
BETWEEN PAYBLE AND PAID
ASSISTANCE TO BE RELEASED IN ONE
LUMPSUM ON OBTAINING A CLAIM
FROM THE BANK
CREDIT LINKED COMPOSITE SUBSIDY

BENEFIT OF SUBSIDY CAN BE EXTENDED
TWICE TO A SINGLE BORROWER WITHIN
THE OVERALL CEILING


WHEN 2 INDEPENDENT PROJECTS ARE
FINANCED TO THE SAME BENEFICIARY
(SUBSIDY WOULD BE AS PER ADMISSIBLE
TFO CEILINGS BY CONSIDERING THE TFO
OF BOTH THE PROJECTS TOGETHER)
EXPANSION OF AN EXISTING PROJECT OF
A BORROWER (ONLY ON THE TFO FOR
EXPANSION AND THE COST OF THE
EXISTING PROJECT IS NOT INCLUDED)
CREDIT LINKED COMPOSITE SUBSIDY


FRESH/EXPANSION PROJECTS
SANCTIONED BY BANKS BEFORE
4.8.10:
TFO CEILING WILL BE `10 LAKH
(INDIVIDUAL)
FRESH/EXPANSION PROJECTS
SANCTIONED BY BANKS ON OR AFTER
4.8.10 :
TFO CEILING WILL BE ` 20 LAKH
(INDIVIDUAL)
PROCEDURE





AGRIPRENEUR
TO
SUBMIT
PROJECT
PROPOSAL FOR LOAN AND SUBSIDY TO
BANKS
BANKS TO APPRAISE, SANCTION
DISBURSE THE FIRST INSTALMENT
AND
BANKS TO CLAIM SUBSIDY FROM NABARD
WITH A BRIEF PROJECT PROFILE-CUMCLAIM FORM
ROS ARE EXPECTED TO DISPOSE OFF THE
CLAIMS WITHIN A FORTNIGHT FROM THE
DATE OF RECEIPT OF THE CLAIMS
BANKS
TO
CERTIFICATE
SUBMIT
UTILIZATION



DELIVERY OF EXTENSION SERVICES
SHALL BE THE MAIN COMPONENT
RECORD OF ADVISORY SERVICES
(PRESCRIBED PROFORMA) IS TO BE
MAINTAINED BY THE UNIT
ANY TWO OFFICIAL MAY TAKE UP
PERIODIC/SURPRISE
VISIT
FOR
VERIFYING RECORDS OF ADVISORY
SERVICES



WHERE MISUTILIZATION OF SUBSIDY
HAS BEEN NOTICED BANK SHALL
REFUND THE SUBSIDY TO NABARD
A CONSOLIDATED REPORT IS TO BE
FINALIZED BY THE BANK BEFORE 3
YEARS
LOCK-IN
PERIOD
FOR
FORWARDING TO NABARD/ATMA FOR
INFORMATION
TIME LIMIT FOR COMPLETION :
6 MONTHS FROM DATE OF DISB. OF
1ST INSTALMENT (PLUS ADDITIONAL 6
MOTHS FOR JUSTIFYABLE DELAY)





BENEFIT OF SUBSIDY IS NOT AVAILABLE
IF THE PROJECT IS NOT COMPLETED
WITHIN STIPULATED TIME & SUBSIDY IS
TO BE REFUNDED TO NABARD
INSURANCE TO BE TAKEN WHEREVER
REQUIRED
DISPLAY OF SIGN BOARD AT THE UNIT
PRE
AND
POST
COMPLETION
INSPECTION OF PROJECT BY BANK
SUBSIDY SUBJECT TO AVAILABILITY OF
FUNDS FROM GOI
EMPOWERED STEERING COMMITTEE

SECRETARY (A&C)
: CHAIRMAN

ADDL. SECY, DAC
: MEMBER

AS & FA, DAC
: MEMBER

DDG (EXTN.), ICAR
: MEMBER

DG, MANAGE
: MEMBER

ED, NABARD
: MEMBER

JT. SECY (EXTN.)
: MEMBER SECRETARY
GOI'S INTERPRETATION OF THE SCHEME
INSTRUCTIONS WILL BE FINAL
Progress (As on 30.06.2012)
1 STATES
22
2 NOS. OF UNITS
566
3 TFO SANCTIONED
(` CRORE)
4 BANK LOAN (` CRORE)
45.54
5 SUBSIDY RELEASED*
(` CRORE)
11.82
35.49
* ADV + FIN + INT. SUB –I + INT. SUB –II
Thank You for your Attention!