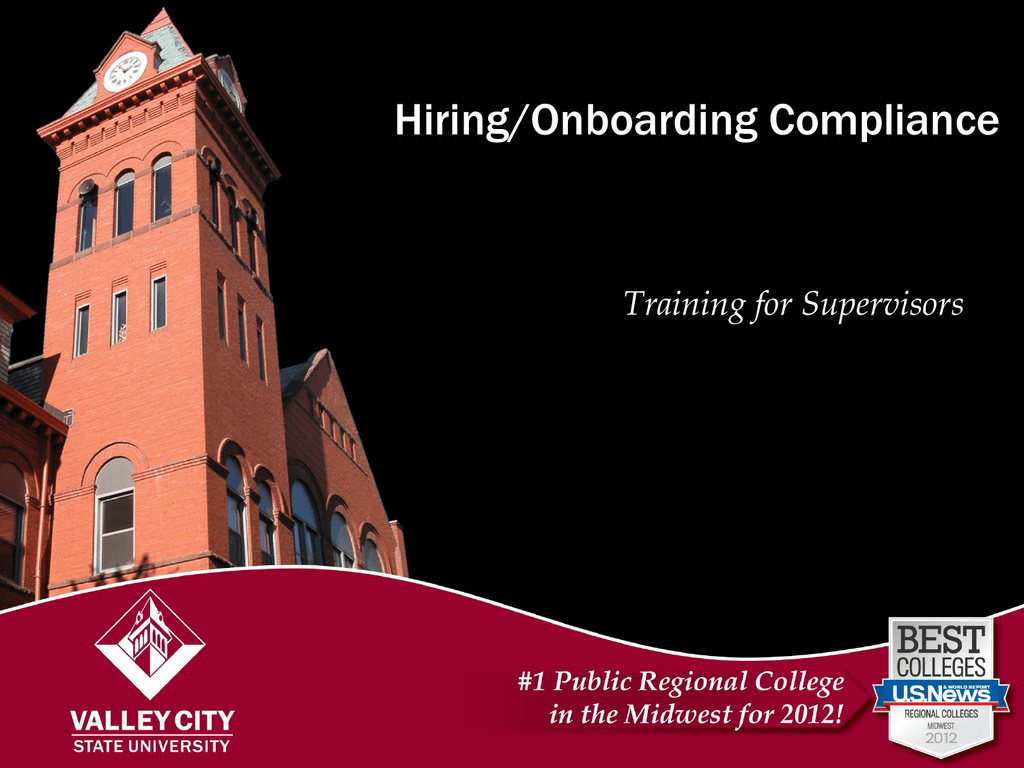 Hiring/Onboarding Compliance
Hiring/Onboarding
Training for Supervisors
in Compliance
Meetings with Supervisors
Student Onboarding
Process for Onboarding
Student Onboarding Process
VCSU Hiring Forms
Supervisor Completes
Work Authorization
Request to Career
Services
I-9
W-4
Background Check*
International Paperwork*
HIRE
*Complete only if Applicable
Work Authorization
Signed by Career
Services
Staff Onboarding
Process for Onboarding
Staff Onboarding Process
VCSU Hiring Forms
I-9
Supervisor Request to
Offer is approved by
Cabinet.
W-4
Background Check
Fraud Video
HIRE
Entered to
PeopleSoft.
Forms
Legal Compliance
VCSU Hiring Forms
• Required for PeopleSoft
– Payroll Hire Form
– Payroll Direct Deposit
• Required by Policy
– Code of Conduct
– Reporting & Investigating Fraud
– Designated Medical Provider
• Non-Student Employees Only
–
–
–
–
Annual Notification of Policies
Employment of Relatives
Conflict of Business Interest
Fraud Video
I-9



Required by Federal Law Since November 6, 1986
All new hires must complete
Establishes the person's identity and right to work in the US
LIST A
1.
2.
3.
4.
5.
6.
U.S. Passport or U.S. Passport Card
Permanent Resident Card or Alien
Registration Receipt Card (Form I-551)
Foreign passport that contains a
temporary I-551 stamp or temporary I551 printed notation on a machinereadable immigrant visa
Employment Authorization Document
that contains a photograph (Form I766)
In the case of a nonimmigrant alien
authorized to work for a specific
employer incident to status, a foreign
passport with Form I-94 or Form I-94A
bearing the same name as the
passport and containing an
endorsement of the alien's
nonimmigrant status, as long as the
period of endorsement has not yet
expired and the proposed employment
is not in conflict with any restrictions or
limitations identified on the form
Passport from the Federated States of
Micronesia (FSM) or the Republic of
the Marshall Islands (RMI) with Form I94 or Form I-94A indicating
nonimmigrant admission under the
Compact of Free Association Between
the United States and the FSM or RMI
LIST B
1.
2.
3.
4.
5.
6.
7.
8.
9.
Driver's license or ID card issued
by a State or outlying possession of
the United States provided it
contains a photograph or
information such as name, date of
birth, gender, height, eye color, and
address
ID card issued by federal, state or
local government agencies or
entities, provided it contains a
photograph or information such as
name, date of birth, gender, height,
eye color, and address
School ID card with a photograph
Voter's registration card
U.S. Military card or draft record
Military dependent's ID card
U.S. Coast Guard Merchant
Mariner Card
Native American tribal document
Driver's license issued by a
Canadian government authority
For persons under age 18 who are unable
to present a document listed above:
1.
School record or report card
2.
Clinic, doctor, or hospital record
3.
Day-care or nursery school record
LIST C
1.
2.
3.
4.
5.
6.
7.
8.
Social Security Account Number
card other than one that specifies
on the face that the issuance of
the card does not authorize
employment in the United States
Certification of Birth Abroad issued
by the Department of State (Form
FS-545)
Certification of Report of Birth
issued by the Department of State
(Form DS-1350)
Original or certified copy of birth
certificate issued by a State,
county, municipal authority, or
territory of the United States
bearing an official seal
Native American tribal document
U.S. Citizen ID Card (Form I-197)
Identification Card for Use of
Resident Citizen in the United
States (Form I-179)
Employment authorization
document issued by the
Department of Homeland Security
W-4
- Required to see Social Security Card because for tax purposes it must be
correct
• Verifies Name (First, Middle, Last), Spelling, Social Security Number
• Errors caught by this verification are frequent
- Errors are costly and timely for these errors
Federal Law
VCSU Procedure
• Verify Social Security Card for
information.
• Verify before employment begins.
Background Check
-
Required for students with unsupervised access to students or children, or for students with
unsupervised access to keys permitting this access. They are also required for all nonstudent employees.
-
Background Check Options (Paid by University):
 Lived in state for past seven (7) years:
o ND Bureau of Criminal Investigation (BCI) - $15.00

Not lived in state for past seven (7) years:
o CastleBranch - $65.00
SBHE Policy
VCSU Procedure
• Selected position as outlined in
602.3 NDUS Procedure
• All employees (Temp & Regular)
before hire
• All students as acknowledged
above before hire
International Paperwork
• We work with students to provide a variety of
documents in addition to completing the previous
forms.
– Passport
– Visa
– I-94
• Legal entry to country
– I-20
• Dates permitted in country per Registrar
– Social Security Card
• Drive to Jamestown with Career Services to obtain for work
purposes
Questions??