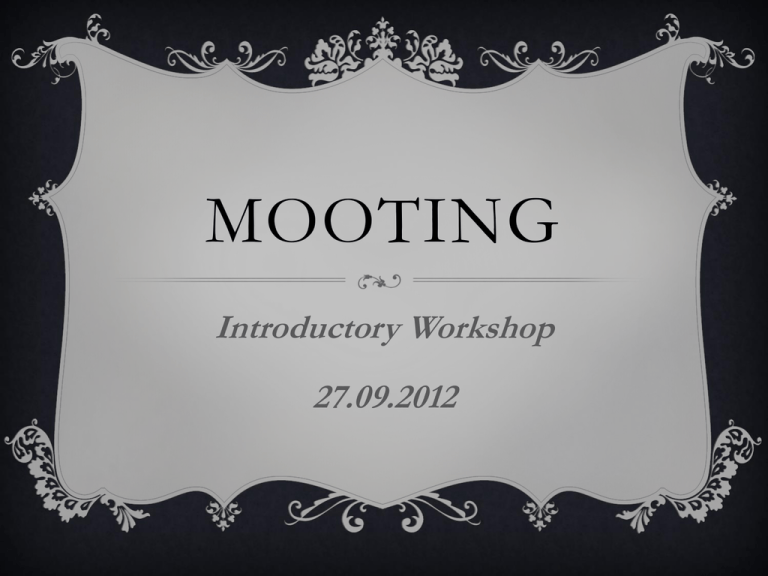 MOOTING
Introductory Workshop
27.09.2012
WHAT IS MOOTING?
 "Mooting is the oral presentation of a
legal issue or problem against an
opposing counsel and before a judge."
(Oxford University Press)
 A combination of
Debating and
Public Speaking
 Moots are an age-old tradition in the
Inns of Court that date back to at least
the 14th century, if not earlier.
WHAT DOES IT INVOLVE?
 Research on points of law, rather than fact
 Preparing written submissions (a skeleton or
a memorial) for presentation before an
Appellate court
 Delivery of oral submissions before a Bench
of Appellate Judges
 Pre-empting/Rebutting the submissions of
the opposition counsel
 Handling questions from the Bench and
maintaining court etiquette
WHY MOOT?
 It will:
•
•
•
•
•
•
•
Increase your confidence in public speaking
Develop your ability to form articulate arguments
Enhance your research skills
Add depth to your legal knowledge
Improve your career prospects
Give you the opportunity to network with legal luminaries
Provide you with opportunities to travel!
OPPORTUNITIES
 Vertex Chambers Annual Mooting Competition – 6-13 October
 Surana & Surana Mooting Competition, Pune – 7-9 December
 IXth KK Luthra Moot Court Competition, Delhi – 18-20 January
 5th Gujarat National Law University Moot Court, Gandhinagar 6-10 February
A PERSONAL ACCOUNT
 VIIth KK Luthra International Criminal Law Moot,
Campus Law Centre, Delhi
 Salient Points:
• Jurisdiction
• Genocide & Ethnic Cleansing
• Destruction of Cultural Heritage – Genocide, Crime
Against Humanity or War Crime?
• Judicial Bias, Recusal and Impeachment
• Financial Malpractice
 More than 60 teams from India, the UK and the USA
 Adjudicators: Advocates, Senior Advocates, High Court
& Supreme Court Judges
SO WHAT NEXT?
 Sample Moot Problem & Skeleton
 Practice Sessions
•
•
•
•
How to write Skeletons and Memorials
How to present oral submissions & court etiquette
How to deal with judicial intervention & time constraints
How to prepare a bundle of legal documents
 Selection of Moot Teams from 2nd and 3rd Years
• 1st Week October: Vertex Chambers & KK Luthra
• 1st week of November – Surana & Surana
• 1st week of December – GNLU Moot
WHERE TO START?
 Read the sample Moot Problem.
 First and foremost: Identify the salient legal points arising from the
Moot Problem assigned to you.
 During a Moot, the first place to start: Textbooks in the Library ,
Study Guides and the Practical Law Company (PLC)
 Research case law: Westlaw, LexisNexis through your VLE,
Indiakanoon
 Read journal articles on Westlaw, LexisNexis, JSTOR, Wiley, etc.
CONTACT DETAILS
Mooting Coordinator: Barrister Morshed Mannan
E-mail: [email protected]
Mooting Secretary: Ridi Rubaiyat
E-mail: [email protected]
THANK YOU
WE HOPE TO SEE YOU IN THE NEXT
SESSION!