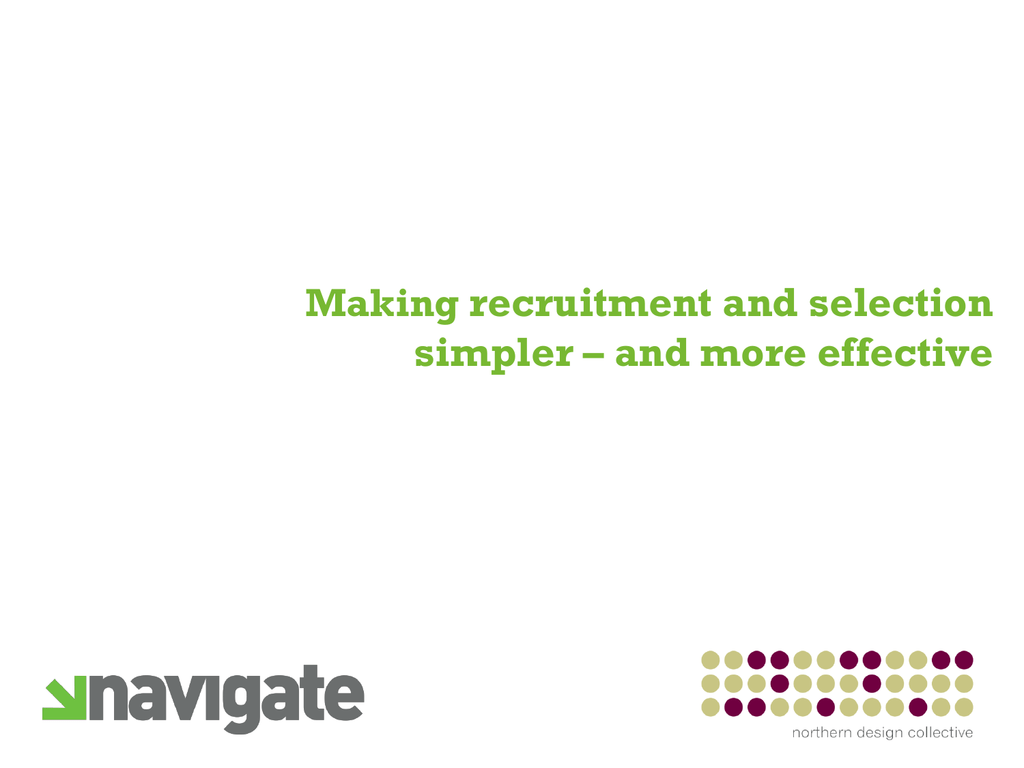 Making recruitment and selection
simpler – and more effective
Session outline
 Navigate & NDC: an introduction
 Approaching recruitment? Taking the time to get it right
 Preparing to succeed – materials, approach, tactics
 Attracting the right people, in the right way
 Designing the right selection process for your business
 Post-appointment: candidate care and development
About Navigate
 Established in 2005
 Specialists in leadership recruitment and development
in education and children's services
 Recruited over 150 Headteachers, Principals and LA
Advisors
 Offices in Leeds and London
About NDC
 Also established 2005…a good year!
 Over 200 public, private and charity advertising clients
 Specialists in cost-effective senior recruitment
 A few extra strings to the bow…
 Offices in Mytholmroyd and Macclesfield
What's happening in your business?
 Expansion of free places for 2 year olds
 Changing role of Local Authorities
 Partnerships
 Greater competition
 Greater accountability
 Safeguarding agenda never more crucial
Recruitment Market
 Buoyant – but with people with required skills?
 EYPS: Graduate Leaders
 Salary levels
 Competition from other caring sectors
 Barriers to entering the market: price, geography etc.
Thinking about your opportunity
 Review your existing documentation closely
 Context and characteristics of your organisation – what
makes you different?
 Are there any special projects in the pipeline? (e.g.
expansion)
 What are your key achievements?
 What are the challenges and opportunities?
 Do you need the 'same again', or somebody different?
Define your target market
 What kind of job is your ideal candidate likely to be
doing now?
 What kind of setting are they likely to be working in?
 What kind of salary are they likely to be paid…and will
your offer attract them?
 What are their motivations to apply for your post?
 What are you offering that will appeal to the aspirations
of your target group?
Attracting the right candidates
 Recruiting is about understanding what makes your
opportunity distinctive, and finding the people to whom
it appeals
 Think clearly about what the best candidates want or
need, and imagine you're talking ONLY to them
 Don't be forced into local press – there may be another
way to get your message out there
The recruitment message
 Content









Housekeeping items
Brief but effective summary of the setting
The sort of person you're looking for and why
Must-haves, nice-to-haves
What you can offer the successful candidate – CPD / influence
Any religious commitment expected
Key dates: start, closing, interview
Key contacts: information, visit, application
Safeguarding statement
Application pack
 A key marketing tool: will make waverers apply or walk!
 Ideally available electronically
 Contents









welcome
ethos, aims and current priorities
nature of the intake and the organisation of classes
staffing structure
location, buildings and grounds
parent partnerships, community links, information about the local area
Ofsted data
job description and person specification
application form
It's your turn…
 In groups, look at the JD and Person spec provided. Think
about how you would emphasise key elements in an
advert
 Plan and draft your recruitment materials (hint: doesn't
have to be just an advert..)
Assessment methods
Techniques
 Application Form:
 Personal details
 Education and Qualifications
 Employment History
 Details/Reasons for any gaps in Education/Employment History
 Enhanced CRB check/declaration/Safeguarding Statement
 Equal Opportunities and Recruitment Monitoring
 Referees – approach prior to interview?
Application Form
 Indicate how your experience and skills meet the job
requirements (please refer to the person specification)
 What interests you most about working with children?
 What attracted you to apply to Happytoes Nursery?
 What would you want to see, hear and experience in a
Nursery that would convince you that good practice was
taking place?
Example of a person specification
Techniques
 Assess application against a grid (based on person
spec)
 Structured interview for strongest applications (built on
person spec with opps to explore career history)
 Observation (staff and children: how do candidates
behave?)
 Tests / scenarios (what are their motivations /
responses to pressure?)
Evaluating Applications
Quals
Leadership
experience
Knowledge
of 0-3
curriculum
Communication
skills
Safeguarding
M Small
NNEB
Deputy
Manager
Strong
evidence
Very long
application –
often repetitive at
times
Has attended
training, designated
staff member
D Khan
NVQ
Level 3
Key worker
No people
management
experience
Strong
evidence
Well written
applicationresponds to the
person spec
Has attended
training and
highlights
knowledge of new
guidance
T Forbes
EYPS
Early years
practitioner
and room
supervisor
Does not
refer to this
in
application
Succinct
applicationwould have
benefitted from
closer fit to PS
Does not refer to in
application
Interview
 Know who is leading
 Presentation?
 Well devised questions (linked to Person Spec)
 Follow up questions linked to individual's application
 Safeguarding questions
 Closing questions
Successful final interviews
 Clarity before the day (What can they expect? What
documents need to be brought? What preparation
needs completing?)
 Manage the process on the day (good communication,
no surprises, professionalism)
 Allow some time between tasks
 Feedback
Summary
 Recruitment should be a real opportunity, not a chore
 Good planning and a bit of time will make success
more likely
 Marketing the role: be proud of your achievements
 Evaluating applications: objectivity and evidence
 Meeting candidates: make sure they take away a
great impression
 Testing for talent: your documents are the foundation,
but you can be creative!