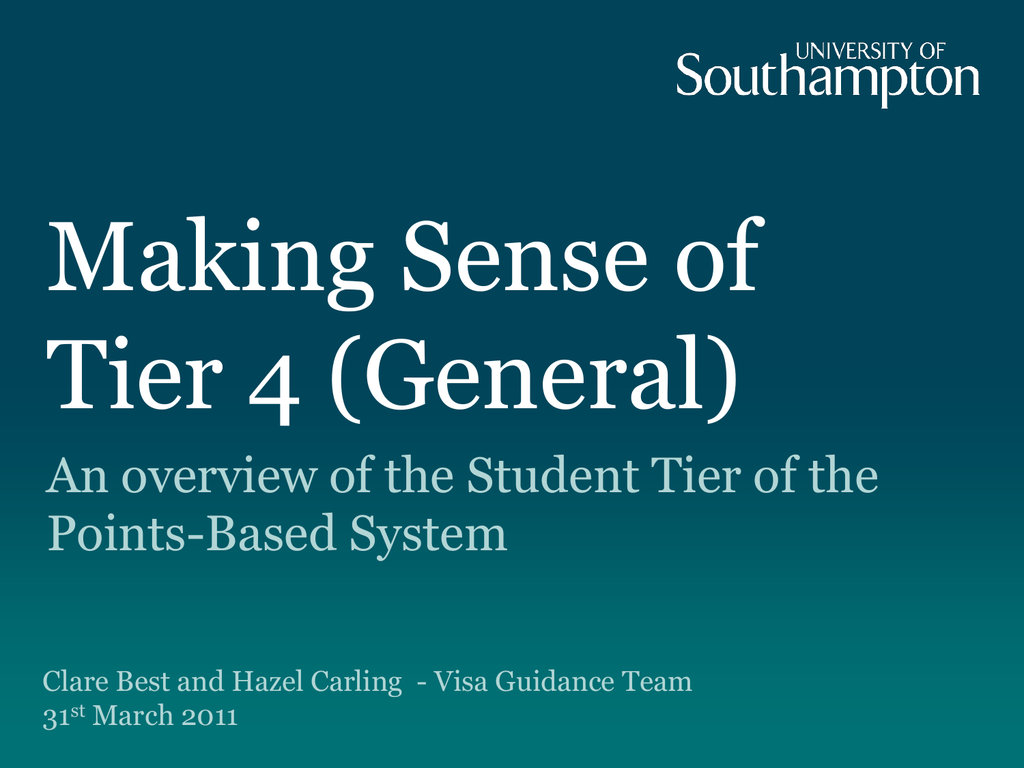 Making Sense of
Tier 4 (General)
An overview of the Student Tier of the
Points-Based System
Clare Best and Hazel Carling - Visa Guidance Team
31st March 2011
What is the Points-Based System?
• A 'new' approach to immigration which
streamlines migration to the UK in to 5 main
routes known as 'Tiers'. Applicants need to score
the correct amount of points in relevant category to
gain admission/ extend permission to stay in UK
2
What are the 5 Tiers?
• Tier 1 (Entrepreneurs, Investors, 'Exceptional Talent' and recent
graduates)
• Tier 2 (Skilled Workers)
• Tier 3 (Low skilled workers to fill specific temporary labour shortages)
Not yet implemented and no plans to do so in near future
• Tier 4 (Students)
• Tier 5 (Youth Mobility/Government Exchange/Temporary Workers)
3
Old Style Student Visa/Leave to Remain
• Issued prior to 31/03/2009 for full -time courses of 6
months or more at any UK education institution. Holders
can study anywhere and change study providers without
permission so long as visa still valid
4
Tier 4 (Students)
• Consists of two strands:
• Tier 4 (Child) - applies to pupils at independent schools
and some F.E colleges
• Tier 4 (General) - all other students
• Institutions may hold a licence for one or both strands but
must hold the appropriate licence for the students they are
recruiting
• Tier 4 applicants need to score 40 points to obtain visa
5
Tier 4 - Students
• Universities licensed by UKBA under Tier 4 to recruit International
Students
• Tier 4 licence allows institution to 'sponsor' (provide education for)
students
• Institution issues a CAS (certificate of acceptance of study) which
student then uses to apply for their visa
• Students enter UK or extend visa with an institution specific visa to
study with their 'sponsor' only
• Tier 4 sponsored students can include those on overseas degree courses
where part of their study is being provided by a UK institution
6
What is the CAS?
• CAS = Certificate of Acceptance of Studies = 30 points
• Unique reference number used by UKBA to view information about
applicant and course via web-based portal
• CAS tells UKBA what qualifications used to make offer (eg Bachelors
degree, IELTS 6.5) whether the course requires ATAS clearance, and
how much the fees are. If any fees have been paid this will also show in
the CAS statement .
• CAS also contains applicant's personal details (DoB, passport number
plus details of any financial sponsorship from the university)
• Applicants need to provide the ORIGINAL documents listed in the CAS
+ ATAS clearance if required
7
Maintenance
• In addition to the 30 points from the CAS applicants need to score 10
points for MAINTENANCE
• Maintenance means the amount of money you have to show
• You will need to meet either the HIGHER (£5400, non-established
students) or the LOWER (£1,200, established students) maintenance
amount
• Applicants need to show that they have had the correct amount of
maintenance + tuition fees for 28 days prior to submitting application.
If less than 28 days application will be REFUSED
• Sponsored students do not need bank statements but MUST provide
original documentation from their official financial sponsor
8
Tier 4 - Sponsor's Obligations
• Under terms of Tier 4 sponsor licence, institution has
certain obligations to UKBA. These include:
• Verifying identity on arrival
• Reporting to UKBA if student does not arrive
• Monitoring attendance and reporting to UKBA if this is not
satisfactory
• Reporting to UKBA if a student suspends, finishes or
abandons the course
9
Tier 4 (General) Students - degree level courses
• Can work up to 20 hours per week in term-time
• Can work full-time in vacations (if not required to be
studying ie writing dissertation)
• Can undertake a work placement ONLY if assessed part of
course
• No provision for Internships under Tier 4
10
Changes to Tier 4
(General)
Changes (1):
• All sponsors must achieve HTS (Highly Trusted Sponsor)
status by April 2012 (the U of S already has this!)
• Students on Level 6 (UG) programmes or above must have
a minimum level of English at B2 (IELTS 6 or equivalent) in
all 4 disciplines
• All applicants must sign declaration that documents they
provide as evidence to meet the maintenance requirement
are genuine
12
Changes (2):
• Only PG students on courses of 12 months + and
Government sponsored students will be able to bring
dependants
• Evidence of progression required but may be able to
undertake 2nd Masters if sponsor vouches for academic
progression
• Maximum of 3 years on pre-degree level courses and 5
years on degree-level courses inc PG programmes
(exceptions apply)
13
Any Questions?