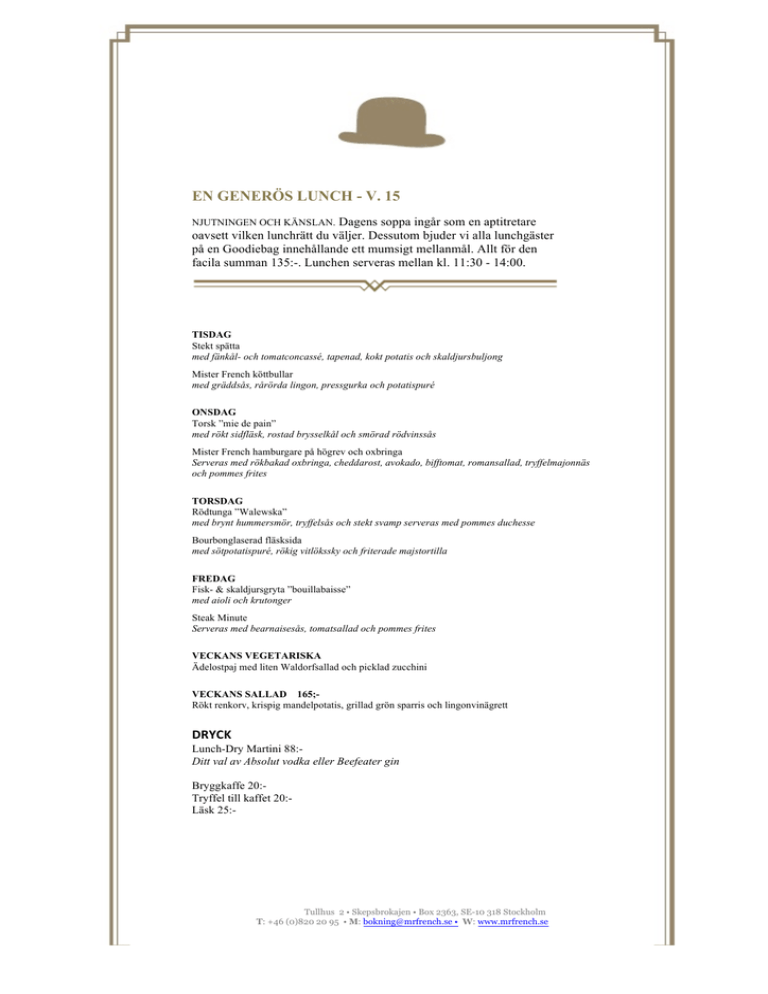 EN GENERÖS LUNCH - V. 15
Dagens soppa ingår som en aptitretare
oavsett vilken lunchrätt du väljer. Dessutom bjuder vi alla lunchgäster
på en Goodiebag innehållande ett mumsigt mellanmål. Allt för den
facila summan 135:-. Lunchen serveras mellan kl. 11:30 - 14:00.
NJUTNINGEN OCH KÄNSLAN.
TISDAG
Stekt spätta
med fänkål- och tomatconcassé, tapenad, kokt potatis och skaldjursbuljong
Mister French köttbullar
med gräddsås, rårörda lingon, pressgurka och potatispuré
ONSDAG
Torsk "mie de pain"
med rökt sidfläsk, rostad brysselkål och smörad rödvinssås
Mister French hamburgare på högrev och oxbringa
Serveras med rökbakad oxbringa, cheddarost, avokado, bifftomat, romansallad, tryffelmajonnäs
och pommes frites
TORSDAG
Rödtunga "Walewska"
med brynt hummersmör, tryffelsås och stekt svamp serveras med pommes duchesse
Bourbonglaserad fläsksida
med sötpotatispuré, rökig vitlökssky och friterade majstortilla
FREDAG
Fisk- & skaldjursgryta "bouillabaisse"
med aioli och krutonger
Steak Minute
Serveras med bearnaisesås, tomatsallad och pommes frites
VECKANS VEGETARISKA
Ädelostpaj med liten Waldorfsallad och picklad zucchini
VECKANS SALLAD 165;Rökt renkorv, krispig mandelpotatis, grillad grön sparris och lingonvinägrett
DRYCK Lunch-Dry Martini 88:Ditt val av Absolut vodka eller Beefeater gin
Bryggkaffe 20:Tryffel till kaffet 20:Läsk 25:-
Tullhus 2 • Skepsbrokajen • Box 2363, SE-10 318 Stockholm
T: +46 (0)820 20 95 • M: bokning@mrfrench.se • W: www.mrfrench.se
Coucou, I am so glad you came. This place simply wouldn't be
the same without you. As you know I am a travelling man with
my fair share of adventures, and I must tell you, the ambiance and
atmosphere of this place is hard to surpass. Where else can you
mingle with the highborn, talk politics with pirates, share a drink
with adressmaker or share your childhood meories with a Russian
oil billionaire – all in one night? Anyway, thank you again for coming. Let's make this moment a lasting memory that we both can cherish.
Je t'embrasse!