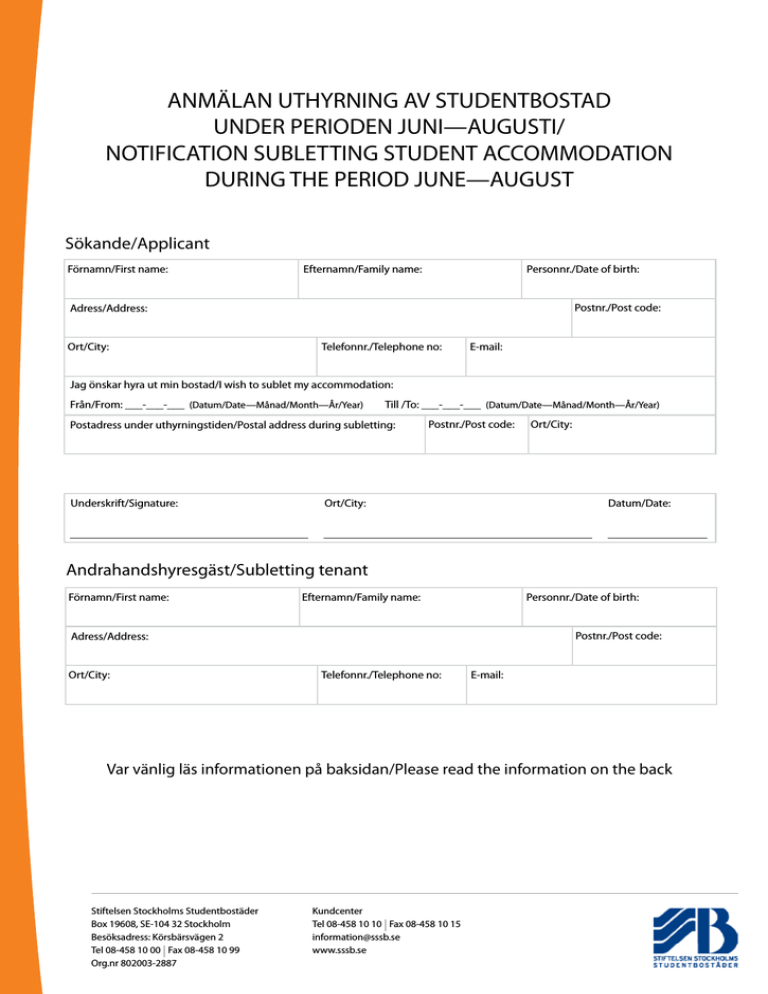 ANMÄLAN UTHYRNING AV STUDENTBOSTAD
UNDER PERIODEN JUNI—AUGUSTI/
NOTIFICATION SUBLETTING STUDENT ACCOMMODATION
DURING THE PERIOD JUNE—AUGUST
Sökande/Applicant
Förnamn/First name:
Efternamn/Family name:
Adress/Address:
Ort/City:
Personnr./Date of birth:
Telefonnr./Telephone no:
Postnr./Post
code:
E-mail:
Jag önskar hyra ut min bostad/I wish to sublet my accommodation:
Från/From: ___-___-___ (Datum/Date—Månad/Month—År/Year)
Till /To: ___-___-___ (Datum/Date—Månad/Month—År/Year)
Postnr./Post code: Ort/City:
Postadress under uthyrningstiden/Postal address during subletting:
Underskrift/Signature: Ort/City: Datum/Date:
Andrahandshyresgäst/Subletting tenant
Förnamn/First name:
Efternamn/Family name: Adress/Address:
Ort/City:
Personnr./Date of birth:
Telefonnr./Telephone no:
Postnr./Post
code:
E-mail:
Var vänlig läs informationen på baksidan/Please read the information on the back
Stiftelsen Stockholms Studentbostäder
Box 19608, SE-104 32 Stockholm
Besöksadress: Körsbärsvägen 2
Tel 08-458 10 00 | Fax 08-458 10 99
Org.nr 802003-2887
Kundcenter
Tel 08-458 10 10 | Fax 08-458 10 15
information@sssb.se
www.sssb.se
UTHYRNING I ANDRAHAND/SUBLETTING
Hur ansöker jag om uthyrning i andra hand?
Skicka din anmälan till SSSB Kundcenter, Box 196 08, 104 32 Stockholm.
Villkor?
Även under sommaren måste hyresgästen anmäla sin andrahandsuthyrning. Under sommarperioden 1 juni till 31 augusti är villkoren enklare.
Hyresgäster hos SSSB behöver inte studera på annat håll för att få hyra
ut i andrahand. Det finns heller inget krav på att den som hyr i andrahand ska vara studerande vid skola som är ansluten till SSCO. Hyresgästen måste däremot ha bott i lägenheten i minst sex (6) månader för att
ha rätt att hyra ut i andra hand.
Vem ska betala hyran till SSSB?
Du som är förstahandshyresgäst har ensam ansvaret. Det är vanligt att
man ber den som hyr i andra hand att betala. Om den personen struntar
i det råkar du ut för den obehagliga överraskningen att få en hyresskuld
hos oss. Ta inte den risken, betala hyran själv! Du är även ansvarig gentemot oss för eventuella skador som kan uppstå i bostaden under uthyrningstiden.
Jag hyr själv bostaden i andra hand av SSSB. Får jag hyra ut den?
Nej, man kan inte hyra ut bostaden i tredjehand. Om du bor i t ex en
inhyrd bostad (ej ägd av SSSB) innebär det att du hyr den i andrahand av
SSSB. Vi hyr den bostaden av en annan fastighetsägare som godkänt att
vi hyr ut den som studentbostad. Vi har inte rätt att godkänna uthyrning
av en sådan bostad i ännu ett led. Tredjehandsuthyrning finns för övrigt
inte ens reglerat i svensk lag.
Om du har några frågor om andrahandsuthyrning är du välkommen att
kontakta Kundcenter, 08-458 10 10.
How do I apply?
Send your application SSSB Kundcenter, Box 19608, 104 32 Stockholm
Subletting during the summer period?
During the summer period a written report is also required for any subletting of accommodation between June 1 and August 31. However the
present tenant does not have to study abroad or relocating to be allowed
to sublet. Neither does the temporary tenant have to be at student at
a university or college whose student union is a member of the SSCO.
The tenant must however have lived in the apartment for at least six (6)
months to have the right to sublet the apartment.
Who pays the rent to SSSB?
As the contract-holder you have sole responsibility. It is quite common
that the new tenant is asked to pay the rent. However, should he/she fail
to do so, you are still personally responsible for the rental payments. So
do not take any chances, pay the rent yourself! You are also liable for any
damage to the premises during the period of subletting.
I am subletting from SSSB. Can I sublet to someone else?
No, you cannot sublet to a third party. If you are renting accommodation
that is not owned by us, this means that you are subletting already. We
rent the premises from another landlord, who has approved that these are
used for student accommodation. We do not have the right to sublet such
premises to a third party. Furthermore, this is not covered by Swedish
housing legislation.
If you have any questions, or require any further information concerning subletting, please contact Customer Services (Kundcenter), tel: 08-458 10 10.