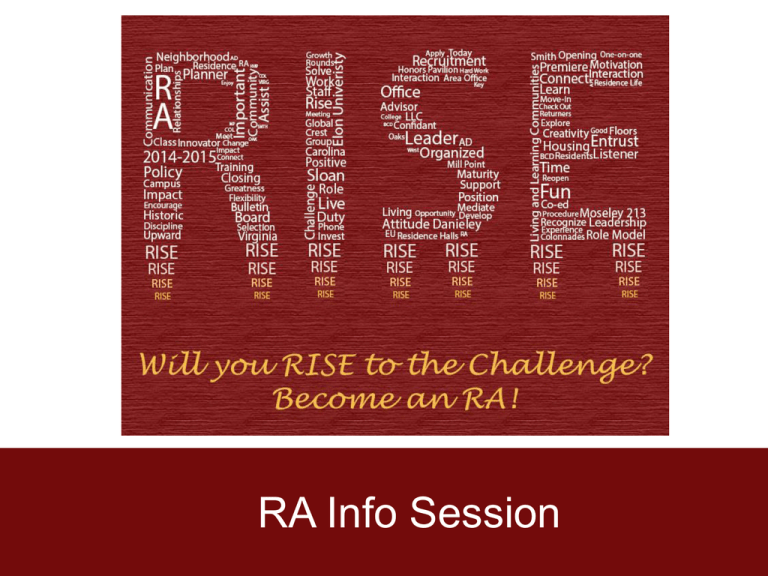 RA Info Session
The Mission of the Department
We, the department of Residence Life, are
invested in a ONE * COMMUNITY *
WORLD philosophy. Our intentional
philosophy is grounded in supporting
individual growth in and out of the
classroom, developing dynamic livinglearning communities, and preparing
students to become active members of the
global society.
Available Positions
• Resident Assistant- RA (Global, Historic,
Colonnades, Danieley Center, Oaks)
• Community Assistant- CA (The Station at
Mill point)
Why work for Residence Life?
• Premiere leadership opportunity on
campus
• Customized training with many
transferable skills for every job market
• Stand-out resume component
• Opportunity to have an impactful influence
on Elon students' development and Elon
experience
• We have LOTS of fun!
Financial Benefits
• Housing Grant- covers a
partial amount of your housing
costs, varies depending on
your assignment
• Stipend- again varies
depending on your
assignment, but cash is
always good!
Skill Based Benefits
•Time Management
• Public Speaking
• Organization
• Conflict Management
• Administrative skills
• Intercultural Communication Skills
• Programming
Experiential Benefits
• Serving as a mentor
• Helping people in time of need
• Team development
• Crisis response and management
• Diversity awareness and appreciation
• Professional benefit of experience in
workforce
• Personal maturity
What do RAs do?
•Know each resident in the community
• Serve as a resource person for students and staff
•Familiarize students with and enforce university
policies and regulations
• Mediate conflicts between residents and floor
mates
• Serve in an overnight on call duty response team
• Help residents maintain an environment
conducive to learning
• As appropriate, assist residents to improve study
techniques and personal problem solving skills
•Attend Wednesday night staff meetings
•Work collaboratively with each other as a staff
•Plan and implement events and activities
Living Learning Communities
• Additional Application Questions
• LLC RAs are selected prior to other RAs
• LLC Advisors in addition to Residence Life staff
make LLC RA hiring decisions
• May require additional programming
One Meeting Time
Residence Life has a "one meeting time",
every Wednesday from 7:30-10:30pm.
Student staff members are required to have
this time free each week and should not
schedule classes or other activities during
this time.
The Process
• Complete the RA application: Include a cover letter,
resume, 2 recommendations
• Fill out the application (Due by 5pm on February 5,
2014)
– Available in the Residence Life office, on the
Residence Life Website or on the Elon Job Network
• Attend the interview process which will include some
group components as well as an individual interview.
– Saturday, February 8 and Sunday, February 9
– Sign up for a time when turning in your application
• Decision letters will go out February 18 and positions
will need to be accepted by February 20
Interview Tips
• Please read these handouts and take the
tips seriously when you come to your
interview
Questions?