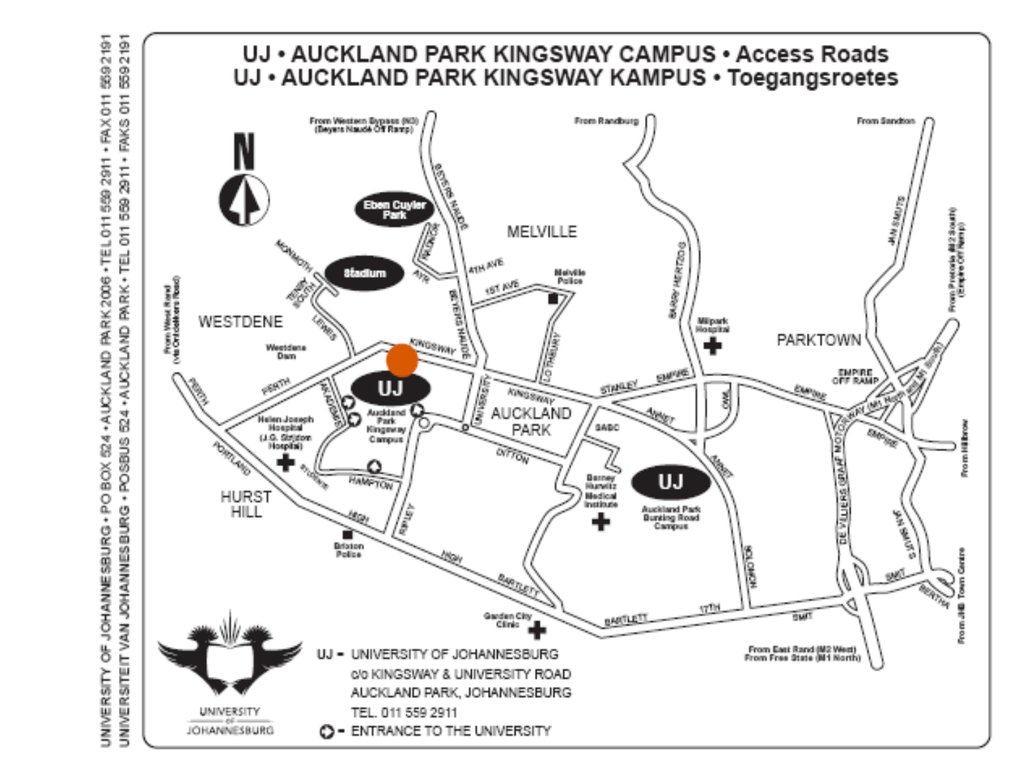 COUNCIL LOUNGE
2ND FLOOR, NEW ADMIN BUILDING
UNIVERSITY OF JOHANNESBURG
AUCKLAND PARK KINGSWAY CAMPUS
Parking can be reserved in the reserved parking area (immediately to your right when you have passed the beam
at the main entrance) which one reaches through Entrance 1 in Kingsway Avenue (see enclosed map). Contact
person for reserving of parking is Mrs Roos van der Westhuizen (011-559-3150 or [email protected]).
When you have parked in front of the main entrance, you walk up the ramp.
You will pass the Student Enrolment Centre on your left and after that you'll find the Library to your right and the
main building to your left.
You enter the glass doors of the main building on your left.
Straight to your right after you have entered the glass doors you'll find a lift. In the lift you press nr 3. When you
come out of the lift, you take the passage to your left. Walk through the glass doors, there will be a bridge that
connects the main building with the new building to your right. Enter through the wooden doors. At the end of the
bridge, please take the stairs to the 2nd floor, or the lift (the lift is situated in the West Wing, first passage to your
left on the first floor).
Turn to your right, you'll see the Council Lounge to your right – it is an open area.