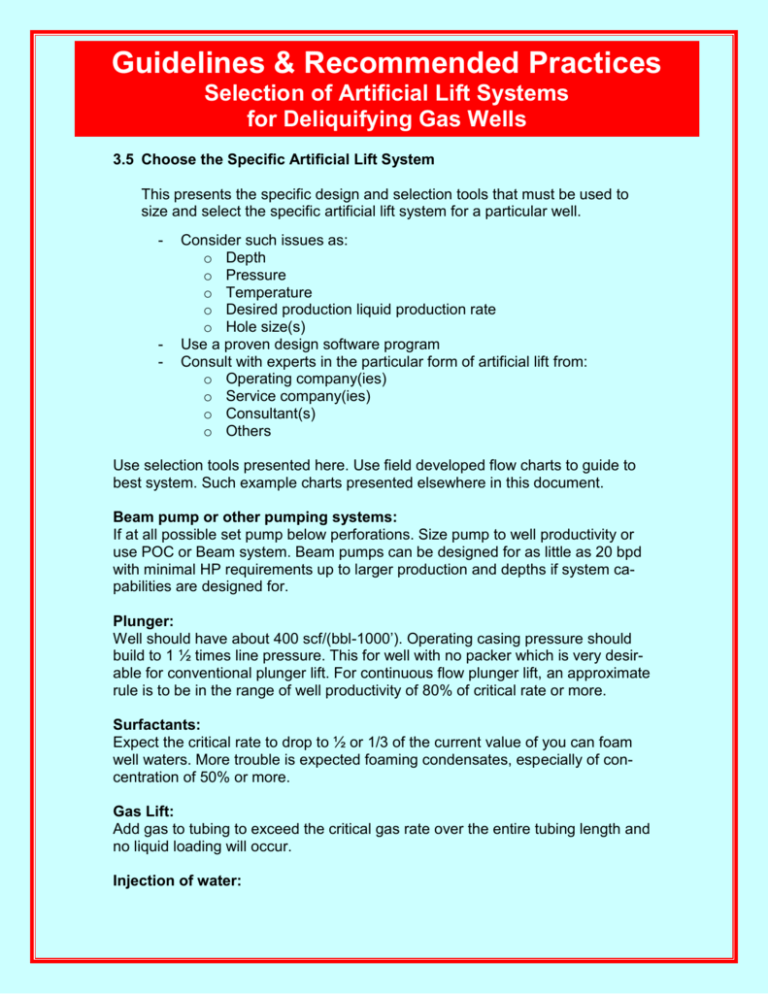 Guidelines & Recommended Practices
Selection of Artificial Lift Systems
for Deliquifying Gas Wells
3.5 Choose the Specific Artificial Lift System
This presents the specific design and selection tools that must be used to
size and select the specific artificial lift system for a particular well.
-
-
Consider such issues as:
o Depth
o Pressure
o Temperature
o Desired production liquid production rate
o Hole size(s)
Use a proven design software program
Consult with experts in the particular form of artificial lift from:
o Operating company(ies)
o Service company(ies)
o Consultant(s)
o Others
Use selection tools presented here. Use field developed flow charts to guide to
best system. Such example charts presented elsewhere in this document.
Beam pump or other pumping systems:
If at all possible set pump below perforations. Size pump to well productivity or
use POC or Beam system. Beam pumps can be designed for as little as 20 bpd
with minimal HP requirements up to larger production and depths if system capabilities are designed for.
Plunger:
Well should have about 400 scf/(bbl-1000'). Operating casing pressure should
build to 1 ½ times line pressure. This for well with no packer which is very desirable for conventional plunger lift. For continuous flow plunger lift, an approximate
rule is to be in the range of well productivity of 80% of critical rate or more.
Surfactants:
Expect the critical rate to drop to ½ or 1/3 of the current value of you can foam
well waters. More trouble is expected foaming condensates, especially of concentration of 50% or more.
Gas Lift:
Add gas to tubing to exceed the critical gas rate over the entire tubing length and
no liquid loading will occur.
Injection of water:
Selection of Artificial Lift Systems for Deliquifying Gas Wells
Page 2
If production water only and there is disposable zone below the gas zone, water
may be injected instead of produced using Beam system, ESP system or gravity
to inject below a packer set below the gas zone.