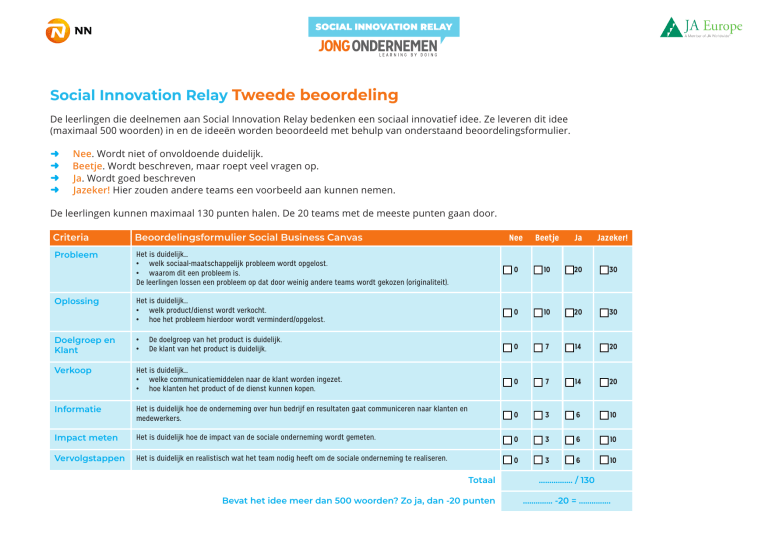 Social Innovation Relay Tweede beoordeling
De leerlingen die deelnemen aan Social Innovation Relay bedenken een sociaal innovatief idee. Ze leveren dit idee
(maximaal 500 woorden) in en de ideeën worden beoordeeld met behulp van onderstaand beoordelingsformulier.
b
b
b
b
Nee. Wordt niet of onvoldoende duidelijk.
Beetje. Wordt beschreven, maar roept veel vragen op.
Ja. Wordt goed beschreven
Jazeker! Hier zouden andere teams een voorbeeld aan kunnen nemen.
De leerlingen kunnen maximaal 130 punten halen. De 20 teams met de meeste punten gaan door.
Criteria
Beoordelingsformulier Social Business Canvas
Probleem
Nee
Beetje
Ja
Jazeker!
Het is duidelijk…
• welk sociaal-maatschappelijk probleem wordt opgelost.
• waarom dit een probleem is.
De leerlingen lossen een probleem op dat door weinig andere teams wordt gekozen (originaliteit).
0
10
20
30
Het is duidelijk…
• welk product/dienst wordt verkocht.
• hoe het probleem hierdoor wordt verminderd/opgelost.
0
10
20
30
Doelgroep en
Klant
•
•
0
7
14
20
Verkoop
Het is duidelijk…
• welke communicatiemiddelen naar de klant worden ingezet.
• hoe klanten het product of de dienst kunnen kopen.
0
7
14
20
Informatie
Het is duidelijk hoe de onderneming over hun bedrijf en resultaten gaat communiceren naar klanten en
medewerkers.
0
3
6
10
Impact meten
Het is duidelijk hoe de impact van de sociale onderneming wordt gemeten.
0
3
6
10
Vervolgstappen
Het is duidelijk en realistisch wat het team nodig heeft om de sociale onderneming te realiseren.
0
3
6
10
Oplossing
De doelgroep van het product is duidelijk.
De klant van het product is duidelijk.
Totaal
Bevat het idee meer dan 500 woorden? Zo ja, dan -20 punten
................ / 130
.............. -20 = ...............