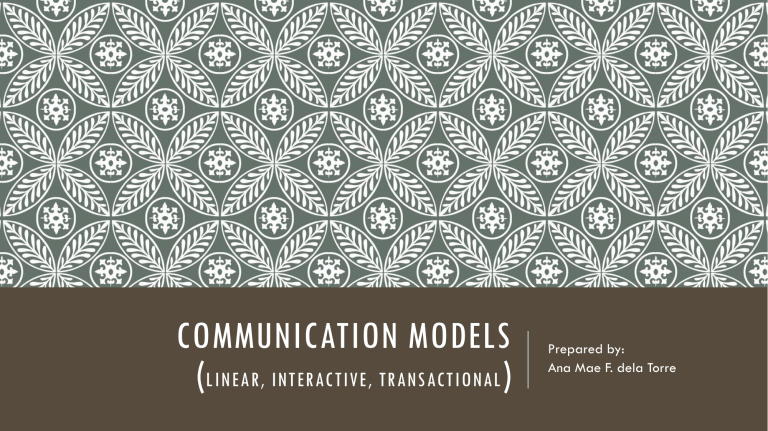 COMMUNICATION MODELS
( LINEAR, INTERACTIVE, TRANSACTIONAL )
Prepared by:
Ana Mae F. dela Torre
LINEAR MODEL OF COMMUNICATION
ARISTOTLE MODEL
SPEAKER
SPEECH
AUDIENCE
EFFECT
SHANNON AND WEAVER MODEL OF
COMMUNICATION
Claude Shannon and Warren Weaver
Information Source
Transmitter
(Encoder)
Channel
Noise
Source
Receiver
(Decoder)
Destination
THE SENDER-MESSAGE-CHANNEL-RECEIVER
MODEL
David Berlo (Berlo's SMCR Model)
Source
Message
Channel
Receiver
Communication Skills
Content
Hearing
Communication Skills
Attitudes
Elements
Seeing
Attitudes
Knowledge
Treatment
Touching
Knowledge
Social System
Structure
Smelling
Social System
Culture
code
Tasting
Culture
TRANSACTIONAL MODEL OF COMMUNICATION
BARNLUND'S MODEL
INTERACTIVE MODEL OF COMMUNICATION
WHITE'S MODEL
SCHRAMM'S MODEL OF COMMUNICATION –
OSGOOD-SCHRAMM COMMUNICATION MODEL
 Wilbur Schramm (1954)
Message
Encoder
Decoder
Interpreter
Interpreter
Decoder
Encoder
Message
KEY TAKEAWAYS
Three models for how communication
functions have been proposed: linear,
interactional, and transactional.
**The linear model holds that a message
travels in a straight line from its source,
through a channel, and to its receiver.
**The interactional model holds that
communication travels in a circle as a sender
transmits a message and then the receiver
responds with feedback; thus both parties
become sender/receivers.
**The transactional model holds that sending
and receiving occur simultaneously.