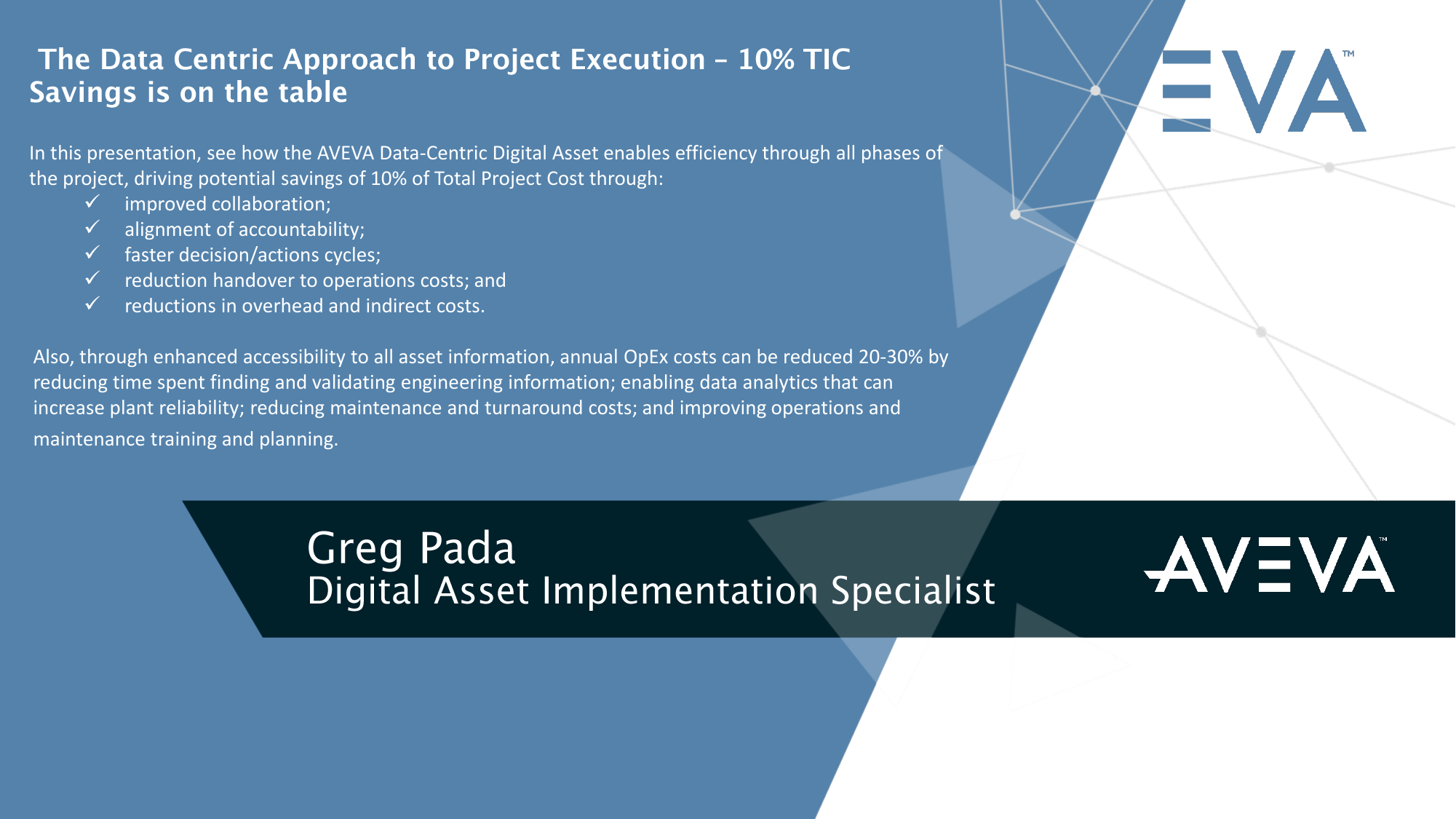 In this presentation, see how the AVEVA Data-Centric Digital Asset enables efficiency through all phases of
the project, driving potential savings of 10% of Total Project Cost through:
✓ improved collaboration;
✓ alignment of accountability;
✓ faster decision/actions cycles;
✓ reduction handover to operations costs; and
✓ reductions in overhead and indirect costs.
Also, through enhanced accessibility to all asset information, annual OpEx costs can be reduced 20-30% by
reducing time spent finding and validating engineering information; enabling data analytics that can
increase plant reliability; reducing maintenance and turnaround costs; and improving operations and
maintenance training and planning.
One Core
philosophy…
For every
Physical Asset…
There must exist a
Digital Asset
What is a Digital Asset?
Both assets need to be managed and sustained to ensure mechanical
integrity and safe operations. Each is an exact replica of the other!
Engineering Information Asset
10% TIC Savings is on the table
•
•
•
•
•
•
•
•
•
•
•
•
•
•
•
•
•
•
•
•
•
•
•
•
•
•
•
•
•
•
•
•
•
Engineering Information Asset
•
•
•
•
•
•
•
•
•
•
•
•
Change of
one single
Temperature
value
Pipe stress
calcs need to
be re-assessed
Equipment Datasheets
need to be updated
and re-issued
Pipe has now
become safety
cricital
Insulation needs
to be added
P&IDs need to
be updated
and re-issued
Spec
Change
Different
Instrument
arrangement
needed
Insulation
clashes
Wrong
piping/equipment specs to
suppliers
Planning
is no
longer
valid
Reordering
Wasted
materials
Rework
Delays
Cost
Overrun
Company
reputation
Lists and Datasheets are all aligned
with 3D models and schematics,
ensuring quality deliverables
Avoiding
procurement errors
and delays
Avoiding rework
in construction
•
•
•
•
•
•
•
•
•
•
•
•
•
•
•
•
•
•
•
•
10% TIC Saving Through a Digital Asset
Approach to Engineering
Patrick Reilly, Managing Partner, Vista Projects
June 21, 2017
Overview

Vista – Starting 3rd major project with a
fully integrated and data centric approach

"Start Early" Strategy

Incremental improvements to business
processes each project

Continual Improvement from a new
Digital Base
Benefits in Conceptual / FEED Engineering









P&IDs Integrated with Line List - Auto Line List Generation
P&IDs Integrated with Instrument Index - Auto Instrument Index Generation
P&ID Integrated with 3D Model – Auto Validation
3D Modelling Efficiency
Plot Plan Integrated with 3D Model
A common misconception is
that a digital asset approach
Reduced Piping Stress Cycles
is too rigorous for early
Electrical Cable Schedule Integrated with 3D Model
engineering.
Ease of Access to Information / Data
Work from the latest information – not the last issued
Experience shows that it will
save 15% and produce
better results
Benefits in Detailed Engineering







Elimination of unnecessary 2D deliverables
Integration with Fabrication
Integration with Commissioning
Integration with Material Control
Integration of FIWP creation
Ease of Access to Information
Reduced Project Tracking Burden on Technical
Staff
Elimination of unnecessary
deliverables and streamlining
between systems can provide
significant savings in detailed
engineering.
Challenging the Status Quo







Can you propagate engineering and design changes quickly and reliably across all
disciplines?
Can you incorporate late changes to design with minimal impact to execution?
Can you quickly and reliably recalculate TIC as the design changes?
Can you incorporate additional cost reduction cycles without impacting schedule?
Do your projects pass over from good ideas that are too late?
Can you reliably and automatically produce engineering and construction
deliverables from your source tools?
Do you resort to offshore "value" centers to produce deliverables?
Barriers to Adoption
www.aveva.com
@avevagroup
Linkedin.com/company/aveva
About AVEVA
AVEVA software and services enables our customers to solve the world's most
complex engineering and design challenges. Discover how we can help you
redefine engineering possibilities to successfully create and manage world-class
capital-intensive assets. Headquartered in Cambridge, England, AVEVA employs
more than 1,600 staff in 50 offices around the world.