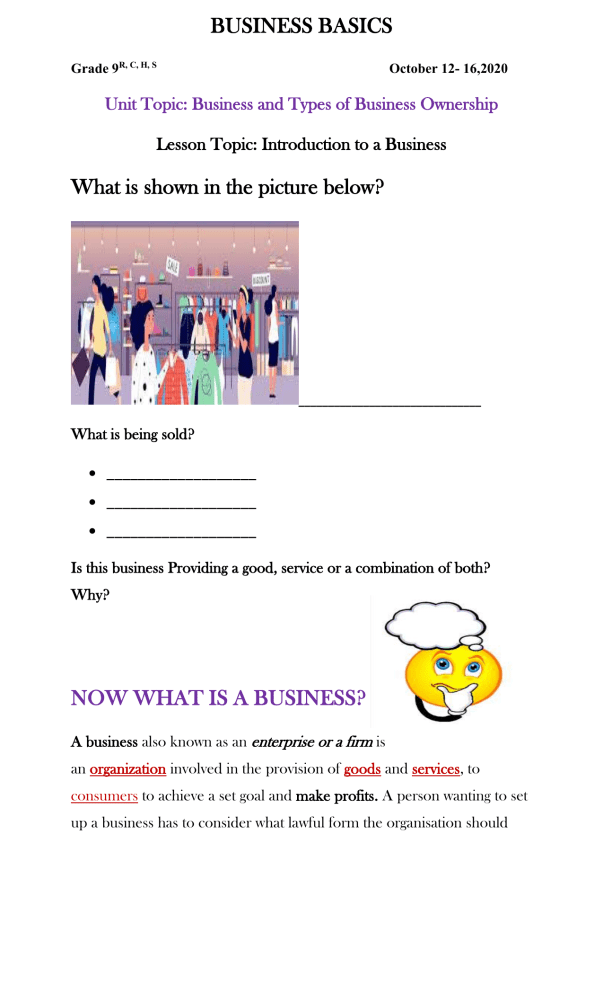 BUSINESS BASICS
Grade 9R, C, H, S
October 12- 16,2020
Unit Topic: Business and Types of Business Ownership
Lesson Topic: Introduction to a Business
What is shown in the picture below?
_______________________________
What is being sold?
 ___________________
 ___________________
 ___________________
Is this business Providing a good, service or a combination of both?
Why?
NOW WHAT IS A BUSINESS?
A business also known as an enterprise or a firm is
an organization involved in the provision of goods and services, to
consumers to achieve a set goal and make profits. A person wanting to set
up a business has to consider what lawful form the organisation should
take. Inputs put in place and combine with the factors of production such
as land, labour and capital allows the business to produce outputs.
EXAMPLE
OUTPUTS
BUSINESS
INPUTS
Factors of production
Eg
. Farm for cocoa—LAND
Workers-
LABOUR
Factory-
CAPITAL
GOODS, SERVICES
WORDS WALL KIT (KEEPS YOU SUPERIOR)
 GOODS are items that be used or consumed. Example food, cars,
books.
 SERVICE – Service is an offering for someone to carry out a task
for you. Example fixing dinner, getting a haircut at the barber.
 A CONSUMER is an individual who purchase goods that are
produced or used services provided in an economy.
 PROFIT- A monetary gain, exactly the difference between the
amount earned and the amount spent in buying or producing
something.
 PRODUCERS are individuals or organizations that produce goods
for customers or consumer as a whole.
People start their own business for many reasons. These reasons are
as follows:
 Get more money to have a higher income
 Pursuing their dream
 A good idea he or she had and wants to turn into a business
 To take care of family
 To have a better life
 To learn new skills
 To create job/ employment for persons who are not working
 To be creative to offer a service or goods to meet customers' needs
 To make profits.
Places people can go to borrow money to start a business
 Banks e.g. NCB, Jamaica National, Scotia
 Credit Unions: St. Elizabeth Cooperative Credit Union
 Financial Companies: Access Financial Limited
BENEFITS OF STARTING OWN BUSINESS
 You are your own boss
 Go to work when you want
 Monitor workers
 Collect money made
 Flexibility. Work your own hours.
 More spare time (eventually). Spend more time with your family and
friends.
 Call the shots. Nobody else is going to set the rules. ...
 Set your own deadlines. ...
 Sell how you want to sell. ...
 Create your own environment. ...